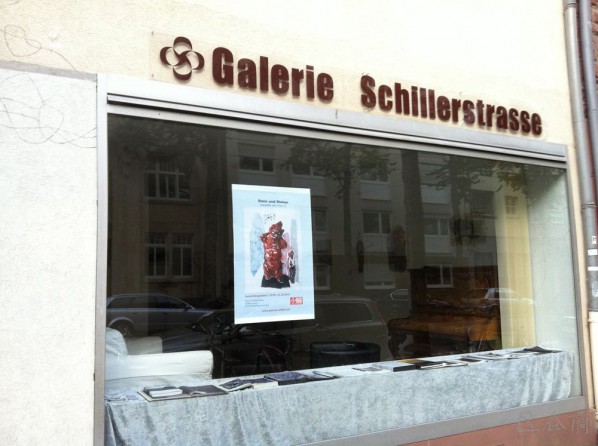 In September and October, 2014, a well-known Chinese female artist Chen Xi presents 16 watercolor paintings themed on the details of real life, intuitively performing by herself, at Galerie Schillerstrasse Heidelberg, Germany. As modern social life more and more restrains and limits the inner freedom of people, these paintings express the inner comfortable and natural feeling. This is the true feeling of people who visit her solo exhibition of the year "Stein und Statute".
Chen Xi was born in Xinjiang in 1968. When she was young she was versatile, and preferred painting. Chen Xi graduated from the High School Affiliated to Sichuan Fine Arts Institute in 1987, and graduated from the 4th Studio of the Department of Oil Painting, CAFA. After graduation, she was a professional artist for a while, and then she worked as an associate professor in the School of Architecture, CAFA.
Chen Xi has held many solo exhibitions in painting at home and abroad, including "Chen Xi's Oil Painting Exhibition 1987-1997" held at Beijing International Art Center Art Museum in 1997; "Chen Xi's Painting Exhibition" held at the Permanent Gallery in Germany in 2000; "Prefer the New One to the Old One" painting exhibition held at Singapore Soobin Art Int'l; "New Clothes for the Queen" held at New Beijing Gallery in 2007; "Memorized– Chen Xi's Solo Exhibition" held at the National Art Museum of China in 2011; "Passage to History: 20 Years of La Biennale di Venezia and Chinese Contemporary Art Biennale Arte 2013".
In addition, in line with several solo exhibitions, Chen Xi also published several individual catalogues including "Chen Xi's Work in Oil Painting 1987-1997", "Prefer the New One to the Old One", "New Clothes for the Queen", "Flight of Freedom–Art World of Chen Xi's Art World" and "Memorized" etc.
"Memorized – Chen Xi's Solo Exhibition" held at the National Art Museum of China in 2011 widely attracted attention and discussion with its unique perspective.
Wang Huangsheng (Director of CAFA Art Museum)
Chen Xi's 18 works reveal18 historical moments through TV sets of different historical periods to showcase the historical images of "CCTV News", which have become our ritualized memories.
Yang Xiaoyan (Professor, Head of the Department of Journalism and Communication at the School of Communication and Design, Sun Yat-Sen University)
Eighteen frames record 18 historic moments. These moments were witnessed on TV, and therefore were recognized by the viewers. My point is that these 18 frames will no doubt evoke viewers' memories about these historical events and their perceptions. When we connect the dots – the 18 historic moments, the memories about these historic events can be evoked, and the paintings carry extended social meanings.
Jeff Kelly (Curator of Contemporary Art at the Asian Art Museum of San Francisco)
Chen Xi's new traditional painting technique emphasizes every feature of the design of TV, like an art museum displays the representatives of various ages.
Wang Chunchen (Director of the Academic Department, CAFA Art Museum)
It seems to be a forced choicewhen we say that it is memorized,but in fact, the artist initiatively chooses it, thinking about reality with a positive attitude.
Bao Dong (a young critic and curator)
When Chen Xi arranges a TV set in her painting, it is like a shrine and altar that are placed in the middle of the screen. When the screen is huge, it is like a painting of another painting, and the surrounding of the "painting of screen" is extremely compressed, through this visual method it strengthens the idol power of the TV set.
"Stein und Statue"Chen Xi's solo exhibition of water color showcases the artist at ease and all the works are on display at home and abroad for the first time.
About the exhibition
Duration: September 13 – October 15, 2014
Venue: Galerie Schillerstrasse, Heidelberg, Germany
Photo Courtesy of the artist and Galerie Schillerstrasse, Heidelberg, Germany, translated by Chen Peihua and edited by Sue/CAFA ART INFO.
Related posts: