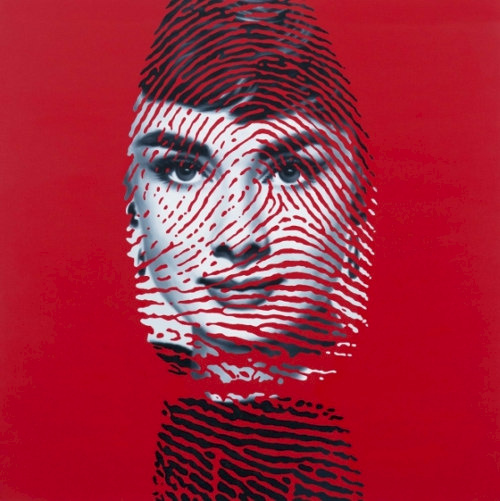 Zou Cao is a Chinese artist from Fushun city in the Liaoning Province of China. Cao began his career as a teacher, teaching at the Fushun Normal College of Art. He received his Master's degree at the College of Philosophy in 2004 and his Doctor degree of Philosophy in 2008 at Jilin University. He continued his teaching career in 2007 at Beijing's Central Academy of Fine Arts University.
To date, Cao's art has been displayed globally in many well recognized galleries including the Museum of Modern Art in Shanghai, The Perez Simon Collection in Mexico, Kunsmuseum Walter in Germany and Yudeyao Museum of Art in Indonesia.
Cao is most famous for his fingerprinted art, which he began in 2002. He superimposes his fingerprint over images of famous faces and iconic beauties. His work features, black and white portraits of Angelina Jolie, Marilyn Monroe, Michael Jackson, Andy Warhol and Mao Zedong. "The images show that all people, regardless of whether they are famous or not, are unique and that despite our increasingly collective existence, every individual adds their singular mark to our shared history," says Cao.
By adding his own fingerprint onto the iconic images and faces, Cao asserts his unique identity and stresses the importance of all individuals. With his vibrant canvases of figures from pop culture personalized with his unique imprint, Cao makes a subtle yet eye-catching statement opposing globalization's homogenization of society.
About the exhibition
Duration: 17 Jun – 15 Jul 2014
Venue: Art One
Opening Hours: 11:00-19:00
Tel: 852-37587888
Add: M/F Convention Plaza, 1 Harbour Road, Wanchai, Hong Kong
Courtesy of the artist and Art One.
Related posts: