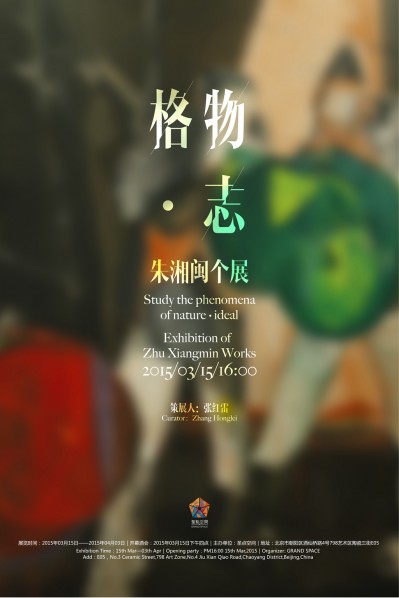 When the extra spirit of work breaks through our touch, the feeling makes a chemical reaction to awaken the self awareness, while every creative process of artists is a sublimation of studying the phenomena of nature in order to acquire knowledge. Zhu Xiangmin's works always use a simple line to smoothly perform the full temperament and the inner spirit. I appreciate the simplicity, and the narrative is simple because each dot, surface and shape, forming a painting, carries his spiritual pursuit through the use of everyday surroundings, namely recording, this also makes it sublime. Its strength is neither virtual nor foreign but the self-induction of the co-existence of itself and the great life system. "Study the Phenomena of Nature" contains any being, including the tough everyday objects, a simple life element, a leap of the cerebral cortex, though never selected, it is all-inclusive and becomes more real, directly removing the gray intermediate zone, relative purity feedbacks to the common essence. Time flies with the space of the wind, leaving the "ideal", which is the root of all arts, it's about the issues and words, about all the pursuits, facing the fresh grains of life, while it is only vibrated by the art which is diverted from life. "Ideal" helps us to reveal the mystery of the art once again.
By Zhang Honglei
About the Exhibition
Curator: Zhang Honglei
Duration: March 15 – April 3, 2015
Vernissage: 4:00 pm, March 15, 2015
Organizers: Grand Space, Exhibition TIME
Address: E05, 3rd Taoci Street, 798 Art Zone, Jiuxianqiao Road, ChaoyangDistrict, Beijing
About the Artist
Zhu Xiangmin was born in Hunan in 1989. Zhu Xiangmin graduated from the 4th Studio of the Department of Oil Painting, China Academy of Art (CAA) in 2012, with a bachelor's degree, and he was admitted to the 4th Studio of the Department of Oil Painting, China Academy of Art (CAA) in 2012, currently he is a master degree candidate.
Awards
2013 The 2nd Prize by Growth – 2013 Shanghai Youth Art Festival
2012 "E Land" scholarship by China Academy of Art
2012 "Lin Fengmian Creation Award" by China Academy of Art
2012 "Excellent Prize" by "Aussino Cup" Annual Nomination Exhibition for Students of Contemporary Art Academies
2009 – 2012 "President Nomination Award" by China Academy of Art
Exhibitions
2014 The 4th Studio Relativity, Banyeyishu, Hangzhou
2014 Art – Furnishings Young Artists Works Exhibition, Xianghu International Art Museum, Hangzhou
2013 Growth – 2013 Shanghai Youth Art Festival, China Art Museum, Shanghai
2013 Is, the Youth – CAA Youth Oil Painting Exhibition, East Street No.6 Gallery, Hangzhou
2013 Virtual •Hush – Exhibition of the Teachers and Students from the Multidimensional Performance Studio of the Department of Oil Painting, CAA, Youshang Art Space, Shanghai
2013 Power of Academy Being – Work Exhibition for the Teachers and Students from CAA, Guan ShanyueArt Museum, Shenzhen
2012 Our Tributes – Zhejiang Contemporary Young Art Exhibition, Ningbo Art Museum, Ningbo
2012 The Boat of 2012 "Aussino Cup" Annual Nomination Exhibition for Students of Contemporary Art Academies, Today Art Museum, Beijing
2012 "Outstanding Graduation Works Exhibition" by CAA, MCACAA, Hangzhou
Courtesy of the artist and Grand Space, translated by Chen Peihua and edited by Sue/CAFA ART INFO
Related posts: