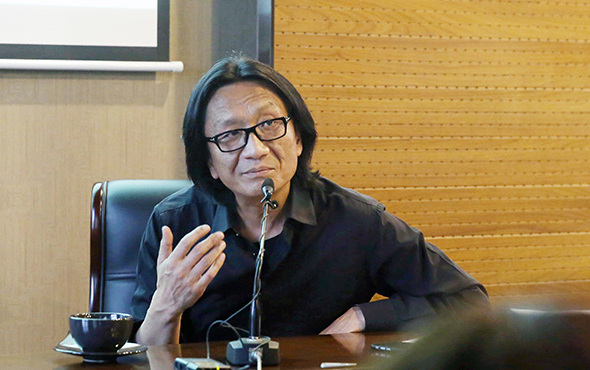 At 2:00 pm on April 25 2018, invited by the Graduate School, CAFA, Prof. Su Xinping delivered a lecture themed on "My Creative Process and Artistic Method" and it was the 12th session of the series of lectures by doctoral supervisors. Su Xinping is a well-known artist and is also Vice President of CAFA, a professor and a doctoral supervisor. In this lecture, he reviewed the experiences of creation, study and life, and talked about his artistic ideas and creative process. Director of Department of Teaching at the School of Graduate, CAFA, Ge Yujun, hosted the lecture.
At the beginning of the lecture, Su Xinping stated that he was present at the lecture as an artist. He said it was very plain to be an artist, and he hoped to have an equal conversation with the audience. In the view of Su Xinping, a man has his own ways and approaches to art. Su attempted to share the process that he finished before he gained a result, and he also hoped it would enlighten the audience.
Su Xinping said that he was a soldier engaged in art creation in the army in which he had an unachievable ideal in art, before he was admitted to Tianjin Academy of Fine Arts in 1979. He had studied woodblock print in Tianjin Academy of Fine Arts for four years, and he chose woodblock print because he once drew illustrations and comics during the period in the army, and he had an understanding of woodblock print. Su Xinping had knowledge and understanding of art during the undergraduate years, and he left Tianjin and returned to Inner Mongolia after graduation, but he did not adapt to life in the Inner Mongolia, and he yearned for an environment in art, so he took part in the postgraduate entrance exam and became a student of CAFA, where he learned many forms and skills in printmaking, and gained a profound understanding of art. He was fascinated with painting, so he paid attention to the renewal of forms of painting, and the conceptual intervention and extension.
When he presented a series of works created during that period, Su Xinping talked about why he concentrated on the topic of Inner Mongolia prairie, which involved the study of art history and the choice of their own creative road. Su Xinping believes that it is necessary for artists to own their unique ideas and language. The reality and situation leads to the emergence of ideas and artists combining with their creation. He recalled the sense of loneliness and indifference that he had experienced in the city at that time, and it made him long to return to his spiritual homeland. The Inner Mongolian grassland is a symbol of his spiritual home. In fact, he used the appearance of the grassland to express his mind. Rather than attempting to express the borderland, or the portrayal of ordinary people's imagination of nomadic people who are singing and dancing in the festival, his works of grassland used a special system to express the nature of the prairie that he felt, so that it presented unique features.
The use of the display of a series of works created from the late 1980s to the 1990s and a brief interpretation, Su Xinping talked about the social context and the general situation of artists during that period. Su Xinping used the image of "net" to express that he was restricted by reality. In the series of "Silent Town", he took an image of the town to represent his inner pursuit of beauty. He has created many figure paintings in recent years, and he has continued with this form of light and shadow. After some accumulations, he returned and created a new form of light and shadow.
"Sea of ​​Desire", "Tower of the Century", and "Cheers" reveal Su Xinping's social thinking during another period. He visited many countries to study and present his works, and made contact with the vibrant foreign galleries and the local artistic circles. After returning to China, he witnessed a transformation of Chinese society and felt that it was full of the worship of material things and was lacking the human feelings at the beginning of the practice of the market economy in China. In this collision and incompatibility, his understanding and creative direction has been changed and created a number of works with critical social themes, which is a warning on the laziness and complacency of contemporary people. Su Xinping said that the drastic changes in Chinese society have greatly impacted on artists' thinking and has inspired their artistic creation. Social transformation changed artists' living conditions while it also eroded the mind of many artists, whose value orientation has also been removed. As the prices of artworks rose steadily, Su Xinping paused to reflect on his original intention as an artist. After this reflection, he realized that art was a personal thing. Even though it was shaped by society and other things, art was still self-expression. Su Xinping specifically talked about his own attitude toward oil painting that he created. He only used oil painting as a media and an approach, so he called it the work of "painting" rather than "oil painting".
The exploration of the self encourages him into the creation of large-scale abstract landscapes, and the abstract painting is freely advanced and is infinitely expanded, which is like an absurd landscape of a dream. The vast space of abstract landscapes gives him absolute freedom. Su Xinping said that when he could not spend enough time to draw, he chose to adjust his method, and he simply used a pencil to draw on white paper over a short time, thus many sketches and daubs which were unconsciously created in a short time were accumulated, and later he found that these small pictures could create a collage to constitute many interesting large-scale pictures, which are varied, rich and pure, which can be interpreted from a variety of dimensions. He also used printmaking to formulate an abstract collage, producing spectacular and shocking large-scale abstract images, and he said it was a state that the artist could not control. Su said with a smile that he was touched by this system.
At the end of the lecture, Su Xinping described his working status and creative process using two videos, showing the artist's blankness and endless thoughts when he was in front of the canvas. The hesitance, repression and suffering are all reflected in the videos that present the everyday status of his creation. The thoughts and imagination inspired by the patterns on the papers used to wipe brushes that have been magnified and drawn on large canvases. He rediscovered some things from those familiar papers when he was pondering, and captured the abstract scene in the mind and then created a painting. While a video was screened, Su Xinping answered the questions raised by the audience.
Text by Zhang Chi, translated by Chen Peihua and edited by Sue/CAFA ART INFO
Photo of the organizer
Related posts: