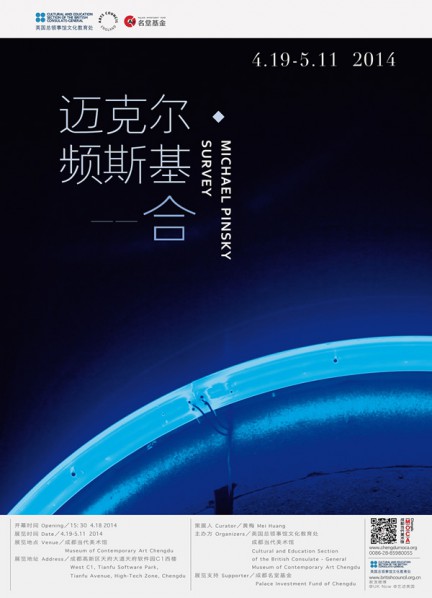 On18 April 2014, 3:30 pm, "Survey- the Solo Exhibition of Michael Pinsky", co-produced by Cultural and Education Section of the British Consulate-General and MOCA Chengdu, will be open in the West Building of MOCA Chengdu. The British Artist Michael Pinsky's art can been seen as a striking exploration of public art and participatory art in the Western context, especially in Europe. Michael has strived through his life to discover reasons which influence the use of our public realm, and adopt digital technology and installation to create visual art, interpreting to the public the social and cultural daily issues which deserve reflection. This display is Michael Pinsky's first solo exhibition in China and contains two parts, including artist's thirteen participatory artworks and the retrospective documents from different periods of the artist's career. Contributing to the deeply combination of Eastern and Western contemporary art, this show will give Chinese audiences a feast of vision and thinking. The exhibition will be presented in the West Building of MOCA Chengdu from 19 April to 11 May, 2014 and admission is free.
Michael Pinsky was born in England in 1967 and graduated from the Royal College of Art. He has gained great reputation in Western art, especially in participatory art, multi-media art and public art. He has exhibited extensively in famous galleries such as TATE Britain, Modern Art Oxford, Milton Keynes Gallery and Cornerhouse, Manchester. In the past ten years, Michael Pinsky has concentrated on creating innovative and challenging works. Taking the combined roles of artist, urban planner, activist, researcher, and resident, he starts residencies and commissions without a specified agenda, working with local people and resources, allowing the physical, social and political environment to define his working methodology.
Survey collects Michael Pinsky's thirteen participatory artworks such as video and installation. One of the displayed artworks, A Stitch in Time(2014) is commissioned by MOCA Chengdu especially for the solo exhibition, which is also the third artwork of the series of puzzle installation art project that has lasted six years. It took the inspiration from "Shu Xiu", an old traditional embroidery from Chengdu region. By the means of abstract and simplification, the artist arranged and changed gradually these patterns from Shu Xiu to recreate an enormous puzzle installation. As a participatory creation, the artist is planning to invite local residents to participate in the event and complete this installation. Without any limit for the final puzzle pattern, each of the participants in this event holds one component of the puzzle installation and has to negotiate with each other to complete this puzzle creation. Besides participatory art event, the second part of Survey will display several key works from different period of the artist's career as well as his working documents which illustrate the artist's working and thinking methodology.
Survey brings the discourse around Western methodologies which underpin participatory art and public art projects to the highly specific Chinese socio-culture and political environment, and also brings an unusual art show to Chengdu audiences.
About the exhibition
Exhibition Name: Survey
Duration: 19 April to 11 May 2014
Opening Time: Friday, 18 April, 2014, 3:30 PM
Venue: MOCA Chengdu (west C1, Tianfu Software Park, Tianfu Avenue, High-Tech Zone, Chengdu)
Official website: http://www.chengdumoca.org
Official microblog: http://weibo.com/chengdumoca
Official douban: http://site.douban.com/121686/
Opening Hours: Tuesday-Sunday 10:00-17:30, Closed on Mondays (In public holidays closing time is postponed accordingly)
Tel: +86(0) 85980055
Fax: +86(0) 85331327
Courtesy of the artist and MOCA Chengdu, for further information please visit www.chengdumoca.org.
Art History Tips
Participatory art
Participatory art is an approach to making art in which the audience is engaged directly in the creative process, allowing them to become co-authors, editors, and observers of the work. Its intent is to challenge the dominant form of making art in the West, in which a small class of professional artists makes the art while the public takes on the role of passive observer or consumer, i.e., buying the work of the professionals in the marketplace. Commended works by advocates that popularized participatory art include Augusto Boal in his Theater of the oppressed, as well as Allan Kaprow in happenings. Artwork that is interactive and participatory may be referred to as "participatory art;" it may also be categorized under terms including relational art, social practice, community art, and new genre public art.
In the Fall/Winter issue of Oregon Humanities magazine, writer Eric Gold describes "an artistic tradition called 'social practice,' which refers to works of art in which the artist, audience, and their interactions with one another are the medium. While a painter uses pigment and canvas, and a sculptor wood or metal, the social practice artist often creates a scenario in which the audience is invited to participate… "(selected from Wikipedia)
Related posts: