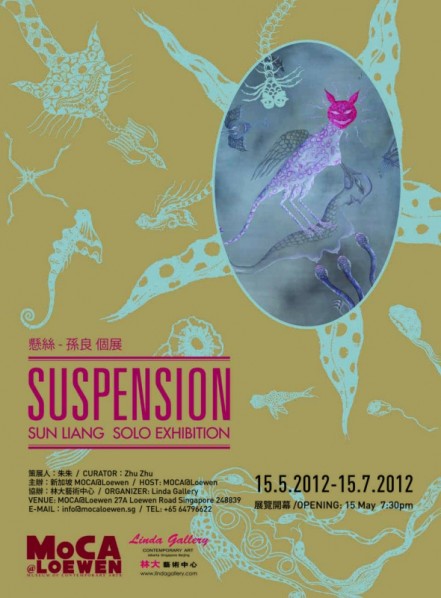 MMOCA@Loewn announced the opening of Suspension, "悬丝" by the Chinese contemporary artist, Sun Liang(b. 1955) on May 15th, 2012 and it will last until July 15th, 2012.
Sun Liang is considered to be one of China's most important artists working today. He was privileged to be one of the first artists to represent China at the Venice Biennale in 1993. Sun Liang initially established his reputation as one of the Generation of the 85 Group. This group is widely acknowledged as kick-starting the birth of the Chinese contemporary art scene. He combines the aesthetic interest in Chinese classical art with the wonderful image of contemporary art, which both continues tradition and creates a future. His work is a mixture of "A Chinese Bestiary" also known as "The Classic of Mountains and Seas" and "Bible" which lies on the edge of dreams and fantasies.
While separating the two words of "Xuan, Chinese: 悬" and "Si, Chinese: 丝", "suspending" conveys the imagery of a hanging or floating form observed in his paintings and "string" brings out the artist's emphasis on lines and contours. Combined, "Suspending String" strikes the strong theme of the fragile and illusive nature of life. The concept of a "suspended state" is also transposed onto the infinite space created by the imagery of an indefinite state of the subjects, in which there is no horizon, no gravity and no starting point of existence. It is almost akin to a piece of sky torn out and cast onto a canvas. What has been painted by the artist is an almost magical and imaginative concept of realism.
This is Sun Liang's first exhibition in Southeast Asia, it has featured some of his 30 indispensable paintings from his private collection, with the earliest work dating back to 1994.The exhibition also specially selected some of his prints and skin paintings. The purpose of this exhibition is to show his exploration and achievement in the orientalization of oil painting in the last three decades, at the same time, to understand briefly Sun Liang's diverse creative talent and his irreplaceable uniqueness in the Chinese contemporary art.
About the Exhibition
Curator: Zhu Zhu
Opening: 2012-05-15
Date: 2012/5/15-2012/7/15
Venue: MOCA @Loewen
Organizer: Linda Gallery
Courtesy of Sun Liang and Linda Gallery, for further information please visit lindagallery.com.
Related posts: