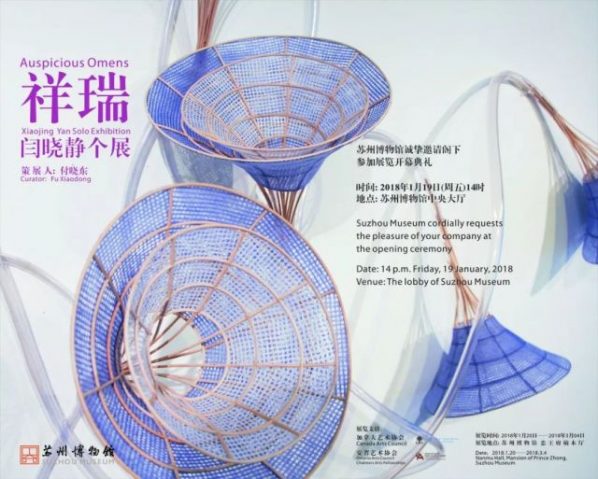 Auspicious Omens – About Xiaojing Yan Solo Exhibition
By Fu Xiaodong
As a female immigrant artist in Canada of Chinese origin, Xiaojing Yan manages to interpret Chinese conceptions of the world more sensitively from a global and feminist perspective. In the exhibition, Xiaojing Yan creates different man-made auspicious omens with an inspiration from nature by means of contemporary artistic expression. Auspicious omens were regarded as natural phenomenon which happened accidentally, revealed God's will and brought benefit to man, such as the sudden appearance of colorful clouds, Lingzhi mushroom and rare beasts, which was considered to be a reward for man's obedience to heaven.
How to interpret natural language has become a frequently-criticized pseudo-proposition since the scientific revolution in the 20th century. However, in an era where gravitational wave is being frequently reinterpreted and genetic miracles keep emerging, mysteries of the cosmos are being unveiled step by step. The secrets of space-time, coding and artificial intelligence also provide us with a chance to rediscover ourselves and the world around us. We are still to learn about the world progressively. As Copernicus's Heliocentric Theory manifested, the truth and fallacy keep exchanging their roles, with a broadening of our horizon, and any set rules still might perish. Let's once again turn to the documents left by ancient scholars during such a long period of time. Though having experienced different cultures, migration, wars, space-time, they revealed another kind of interpretation to the world in history, which once really existed.
Lingzhi mushroom was believed to be a magical herb in ancient China, which immortalized human beings. It bloomed three times a year. The Songs of Chu says, "Gathering Lingzhi mushroom in mountains." Legend has it that Lingzhi mushroom is an elixir and could bring the dead back to life. The mushroom cloud due to the explosion of atomic bomb is a transient phenomenon resulting from a huge nuclear energy strike, leaving particles dispersing in the air. Xiaojing Yanhas been cultivating all kinds of mushrooms for a long time. She incorporates their natural growth into her own works of art, remake an image of cloud with pearls, and simulate the model of cosmos with ordinary materials. The whole exhibition explores the relationship between energy and space-time, mathematics and dimensions, cosmos and holiness in a visual manner metaphorically and systematically typical of female.
About the exhibition
Dates: Jan 19, 2018 – Mar 4, 2018
Opening: Jan 19, 2018, 14:00
Venue: Suzhou Museum
Courtesy of the artist and Suzhou Museum, for further information please visit www.szmuseum.com.
Related posts: