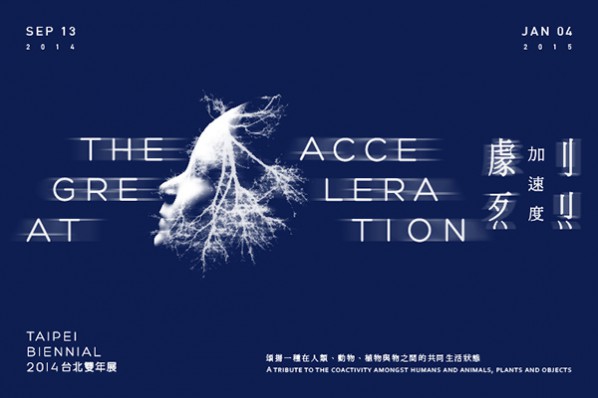 Curated by Nicolas Bourriaud, Taipei Biennial 2014 tends to take a wider, more overall view of the curatorial concept for the biennial around the topic The Great Acceleration.
52 artists and collectives will appear on the scene: Harold Ancart (Belgium); Charles Avery (UK); Gilles Barbier (France); Alisa Baremboym (USA); Neïl Beloufa (Algeria/France); Peter Buggenhout (Belgium); Roberto Cabot (Brazil); Patrick Van Caeckenbergh (Belgium); En-Man Chang (Taiwan); Ian Cheng (USA); Ching-Hui Chou (Taiwan); Chun-Teng Chu (Taiwan); Shezad Dawood (UK); David Douard (France); Camille Henrot (France); Roger Hiorns (UK); Xiao-Yuan Hu (China); Po-Chih Huang (Taiwan); Joan Jonas (USA); Hudinilson Jr. (Brazil); Tetsumi Kudo (Japan); Surasi Kusolwong (Thailand); An-My Lê (Vietnam/USA); Kuo-Wei Lin (Taiwan); Maria Loboda (Germany/Poland); Jonah Freeman & Justin Lowe (USA); Jr-Shih Luo (Taiwan); Tala Madani (Iran/USA); Abu-Bakarr Mansaray (Sierra Leone/Netherlands); Josephine Meckseper (Germany); Nathaniel Mellors (UK); Marlie Mul (Netherlands); Henrik Olesen (Denmark) ; OPAVIVARÁ! (Brazil); Ola Pehrson (Sweden); Hung-Chih Peng (Taiwan); Matheus Rocha Pitta (Brazil); Laure Prouvost (France/UK); Rachel Rose (USA); Pamela Rosenkranz (Switzerland); Mika Rottenberg (Argentina); Sterling Ruby (USA); Timur Si-Qin (Germany); Shimabuku (Japan); Peter Stämpfli (Switzerland) ; Nicolás Uriburu (Argentina); Yu-Chen Wang (Taiwan/UK); Chien-Ying Wu (Taiwan); Chuan-Lun Wu (Taiwan);Inga Svala Thórsdóttir & Wu Shanzhuan (Iceland/China); Haegue Yang (Korea); Anicka Yi (USA).
Since the 1990s, art has highlighted the social sphere and held inter-human relations, whether individual or social, friendly or antagonistic, to be the main domain of reference. Art also plays host to an entanglement between the human and non-human, a presentation of coactivity as such: Multiple energies are at work, and logical organic growth machines are everywhere. All relations between different regimes of the living and the inert are alive with tension. The Great Acceleration is presented as a tribute to this coactivity, the assumed parallelism between the different kingdoms and their negotiations.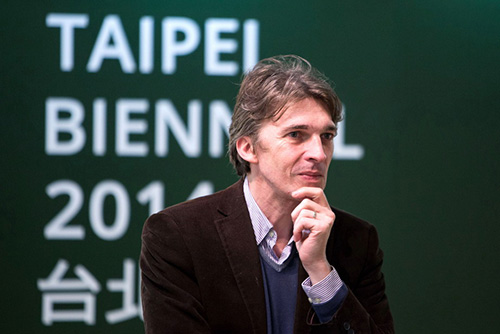 About Nicolas Bourriaud
The French art scholar, curator, Nicolas Bourriaud, born in 1965, is currently the director of Ecole des Beaux-Arts, Paris (ENSBA).
His arts theory book, Relational Aesthetics, published in 1998 has been translated in twelve different languages around the world. He therefore becomes one of the most influential arts critics in the Western contemporary arts world. Bourriaud co-founded the Palais de Tokyo, the center of contemporary arts in Paris, with Jérôme Sans, and was co-director from 1999 to 2006. In 2007, He was invited to be the Gulbenkian Curator of Contemporary Art at Tate Britain and curator of "Altermodern" the fourth Tate Triennial (2009). He has been the director of ENSBA since 2012, and organized exhibitions for the Palais des Beaux-arts, which were "The Angel of History" and "CookBook". He curated for the first and second edition of Moscow Biennale (co-curator in 2005, 2007), and the Lyon Biennale (co-curator, 2005) and the Athens Biennial (2011).
He had visited Taipei Biennial in 2000 and 2012, as well as observed the local arts scene constantly. In his recent visit in last December, he released an article to share with local public his idea concept about Taipei Biennial 2014. He used The Great Accelerationas a prolog to elaborate the arts in the anthropocene. The full text of the article is listed below.
About the exhibition
Date: 2014/09/13 – 2015/01/04
Venue: Gallery 1A&1B、Gallery 2A&2B、Gallery 3A&3B&3C, Taipei Fine Arts Museum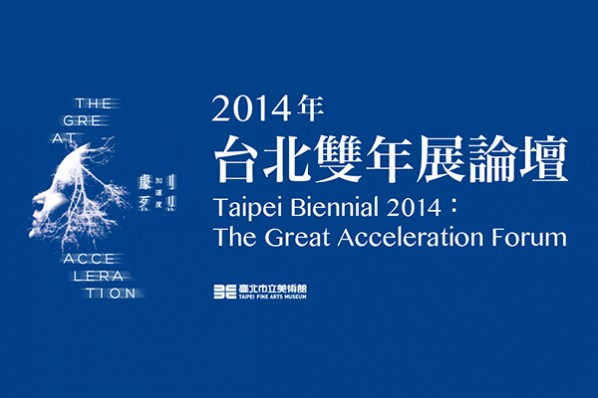 2014 Taipei Biennial Forum
The 2014 Taipei Biennial is curated by Nicolas Bourriaud under the theme The Great Acceleration. The curatorial concept touches on several important ideas, such as Anthropocene, relational aesthetics, and speculative realism, to interpret contemporary artworks with respect to subject matter, form, and multiplicity or complexity of elements.
The museum has programmed a series of lectures and roundtable discussions to help audience members understand Bourriaud's concepts more thoroughly and connect them more closely to exhibited artworks. The museum has invited local and international speakers, including artists represented in the exhibition, specialists and scholars.
Roundtable: "Artists, machines and nature"
09/13 (Sat.) 14:30-16:30 / TFAM Auditorium
Participants:
Nicolas Bourriaud, Curator
Huang Hai-ming, Director of TFAM
TB2014 Participating Artists:
Maria Loboda, Nathaniel Mellors, Shimabuku, Anicka Yi, Haegue Yang, Neïl Beloufa,Lin Kuo-wei,Huang Po-chih
* Simultaneous Interpreting service on Chinese and English.
Roundtable:"About Relationship"
09/14 (Sun.) 14:30-16:30 / TFAM Auditorium
Nicolas Bourriaud
Prof. Shiau Jenn-bang, Prof. of Graduate Institute of Philosophy, NCU
Commented by Prof. Chang Yi-chung, Lecturer of Department of Philosophy, THU
* Simultaneous Interpreting service on Chinese and French.
Conference: "Anthropocene and Art"
09/20 (Sat.) 14:30-16:30 / TFAM Auditorium
Prof. Li Chia-wei, Prof. of Institute of Molecular and Cellular Biology, NTHU
Conference:"An Emerging Alternative Paradigm derived from the Asian Biennials"
10/18 (Sat.) 14:00-15:30 / TFAM Library
Dr. Marek Bartelik, President of AICA International
* Progressive Interpreting service on Chinese and English.
Courtesy of the artists and Taipei Fine Arts Museum, for further information please visit www.tfam.museum.
Related posts: