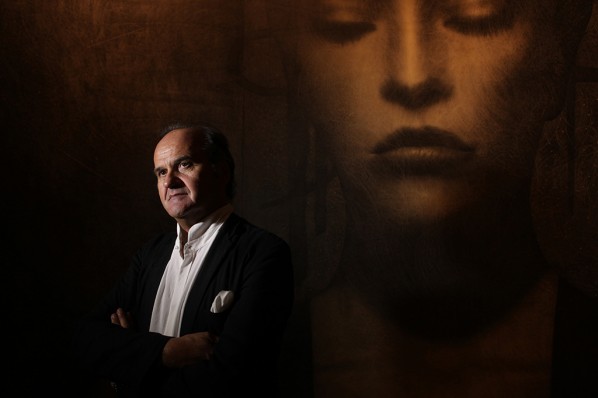 The Female, The Sacred: Omar Galliani in Dialogue with the Drawing Tradition is curated by Manuela Lietti with the support of K35 Art Gallery (Moscow), Reda Biella (Italy), CromaKinema (Italy), Soave Arte Moderna & Contemporanea Alessandria (Italy), Mazzotta Art Selection Milano (Italy), Indigo Art, and Nadia Stefanel. The pieces on view outline the artist's entire career, from the 1970s to the present day, showcasing the iconic pieces that have contributed to Galliani's success. The exhibition includes works that are being shown in Beijing for the first time, even though Galliani has exhibited in China several times. The monumental aura of Great Italian Drawing, the sacred atmosphere of Svelare Sandro, the expressiveness of Teeth, and the anatomical perfection of Breath co-exist with the poetic tones of Notturno and the unlimited imagination of Omar, Roma, Amor. This last, most recent piece is presented with a set of preparatory drawings on antique paper. Here, drawing is both signifier and signified, the core of Galliani's work. This work uses an approach that stresses the liaison with tradition and guarantees the vitality of a genre often regarded as old fashioned and the creativity of an artist who is always evolving, thanks to his link with this tradition. One of the key features of this show is the selection of antique drawings on paper dating back to the 1500s, which help the viewer make iconographic and iconological links to the artist's entire body of work and the Italian drawing tradition.
Photo by Hu Zhiheng/ CAFA ART INFO
Omar Galliani was born in 1954 in Montecchio Emilia, Italy, where he currently lives and works. Galliani studied at the Academy of Fine Arts in Bologna and now teaches painting at the Academy of Fine Arts in Carrara. Since the 1980s, Galliani has been involved in major contemporary art events worldwide, including the Venice Biennale, the São Paulo Biennial, The Twelfth Biennale de Paris, the First Beijing Biennial, and the First Prague Biennial. His works have been exhibited in the most prominent international contemporary art venues in Tokyo, London, Rome, Frankfurt, Budapest, Berlin, Milan, and Prague.
About the exhibition
Curator: Manuela Lietti
Academic Advisor: Wang Huangsheng
Venue: Room 3A, CAFA Art Museum, Beijing
Address: No. 8 Huajiadi South Street, Chaoyang District, Beijing, China (100102)
Telephone: 86-10-64771575 Fax: 86-10-64771699
Website: www.cafamuseum.org Email: museum@cafa.edu.cn
Exhibition Dates: September 14 – October 7, 2012
Opening Reception: September 14, 2012, 16:00
Support: K35 Art Gallery (Russia), Reda (Italy), Soave Arte Moderna & Contemporanea (Italy), Mazzotta Art Selection (Italy)
Project Manager: Nadia Stefanel
Photography: Luca Trascinelli, Massimiliano Galliani, CromaKinema
Courtesy of the artist and Manuela Lietti, for more information please visit www.omargalliani.com.
Related posts: