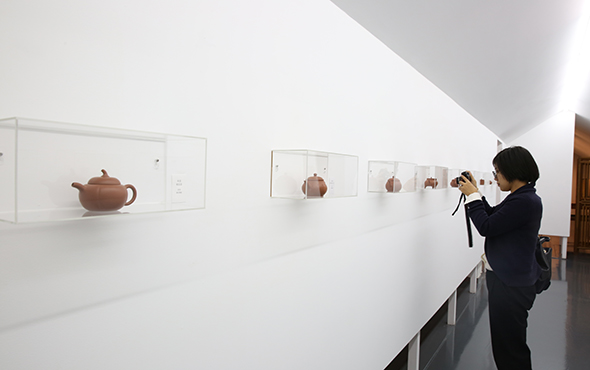 On September 27, 2017, "Art Exhibition of Elegant Items of Ingenuity 2017" opened at the Shixiang Space of the Jili International Art District. It is organized by the Shixiang Space, co-organized by Yada College and Zaiart APP, co-planned by Li Dajun and Zeng Hui. This exhibition is not an exhibition of painting, design or furniture, in the general sense. It brings together the elegant works of ingenuity by 11 artists and literati, covering new paintings, installations, furniture, ceramics, and artifacts.
It is entitled "Elegant Items of Ingenuity", meaning the "elegant art of ingenuity". Li Dajun introduced it as follows, this exhibition selected the artist and works based on this idea. Since the 20th century, on the road of modern art and modern design, we can't ignore Zhang Guangyu, Wu Dayu, and Zhu Danian, among Zhang Guangyu's modern design, Wu Dayu's abstract painting, and Zhu Danian's elegant new-Gongbi paintings are ingenius. In addition to the three people, the exhibition also selected excellent works by the architect Zhang Yonghe, contemporary artists Bian Pingshan, Xu Lei, Qiu Ting, Xu Xu, Gao Zhenyu, international artist Lin Yan, contemporary literati Yang Kui.
Who is the audience of this art? Where can the artwork be placed? Along with the modern home and public space proposal, new requirements for the intervention of art, we increasingly need "elegant items of ingenuity" to make our living standards better in our own home, courtyard, hotel, office and public space. All the exhibited works belong to "elegant items of ingenuity", but only when these works are brought together to create a three-dimensional composition can these works explain themselves each other. The artist Bian Pingshan created the works of cups from the lazy kiln, and the artist Xu Xu's ten dark-red enameled items of pottery, are displayed on the opposite walls, which exude a quiet and silent beauty, as if there is a dialogue between each other, where the cups and pots form an echo. Contemporary literati Yang Kui's work of the "Drink for One Person", displayed in the corner of the flower house of the exhibition hall, is composed of a tea set and other related small items, that express a reflection of the modern social tea ceremony. Promoting the "Drink for One Person", the more complex the world is, the more lonely one man feels, and he has to face loneliness.
Zhang Guangyu's furniture and manuscripts, Wu Dayu's carpet, Zhu Danian's ceramic plates, Zhang Yonghe's screens, Gao Zhenyu and Xu Xu's pottery, etc., no doubt have a great relationship with our daily life. Wu Dayu's carpet is magnificent and colorful, which is both a practical thing and a delectable work of art. Prof. Zhu Chongshou from Tsinghua University cited the famous esthetician Wilde's quote reading that "life imitates art far more than art imitates life" as a conclusion of the meaning of the exhibition. Zhu believes that "elegant items of ingenuity" both guide life and offer a more elegant way of life, as well as playing a guiding role in modern life.
On the opening day of the exhibition, a small seminar was held with a discussion on the theme of the exhibition, the boundary between art and life. Li Dajun believed that, when we thought everything was art, the style of art was reduced, he hoped, through the exhibition to offer people a purer understanding of life. He also hoped that the exhibition was only a start, 'Elegant Items of Ingenuity' as a series can continue to go on.
The exhibition remains on view till October 20.
Text and photo by Yang Zhonghui, translated by Chen Peihua and edited by Sue/CAFA ART INFO
Related posts: