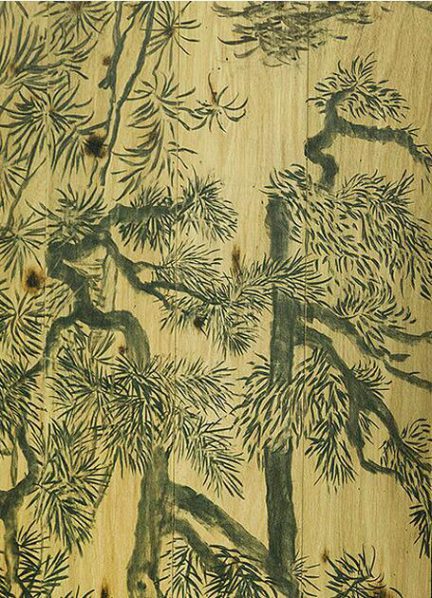 Lam Tung-pang was born in Hong Kong, and he currently lives and works in Hong Kong. Lam studied Fine Art at The Chinese University of Hong Kong before undertaking an MA at Central St Martins College of Art, London in 2004. He has been awarded numerous scholarship and awards, including Arts Scholarship from Hong Kong Arts Development Council (2003) and Hong Kong Contemporary Art Biennial Awards (2009).
Lam's work are mostly related to specific situations or social contents and some of them are in monument scale by given a touch of humanity. He has exhibited extensively world-wide and has work in many private and public collections, including Destche Bank, Hong Kong Museum of Art and commission work by Hong Kong Legislative Council. In 2012, he was awarded the Asian Cultural Council Fellowship and outstanding contributions to the development of culture and arts by The Secretary for Home Affairs, Hong Kong. and the Award for Best Artist (Visual Arts) of the Hong Kong Arts Development Awards in 2013.
About the exhibition
Title: Planting Time
Date: 7.7 – 7.30, 2016
Venue: Tang Contemporary Art, Hong Kong
Courtesy of the artist and Tang Contemporary Art, for further information please visit www.tangcontemporary.com.
Bio of Lam Tung-pang
2014
Play, Espace Louis Vuitton Hong Kong
2013
The Curiosity Box, Chinese Culture Center of San Francisco, U.S.A
2012
Past Continuous Tense – new works by Lam Tung-pang, Goethe-Institut, Hong Kong
2011
Lam Tung-pang: Long View Under Scrutiny, Hanart T Z Gallery, Hong Kong
Artists in the Neighbourhood Scheme V: The Drawing Observatory — Works by Lam Tung-pang, Exhibition Gallery 4-5, Hong Kong Central Library, Hong Kong
2010
Diorama – Painting and Mixed-media, Hanart T Z Gallery, Hong Kong

Animals come to Town – Works by Lam Tung-pang, Times Square, Hong Kong

2008
New Paintings by Lam Tung Pang, Hanart T Z Gallery, Hong Kong
City Projects: Where is my Mum? Hong Kong, London, Beijing, EXHIBIT, CHINA NOW and the London Festival of Architecture 2008, London, U.K.
Young Asian Artists Solo, China International Gallery Exposition 2008, Beijing, China
2007
Studio – Hong Kong London, Commercial Press Book Centre and Joint Publishing Book Café, Hong Kong
2006
West Journey – Works by Tung-pang Lam, OC Gallery & Central Plaza, Hong Kong
Chinese Arts Centre, Manchester, U.K.
Mind the Gap, Toni Heath Gallery, London, U.K.
2005
Resonate II, Wah Luen Industrial Centre, Fo Tan, Hong Kong
Resonate I, Grotto Fine Art, Hong Kong
Breath, Toni Heath Gallery, London, U.K.
Window Gallery, London, U.K.
Group Exhibition
2013
Hong Kong Contemporary Art Awards 2012, Hong Kong Museum of Art, Hong Kong
The Origin of Dao: New Dimensions in Chinese Contemporary Art, Hong Kong Museum of Art, Hong Kong
Intelligence Infinity: Inspiration through Art, Hong Kong Heritage Museum, Hong Kong
I Think It Rains, Cattle Depot Artist Village, Hong Kong
Hong Kong Eye, ArtisTree, Hong Kong
Painting On and On 3 – Melting Pot, School of Creative Media, City University of Hong Kong
2012
The Best of Times, The Worst of Times. Rebirth and Apocalypse in Contemporary Art, Kyiv, Ukraine
Hong Kong Eye, Saatchi Gallery, UK
2011

Vision of Nature: Lost & Found in Asian Contemporary Art, Hong Kong Arts Centre, Hong Kong
Legacy and Creations – "Ink Art vs Ink Art" and "Art vs Art", Hong Kong Museum of Art, Hong Kong
Artists in the Neighbourhood Scheme V Launching Exhibition, City Hall, Hong Kong
2010
No soul for Sale, Tate Modern
New Vision: New Colours, Hong Kong Museum of Art
Hong Kong Contemporary Art Biennial Awards 2009, Hong Kong Museum of Art, Hong Kong
Legacy and Creations: Art vs Art – Museum of Contemporary Art Shanghai, China
The Linear Dimension – Contemporary Hong Kong Art, Grotto Fine Art Ltd, Hong Kong
2009
Figurativeness and Abstract – Contemporary Oil Paintings, Watercolours and Prints of Hong Kong, Hong Kong Central Library, Hong Kong
2008
Hong Kong Hong Kong, Hanart T Z Gallery, Hong Kong
Departure – Contemporary Art Exhibition of Guangzhou, Shenzhen, Hong Kong and Macau, He Xiangning Art Museum, OCT Contemporary Art Terminal, China
October Contemporary 2008, Hong Kong
Hong Kong International Arts and Antiques Fair 2008, Hong Kong Convention and Exhibition Centre, Hong Kong
UK Alumni – The Celebration 60, British Council, London & Hong Kong
Hong Kong • Arts • Centre — HKAC 30th Anniversary Exhibition, Hong Kong Arts Centre
Inside Looking Out, Osage Singapore, Singapore
HK Unveiled – Contemporary Art in the S.A.R., Atting House, Hong Kong
Beautiful Journey, Beautiful World , An Art Container Project, Hong Kong
2007
Some Rooms, Osage Kwun Tong, Hong Kong
Inside Looking Out, Osage Beijing, Beijing
Reversing Horizons, Artist Reflections of the Hong Kong Handover 10th Anniversary, Museum of Contemporary Art Shanghai, China
Paintings by Lam Tung Pang and Xue Jun, Hanart T Z Gallery, Hong Kong
Drawing Exhibition On Paper, Too Art, Hong Kong Arts Centre
Philippe Charriol Foundation Art Competition Finalist Exhibition, Philippe Charriol Foundation, Taikoo Place, Artist Commune and Cityplaza, Hong Kong
Inside Looking Out, Osage Gallery, Hong Kong
Sport as Art – Li-Ning X HK Creative People, Hong Kong Fashion Week, The Hong Kong Convention and Exhibition Centre, Hong Kong
Fotanian: Fotan Artists Open Studios 2007, Hong Kong
2006
Sovereign Asian Art Prize Finalist Exhibition, Sovereign Art Foundation, Lane Crawford and International Finance Centre, Hong Kong
Shanghai Art Fair Emerging Artists Exhibition 2006, Shanghai, China
London Art Fair 2006, London, U.K.
2005
Small is beautiful XXIII, Flower Central, London, U.K

Manchester Art Show 2005, Manchester, U.K.

Hunting Art Prize gala, Finalist Exhibition, Royal College of Art, London, U.K.

M.A. and other Post Graduates Contemporary Art Exhibition, Atkinson Gallery, U.K.

2004
Small is beautiful XXII, Flower Central, London, U.K

The 8th Chichester open Art Exhibition, Minerva, Chichester Festival Theatre, U.K.

The Inscriptive Ferret, Space 44, London, U.K.

2003
Fotanian: Fotan Artists Open Studios 2003, Hong Kong

Hong Kong Art Biennial 2003, Hong Kong Museum of Art, Hong Kong

Ka Folk Restaurant, Shanghai Street Artspace, Hong Kong

A Time Like This… – SARS Exhibition, Pao Galleries, Hong Kong Arts Centre

Allen and Overy Art Exhibition, Allen and Overy, Hong Kong

Landscape of Mind: Paintings by Chan Sau-nam & Lam Tung-pang, Grotto Fine Art Ltd, Hong Kong

2002
Triple Play, 1aspace, Cattle Depot Artist Village, Hong Kong
2001
318 Opening Show, Wah Luen Industrial Centre, Hong Kong

Nokia Arts Awards-Asia Pacific 2000-Playground of Your Imagination, Insa Art Center, Seoul, South Korea
Artist in Residence
| | |
| --- | --- |
| 2006 | Artist in Residence, Department of Philosophy, Lingnan University, Hong Kong |
Awards
| | |
| --- | --- |
| 2014 | Best Artist (Visual Arts), Hong Kong Arts Development Awards (2013) |
| 2012 | Outstanding contributions to the development of culture and arts by The Secretary for Home Affairs, Hong Kong. |
| | Asian Cultural Council Fellowship |
| 2009 | Hong Kong Contemporary Art Biennial Awards |
| 2007 | Finalists, Philippe Charriol Foundation Art Competition |
| 2006 | The Schoeni Prize, Sovereign Asian Art Prizes |
| 2005 | Young Artist of the Year, Hunting Art Prize, UK |
| 2004 | Young Artists Prize, Chichester Open Art, UK |
| 2003 | Arts Scholarships, Hong Kong Arts Development Council, Hong Kong |
| 2002 | Raymond Wood Creative Prize, The Chinese University of Hong Kong |
| 2001 | Cheung's Fine Arts Awards, The Chinese University of Hong Kong |
| 2000 | Nokia Art Awards-Asia Pacific 2000 Hong Kong Finalist & Outstanding Artistic Expression, the Nokia Art Awards-Asia Pacific 2000 |
Collections and Commission
M+ Museum, Hong Kong

Hong Kong Museum of Art, Hong Kong

Burger Collection

Kadist Art Foundation

K11 Art Foundation

Deutsche Bank

The Hong Kong Legislative Council

MTR, Hong Kong

University of the Arts London

Grotto Fine Art Ltd, Hong Kong

Hanart Gallery, Hong Kong

Allen & Overy, Hong Kong

Private Collection (Hong Kong, U.K., USA, Spain)
Related posts: