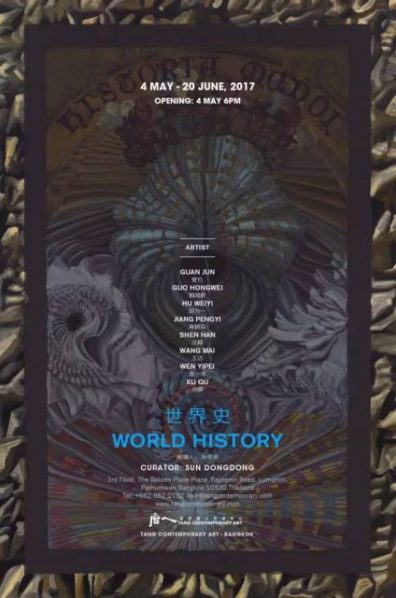 The exhibition brings together artworks of eight emerging artists including Guo Hongwei, Wen Yipei, Jiang Pengyi, Shen Han, Guan Jun, Xu Qu, Hu Weiyi and Wang Mai, whose mediums range from oil painting, photography, installation and video.
"World History" is about the history of the world, but world history in the true sense only emerged after the Age of Discovery, which was accompanied by the global colonization and expansion of European capitalism. From a certain perspective, world history is also a narrative of modernity. As a system of knowledge or an everyday idea, capitalism is a logical discourse that interacts with us (at least those of us in China) over a period of time and is inevitably projected onto our contemporary art.
"The fundamental event of the modern age is the conquest of the world as picture." Heidegger's interpretation of the mechanical era was the formal and narrative starting point for this exhibition, "World History." Pictures, in Heidegger's view, were a technological method that man used against nature, stemming from the worldview that differentiated subject and object in ancient Greek philosophy. Even as its goal (or result) is to confirm human subjectivity, it also transforms people into a measure and a foundation for other existences. Especially in the modern context, with modern technological conditions, this origin point is subordinate to Western modern society and thought, and it has actually become a universal modern concept for humanity.
In Wang Mai's works Pearlescent No. 2 and Space Bodhisattva, space technologies are portrayed as new national myths or ideologies because, in the modern age, we believe in and accept the position of instrumental rationality (science) in governing the world. Thus, "the world as picture" is also an everyday state. Through the random presentation of pictures, Hu Weiyi's video installation Glance very clearly shows this subjective intermediate world. As a self-reflection, human subjectivity, whether severing or uniting identity, can describe and explain our bodies, which is, in a way, predicated on "people who can extricate themselves from existential truth."
As an exhibition, "World History" is not a direct discussion of world history; it is an attempt to weave a visual scene full of the implications of world history from the four conceptual perspectives of nature (Guo Hongwei and Wen Yipei), the body (Jiang Pengyi and Shen Han), identity (Guan Jun and Xu Qu), and images (Hu Weiyi and Wang Mai). Through the intertextual relationships between the artworks, the exhibition presents a historical, silhouetted relationship between capitalism and cosmopolitanism.
Dates: May 4, 2017 – Jun 20, 2017
Opening: May 4, 2017, Thursday
Venue: Tang Contemporary Art, Bangkok
Courtesy of the artists and Tang Contemporary Art, for further information please visit www.tangcontemporary.com.
Related posts: