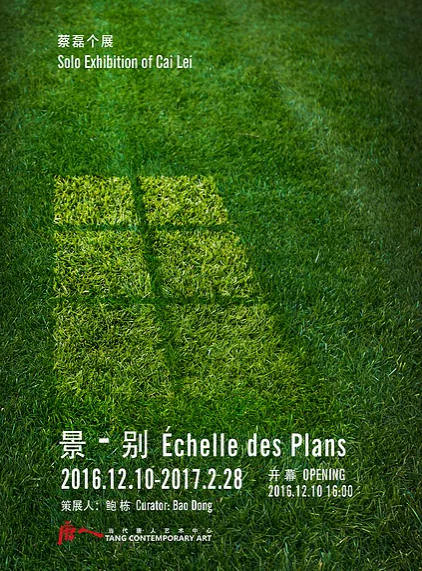 "Échelle des plans" is a film term, which literally translates to "the scale of the images." In film, shots are usually divided into long shots, full shots, medium shots, and close-ups. Through these conscious divisions, the film takes on its own visual space, psychological space, and narrative traits.
Beginning with the language of relief sculpture, Cai Lei gradually locked onto the relationship between space and visual misconceptions, while also experimenting with different materials and environments. However, in this exhibition, Cai Lei is no longer limited to materials and experiences from his personal life; he turns his current working method onto public life and collective experience in the broader sense. Also in this exhibition, Cai Lei takes the visual dislocations of space that were originally compressed into single works and expands them into an entire exhibition, transforming representational misconceptions into spatial experiences.
Cai uses sloping walls to create irregularities, he uses light and mirrors to divide spaces, he uses grass to create seasonal dislocations, and he uses fast-moving manmade "sunlight" to create unusual experiences of time… These experiments are like film or theater sets; he"re-edits" experiences in different scenes and times within the exhibition space. In this context, titling the exhibition "Échelle des Plans" after the film term seemed appropriate.
About the exhibition
Dates: 12.10, 2016 – 2.28, 2017
Venue: Tang Contemporary Art, Beijing
Courtesy of the artist and Tang Contemporary Art, for further information please visit www.tangcontemporary.com.
Related posts: