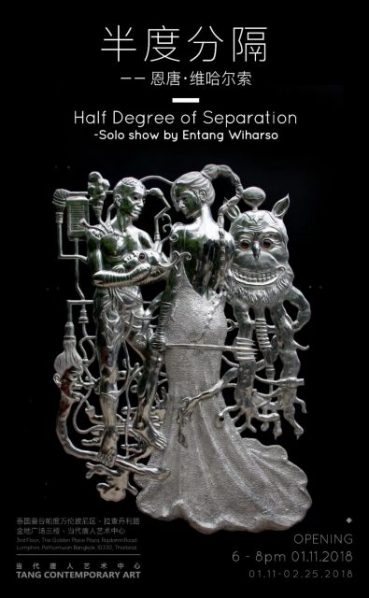 Tang Contemporary Art Bangkok is proud to announce that "Half Degree of Separation", a solo show of Entang Wiharso, will be their first show in 2018. Entang Wiharso is one of Indonesia's leading contemporary artists. This is Wiharso's first solo show in Thailand, which will open on 11 January until 25 February 2018.
Entang Wiharso has a multi-disciplinary practice and is known for his dramatic visual language and unique images of contemporary life. He confronts the universal issues of power, loss and love through investigations of ideology, philosophy and identity. Particularly known for his large scale paintings, wall sculptures and installations, his work heightens our ability to perceive, feel and understand human problems like love, hate, fanaticism, religion, and ideology.
Entang Wiharso's work is layered with social, political and sexual critique, revealing a complex picture of the human condition by integrating narrative tools and placing unconventional materials together. Images from Javanese myth appear in his work in combination with contemporary elements to engage with ideas that continue to resonate and inform our daily life.
Entang Wiharso's work has been exhibited extensively in various contexts: gallery and museum shows, public and private collection displays as well as biennales and group shows in Indonesia and abroad. Solo show including: Half Degree of Separation – Entang Wiharso, Tang Contemporary Art Bangkok; Promising Land, Marc Straus(New York); Never Say No, Singapore Tyler Print Institute; Perfect Mirror, Bernier/Eliades Gallery (Greece) etc. Group shows including the 55th Venice Biennale; Odyssey: Navigating Nameless Seas, Singapore Art Museum; Love: The First of the 7 Virtues, Hudson Valley Center for Contemporary Art, Peekskill, New York; Open Sea, Musée d'art contemporain, Lyon, France; Prospect.3: Notes for Now, New Orleans; All You Need Is Love, Mori Art Museum, Tokyo; and Prague Biennale 6, among others.
About the exhibition
Dates: Jan 11, 2018 – Feb 25, 2018
Opening: Jan 11, 2018, 16:00, Thursday
Venue: Tang Contemporary Art Bangkok
Courtesy of the artist and Tang Contemporary Art Bangkok, for further information please visit www.tangcontemporary.com.
Related posts: