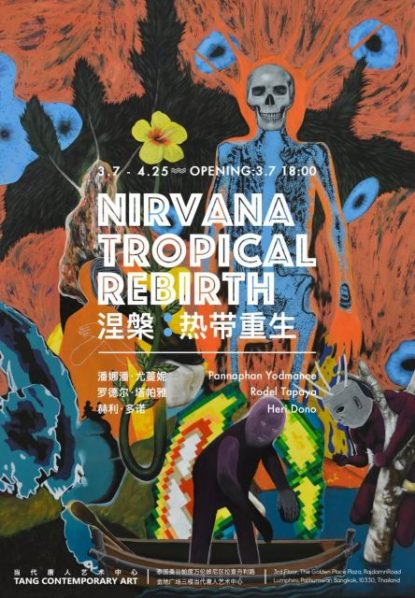 Tang Contemporary Art Bangkok is proud to announce the opening of "Nirvana: Tropical Rebirth," a three-person show for artists Heri Dono (Indonesia), Rodel Tapaya (Philippines), and Pannaphan Yodmanee (Thailand) on March 7, 2018.
Heri Dono (b.1960) is a leading figure in the Indonesian contemporary art world. He blends traditional shadow puppet plays (wayang kulit) into his work; he combines unreal figures and the consideration and criticism of reality into works of powerful imagination. In this process, he deconstructs and transcends tradition and fuses local culture and contemporary art to give life to a new visual effect. He has participated in artist residency programs in Australia, Switzerland, and the United States, as well as biennials in Moscow, Taipei, and Sao Paolo. Dono has won numerous awards for his art, such as the UNESCO Prize at the Shanghai Biennale in 2000 and the Prince Claus Award in 1998.
Rodel Tapaya (b.1980) has become one of the most-watched artists from the Philippines in recent years. He appropriates archetypes from Filipino folk legends and oral histories, expanding and molding them into a visual language that is all his own. Tapaya's stories are full of magical visions; he re-examines every myth, reflecting on a sense of cultural belonging. By interpreting them through a new artistic lens, he creates an interaction between popular culture and ancient myth.
Rodel Tapaya's current works are marked by labyrinthine patterns and recurring characters that transmit scenes and figures from folk stories in his pictorial world. His detailed execution and finish was described by critic Patrick Flores as a "practice (that) pursues the process of myth-making, appropriating certain archetypes in the discourse of origin and expanding it to create a visual vocabulary that is entirely his own. The folk aesthetic in this highly mediated and idiosyncratic language becomes part of a contemporary reflection on a sense of belonging to a domain of culture". These qualities have led him to receive positive reception from art collectors.
Pannaphan Yodmanee (b.1988) is part of the new generation of Thai artists. She focuses on the relationship between Buddhist doctrine and human nature. Through her work, she explores Buddhist philosophy and cosmology, including the universal themes of time, destruction, and death. She paints traditional Thai paintings on rocks, minerals, and other natural materials, adding Buddhist architectural elements to construct an artistic space that transcends the religious spirit.
In 2015, Pannaphan' work was showcased at the Thailand Eye exhibition at Saatchi Gallery in London, and later at the Bangkok Art and Culture Centre. Pannaphan was awarded the prestigious 2016 Benesse Prize. Commenting on Yodmanee's nomination, Akiko Miki, as chair of the jury said: "Her painterly, sculptural and architectural work creates a unique, breathtaking landscape by mixing microscopic and macroscopic visions with Buddhist cosmology, traditional and modern techniques, and natural and artificial materials." The Benesse Prize winners have included Cai Guoqiang, Olafur Eliasson, Janet Cardiff and George Bures Miller, etc. Pannaphan has exhibited at the Singapore Art Museum and Bangkok Art and Culture Center, amongst others.
Southeast Asia is home to a rich diversity of local cultures, and in a world threatened by monotony and homogeneity, this cultural diversity is particularly valuable. Tropical spices, ancient Borobudur, and the primitive freshness of Eastern myth are waiting to be awakened. These three outstanding artists work in contemporary art, giving the nirvana of tradition a new life in a modern cultural environment.
About the exhibition
Dates: March 7 – April 25, 2018
Opening: March 7, 18:00
Venue: Tang Contemporary Art Bangkok
Courtesy of the artists and Tang Contemporary Art Bangkok, for further information please visit www.tangcontemporary.com.
Related posts: