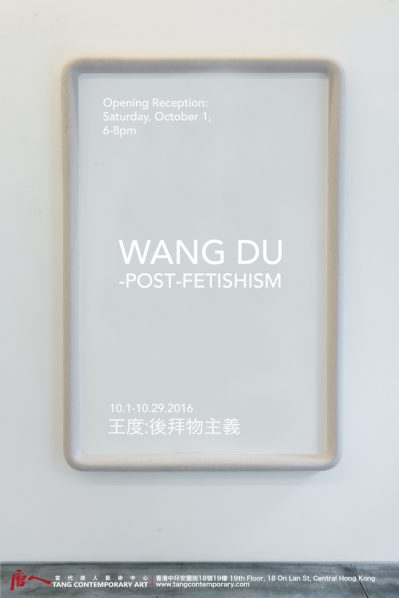 Tang Contemporary Art celebrated the first anniversary of its Hong Kong space on October 1st, 2016 with the olo exhibition "Wang Du – Post-Fetishism", and it features all-new installation work by Paris-based Chinese artist Wang Du.
In Wang's view, contemporary society has become increasingly beholden to material goods, confusing basic values between people, between objects, and between people, society, and education. This materialism has come to infect its very nerves, sending the vehicle for the evolution of human qualities into the pit of instant gratification and material consumption. Based on his keen observations of society, Wang Du produced a series of "post-fetishist" artworks. The mildewed objects in the exhibition seem to signify absurd phenomena related to the intersection and alienation of humans and objects.
About the artist
Wang Du was born in Wuhan in December 1956. He has lived and worked in Paris since 1990. He has taught in the art department at the University of Paris VIII and the École supérieure d'art de Brest. Wang Du works in a range of media, including installation, sculpture, photography, and multi-media. He states, "I am media, I am reality, I am image," could be seen as an interpretation of the concepts behind his work. He believes that "the completely digital third reality is constructing a contemporary society and culture that needs to be constantly redefined." Thus, his work redefines a series of concepts within reality from different perspectives, which is also the statement he has made since he declared, "I am the spokesperson for reality and the masses."
About the exhibition
Dates: 2016.10.01 Sat – 2016.10.29 Sat
Venue: Tang Contemporary Art
Address: 19/F, 18 On Lan Street, Central Hong Kong
Courtesy of the artist and Tang Contemporary Art, for further information please visit www.tangcontemporary.com.
Related posts: