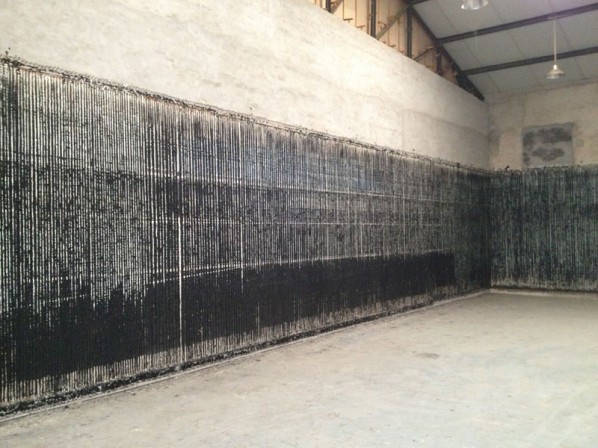 After more than five years of hard work in his Beijing studio, Tang Song presents his uncompromising, abstract works for the first time in Boers-Li Gallery. There are not many events in Chinese contemporary art history whose echo is still reverberating today like the Shooting Incident of the '89 show is. This infinitely reiterated act initiated by Tang Song was the articulation of a new art practice in China, based on the principle that art should be "real", instead of being a representation of a reality outside of art itself. Real art is not about depicting a reality but being it – a real event in itself. Under the tense political environment of the late '80s Tang Song let a gunshot taken place in the context of art.
This new practice, which had groundbreaking influences in the late '80s and '90s, was introduced to a group of Chinese artists by Hans van Dijk, an artist and scholar from Holland, who later worked close together with Ai Wei Wei in CAAW – the first artist's space in China.
In the last 5 years Tang Song worked in his Beijing studio on a tribute to Van Dijk as a form of research into the sources, also as a reflection of the contributions of this inspirator. These works are manifestations of a process, concealing their immediate narratives, as they are representations of the attitude of resistance. Painted layer over layer over the course of time, the works contain references to traditional ink painting, modern abstraction and action painting, and contemporary conceptual and minimalist art.
The center piece of this project is a 25-meter long and 3-meter wide painting on canvas, which is covered by a repetitive structure of sometimes a few centimeters thick, multilayered black paint, placed on top of the canvas through the course of time in separate "action painting" sessions.
Despite the elaborate, complex working methods and its referential fashion, the individual works are simple and lucid in their appearance. Built up by repetitive monochrome lines, they are strongly articulated, bringing into mind the imaginative architectural drawings of Piranesi, who is famous for his engravings of fictitious and atmospheric "prisons." At the same time, Tang Song also shares common ground with the renowned American "Minimal" artists/musicians when he references Zen and Buddhist philosophies, which are based on reiteration and time. In their visual and conceptual forms, the artist sees these works as "bridges"—as guidance to transgress barriers between contemporary life and ancient knowledge, between here and there, and – in their most dramatic form – between life and death.
Most striking of these works is the visual strategy the artist has developed to disrupt what could be otherwise a monotonous pattern of repetition. Whether paint is layered on canvas in an act of spontaneity or violence, Tang Song opens up the surface of his canvasses by "crushing" it, as if it was an echo of his violent act of more than 20 years ago. These works are disquieting manifestations in an even more disquieting time.
The exhibition "Eulogy – In Memory of Hans van Dijk" shows the Beijing project in its entirety, combined with series of abstract paintings from his Hangzhou studio.
The 25 meter long canvas scroll will be unveiled to its full size on April 20th as a special event.
About the exhibition
Opening: Saturday 23 March 2013 16:00-19:00
Exhibition Dates: 23 March 2013 – 20 April 2013
Gallery Hours: Tuesday – Saturday 12:00-18:00
Courtesy of the artist and Boers-Li Gallery, for further information please visit www.boersligallery.com.
Please contact us with inquiries +86-10-64322620 or info@boersligallery.com.
Related posts: