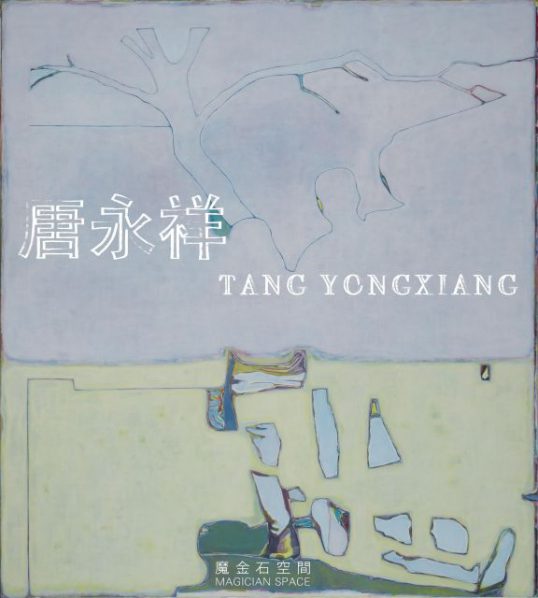 Tang Yongxiang employs a rigorous and individual methodology to approach a set of questions including – positive and negative form, concealment and development, contour and shape, collage and depth, narrative and anti-narrative – the possibilities of painting are all coaxed out from within this set of premises. In relation to this, his work deals with questions, such as how a logic causality or determinacy of a rule, can yield even greater elements of chance and contingency.
The artist primarily relies on intuition, aspiring to set free a greater notion of unpredictability. But in fact with each instance of chance, it is impossible to completely break a logic of causality from existing forms of perceptual experience. Hence, a persistent method, which guides a set of codes determining the experience of his daily practice. In the last two years, the compositions by Tang Yongxiang have become ever more complex. Moreover, he has become less liable to become restricted by the initial constraints of an image or due to the limitations of a methodology. During the last moments of a painting, there are certain times when it appears as if there has been a complete break from a painting's original state. In this process, he not only proceeds through a pictorial relationship between concealment and reconstruction, but in other situations, he can undertake techniques of cutting, moving, adding, and replicating elements, which are layered onto the existing foundation of an image. It is as if the initial set of self-internalized rules become loosened, which enables the canvas to be enriched with greater variation.
Tang Yongxiang submerges any form of anticipation during his use of the canvas, whilst also concealing different mechanisms used in language. However, these devices are used in order to emancipate the viewer from pre-existing forms of experiencing and perceiving the image, thereby engaging the audience with a maximum degree of freedom. At the same time, he obscures and produces many different forms of rupture. It is precisely situated within these ruptures, which function as entry points into the canvas space in a fashion similar to how he sees areas through the construction of a negative space. Within these ruptures, he opens up new possibilities of the imagination, looking to lead towards a mechanism of image making – one that opens a new dialectic between subjective and imaginary expression.
About the artist
Tang Yongxiang (b.1977, Hubei Province) graduated with a Master's Degree in Hubei Institute of Fine Arts and currently lives and works in Beijing. Exhibitions include major solo shows at Magician Space, Beijing (2017); Magician Space, Beijing (2015); Magician Space, Beijing (2014); Hemuse Gallery, Beijing (2012). Other selected group exhibitions include: Post Wave: Temperament and Avant-garde, The Barn Contemporary Art Space, Shenzhen (2017); Ever Since, Cheng Project, Beijing (2017); Dissensus Agitation – The Painting to Language, Today Art Museum, Beijing (2016); Lehmann Maupin, Hong Kong (2015); Inside – Outside, Klein Sun Gallery, New York (2014); XXX – Next 10 Years of Contemporary Art, Today Art Museum, Beijing (2011).
About the exhibition
Dates: Sep 2, 2017 – Oct 15, 2017
Venue: Magician Space
Courtesy of the artist and Magacian Space, for further information please visit www.magician-space.com.
Related posts: