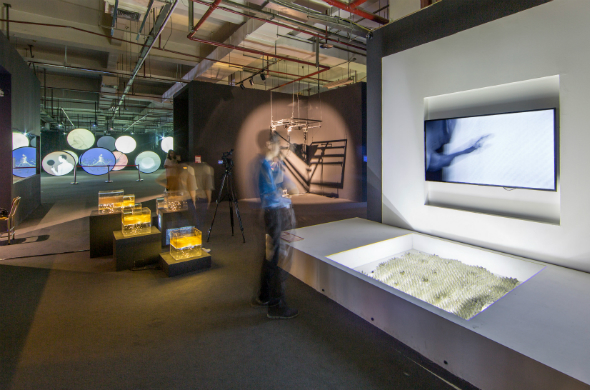 When entering the gallery of Asia Digital Art Exhibition, it is like getting involved in a wave of modern exchanges among Asian civilizations. As one of the important contents of Conference on Dialogue of Asian Civilizations, this exhibition has a strong sense of proposition, but the proposition of the exhibition is indeed applicable to the common thinking of human developments. The Asia Digital Art Exhibition intends to explore the significance of geography, culture, technology and the future of mankind on the basis of the developments of human civilizations. The main colors of the exhibition are red, white and black, so that people who enter the exhibition hall first receive solemn, calm and eye-catching emotional signals. Thirty artists from Asia, around the theme of Asian civilizations, combine art and technology to unveil the appearances of Asian civilizations. The exhibition includes three important sections: Thematic Exhibition, Audiovisual Art Exhibition and Culture + Technology Exhibition. Although it is difficult to distinguish the boundaries of the themes in a black-box exhibition gallery similar to an escape room, the artworks which are full of interactive and technological audio-visual elements are so fascinating that spectators extend their stay.
This is an exhibition worth visiting and experiencing. Although you will come across Asian art masters today, or meet some of the artworks by artists that have attended Venice Biennale or Kassel Documenta, you will definitely be attracted by the fresh Asian art faces that you have never experienced before.
A total of seventeen works are exhibited in the Thematic Exhibition gallery. The first work is the Chinese artist Xu Bing's "The Character of Chinese Characters" which has a ritual beginning. As an ancient Asian civilization, China hopes that its civilization will be understood through Chinese characters. The works for the Thematic Exhibition form the core part of this exhibition. The choice of the works are centered around two central elements of science and technology, but there are rare works that achieved a good balance between them. Either technology is a form of existence in artwork with a performance nature but lacks profound exploration, or the idea of work does not allow for digital technology to be perfectly presented, although this is an inevitable issue in artistic creation.
The works that can arouse common concern are worth discussing again. Tobias Gremmler, an active German artist has lived in Hong Kong and Asia for a long time and brought his artworks including "Chinese Calligraphy in Motion", "Virtual Actors in Chinese Opera", and "Kung Fu Motion Visualization" to this exhibition. It seems that the elements of Asian civilizations are well displayed in these works, especially the cultural symbols of China that are expressed in multiple digital technologies. Chinese calligraphy, Beijing opera, and kung fu are all displayed in a visual way. The instantaneous and mechanical behaviors which are hard to observe are reproduced by digital technology to create an artistic and dynamic image. Every time you watch it, you will be amazed at the infinite vitality of Chinese culture and how it can be presented through diverse future technologies.
The Chinese VR artist Hsin-Chien Huang collaborated with American artist Laurie Anderson on the VR interactive work "Chalkroom", which was successfully awarded "Best VR Experience Award" in the 74th Venice Film Festival. The huge blackboard in this work symbolizes human memory. Although it can be wiped over and over again, the old memory never disappeared. Countless giant blackboards construct a vast virtual space, like a huge memory maze; the visitors enter the dream world with Anderson's voice, flying freely in a virtual reality. The work consists of eight unique rooms inside, which look like the swirling Milky Way of words; the words or singing of the participants may condense into a sculpture of sound. These unique interactive rooms convert abstract symbols into figurative, interactive entities, allowing the visitors to explore the connection between words and memory. This is a work that is easy to reach the human soul as well as an attempt to find pain. From personal experience to the prosperity of a region, you need a blackboard like this. After repeated writing and erasing, one regenerates a cycle.
The audio-visual art exhibition is displayed on a huge high-wall screen. Digital, animation, music, and lighting bring the experience of audio-visual entertainment to a modern and entertaining dynamic experience. The Culture + Technology Exhibition section focuses on the works of young Asian artists. The ideas and expressions of their works are firmly grasped by science and technology, but more interactive expressions are also used actively. These works are full of unique thinking and ideas of young people, which seem to be more interesting than the works.
If you need to feel how art and technology are unveiled through Asian civilizations, please go and uncover it for yourself.
Text by Lin Lu, edited and translated by Sue/CAFA ART INFO
Related posts: