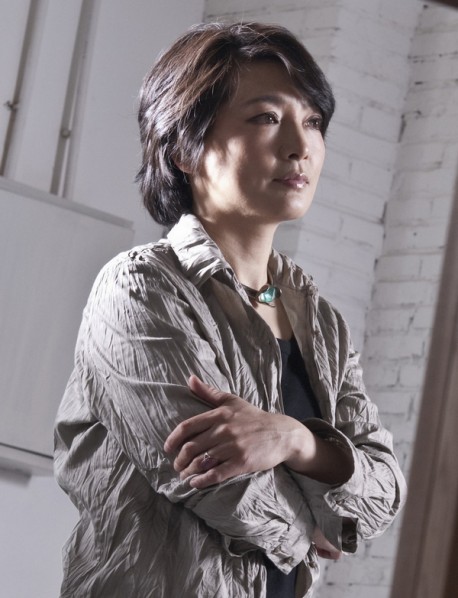 Exhibition: each is the context of the other.
The "10years-Re:jewellery" exhibition is a contemporary jewellery exhibition of international proportions; what was the thought process behind this?
We considered the idea from a lot of different angles—my initial idea was to invite the most influential artists, both domestic and international, to display their work, and to give them a space for dialogue—an atmosphere for the development of contemporary jewellery, which I thought would be great at a time when we were all trying to sort out ten years of educational practice. Two separate exhibition spaces would then be linked together and presented as a whole, in the hopes of addressing their difference while simultaneously implying their mutual contextualization. In terms of the nature of the works themselves and the critical thinking behind them as a larger whole, they serve as contexts for one another.
I organized this exhibition and seminar on the basis of the development of international contemporary jewellery art, inviting well-known international masters and their works to provide the Chinese audience with a chance to learn more about the development of contemporary jewellery design in the West. The Chinese contemporary jewellery designers and artists were all graduates of the Central Academy of Fine Arts. Everyone raised questions and discussed the possibilities of creation in the context of contemporary jewellery development internationally. We also invited notable jewellery gallery owners, critics, and scholars to get involved. This multicultural collaboration provided a platform for the exchange of information about different cultures and their art forms, for furthering the West's understanding of China's contemporary jewellery art, and for an overall improved mutual understanding.
In March of this year, the thesis work of a student named Liu Xiao was selected for the International Jewellery Schmuck 2012 exhibition held in Munich, Germany, a 53-year-old exhibition attracting the best jewellery artists from all over the world for events that have a lasting impact on the development of jewellery art. Liu Xiao was the first young Chinese artist ever selected; we felt that it was a test for us as educators, and a chance for Liu to grow as an artist. During the exhibition we had the chance to interface with the organizers, professors, and jewellery artists in an academic context. Now, with this exhibition in Beijing, we aim to attract more young Chinese artists in the same vain. I look forward to more dialogue between our young artists and international masters. A bit of friendly competition is good for artistic maturity.
Through this event, I also hope to put the general Chinese audience in touch with concepts of contemporary jewellery. Together with Caibai, a famous label in China with wide mainstream recognition, we hope to promote the development of Chinese jewellery culture. This exhibition is a chance to put society in a closer dialogue with contemporary jewellery. At a time when jewellery design is gaining more and more recognition, we hope to receive feedback that can help us to ensure the stable development of our art. I have always been inspired by Phyllis Lin's (Lin Huiyin's) tireless efforts to carry on the spirit of tradition. In the same way, we are working hard to preserve the traditions of the jewellery profession, while also blazing our own path forward.
This exhibition has given me the chance to take an honest look back over the fulfilling experiences that these ten years of teaching and learning have brought me. To be honest, I have been lucky to have some of the best students, many of whom are now young teachers. They are responsible, hard working, and constantly strive for the best. They possess a positive attitude when it comes to teaching, and a kind of rigorous academic spirit that keeps them open-minded and endows them with a healthy perspective on life and on learning, moving them forward without excessive pride or impetuousness. Undemanding of any recognition they too have worked tirelessly toward the development and advancement of the jewellery program at CAFA. My students are the greatest gift to come out of this whole experience. Each is a gem in his or her own right; and altogether they are the true treasure of my career in education.
Postscript: Based on her own experiences and born out of her dreams and determination, Teng Fei has initiated and developed a teaching method which emphasizes freedom and independence in the study of the art of jewellery making. From this text alone, the care she has for her students and the investment she has in their success are poignantly clear. She teaches them from heart to hand, and they learn not only how to think with their hands, but also how to persevere with their hearts. It is a joy to witness what has come of these past ten successful years. — Jiang Yuehong
2012.5.24
The end.
Courtesy Teng Fei and CAFA ART INFO.
Related posts: