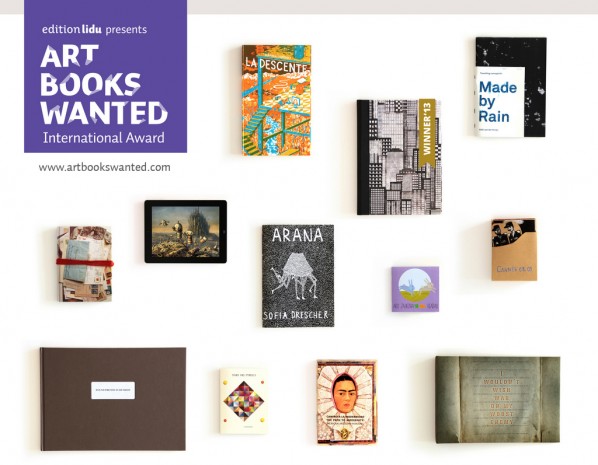 In the 2nd edition ABW International Award (2013) EDITION LIDU received 268 submissions in wide range of art book forms by authors from 35 countries. Considering the high level of submitted projects the Art direction of EDITION LIDU has selected 117 exciting projects to be presented internationally via the official ART BOOKS WANTED website and to the International Jury. The Winner of the main PRIZE ART BOOKS WANTED International Award 2013 was Yeni Kim from South Korea with the book City Acrobat.
The ART BOOKS WANTED International Award (ABW) is organized by the international Art book publisher EDITION LIDU. The 3rd edition brings the exciting PRIZE of 1000 € for the Winner and many interesting opportunities for participant artists and authors.
"The project enables to promote artists and designers and creates new dialogues between authors and publishers, galleries and other cultural institutions. It also creates a larger awareness of the Art book (Artist's book) as an equivalent art media as well as painting, sculpture, installation or new media. EDITION LIDU presents ABW International Award and selected books during prestigious international exhibitions. In 2013, the total attendance of ABW related exhibitions exceeded 200,000 visitors (Milan Design Week, Prague Design Days Designblok, Operae Design Festival Torino, etc.)" says Ludmila Favardin, the founder of EDITION LIDU and the iniciator of ABW International Award.
SUBMISSION DEADLINE 14 May 2014
FIVE REASONS TO PARTICIPATE
WIN 1 000 €
GET A SOLO OR GROUP EXHIBITION
GET YOUR BOOK PUBLISHED
BECAME PART OF ART BOOKS COLLECTIONS
SOLD OUT YOUR LIMITED EDITIONS
Artworks and authors selected in the 1st round will be presented on the website and communicated via the official Newsletter internationally.
The winner and authors selected in the 2nd round will be presented in THE SELECTION of outstanding projects and communicated internationally to art and design magazines, museums, institutions and other media. Awarded Authors will receive an Official ABW Award Certificate. The WINNER will receive the PRIZE of 1 000 € and the Official ABW Award Certificate.
Selected artists will have the opportunity to show their work during international exhibitions and will be considered for publishing by EDITION LIDU.
More information and submissions: www.artbookswanted.com.
The PDF submission can be found on this link: http://www.editionlidu.com/artbookswanted/ABW-SubmissionForm-Paper.pdf
ELIGIBILITY
The ABW International Award 2014 is open to established and emerging artists, illustrators, graphic designers, typographers, photographers, designers, writers, art & design students, independent publishers, museums and galleries.
Submissions are welcome from individuals and creative studios. There are no age, language or nationality limitations.
WHAT CAN YOU SUBMIT
You can submit author's books, graphic books, comic strips, fun zines, illustrated books for children, photography catalogs, hand-printed books, pop-up books, PDF layouts, Interactive books and stories using digital media, ePub, iBooks, APPS and other original book forms.
THE ORGANIZOR – EDITION LIDU
The ART BOOKS WANTED International Award is organized by the international publishing house EDITION LIDU with the goal of supporting art and book culture worldwide. EDITION LIDU focuses on producing quality ART & GRAPHIC BOOKS, original CHILDREN'S BOOKS and NEW MEDIA PROJECTS.EDITION LIDU gives authors the possibility of high-level presentation. EDITION LIDU's books and art projects regularly participate in exhibitions and festivals all over the world and are often honored at international competitions and selected in Permanent collections of art museums, libraries and archives.
More about edition lidu at: www.editionlidu.com
THE JURY
Artworks will be evaluated by the international JURY composed of art and design experts, artists and curators. THE JURY will select up to 12 Artworks which will be AWARDED and vote for 1 BEST ARTWORK and the author will receive the ART BOOKS WANTED PRIZE of 1000 €.
THE WINNER of 2013
City Acrobat by Yeni Kim
City Acrobat, a narrative pop up book, is about life in the big city. The main character, an isolated female acrobat, represents the self portrait of a citizen. She needs to perform on the high wire all day, like the workers labouring in the city. Infinite roads, crowded buses, and skyscrapers illustrate the routine life of the busy citizen. Like the female acrobat's dream, the city we belong to might not be the real world, but a kind of stage that we need to perform on.
Yeni Kim is originally from Seoul, South Korea, and is currently living in London. Yeni Kim graduated the Royal College of Art in London. She works with various media, such as illustration, animation, and printed communication, but her main interest is in the art of storytelling. Yeni Kim loves to incorporate interesting stories from all aspects of life, using these stories as themes for her work, then adding her own insights and emotions.
For more information of the Awarded Projects, please visit the official website: www.artbookswanted.com.
Courtesy of ART BOOKS WANTED International Award 2014. All rights reserved.
Related posts: