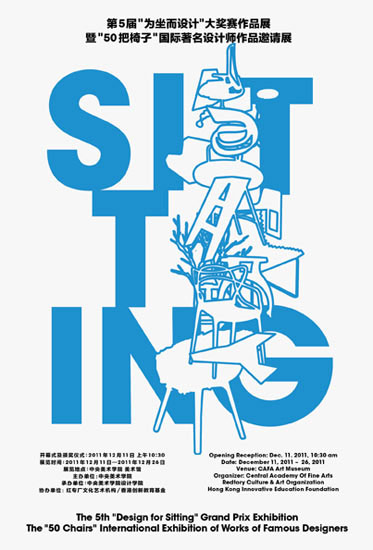 Organized by the Central Academy of Fine Arts, the 5th "Design for Sitting" Grand Prix is an original design competition initiated by Jiang Li, Professor of the Central Academy of Fine Arts, which a competition as well is an exhibition of original furniture design in China. Since its foundation in 2002, there have been four successful sessions.
Since its third prix, it has added the project of "The International Exhibition of Famous Designers" which has incresed this event to a new level. Stimulating and promoting the healthy and rapid development of future design, this international exhibition has already successfully conducted two exhibitions with 30 and 40 chairs. Its participants include renowned furniture designers who are very active domestically and internationally, celebrated architects, artists, supervisors in universities as well as professional senior leaders of well-known furniture brands. The synergy of their pieces has received popular acclaim from the design communities, some of which have won domestic and international awards in design or become masterpieces collected by museums and engraved in the history of design. Following the four successful exhibitions, many of the most influential auction houses actively cooperated with the organizers with more and more cooperative works flowing into the world of design collections and healthy business operations.
Image Courtesy of CAFAM
Curated by Jiang Li and Li Yongling, the 5th "Design for Sitting—50 Chairs" International Exhibition of Works of Famous Designers is held at the same time as the 5th "Design for Sitting" Grand Prix. The theme of this grand competition is "Sitting and Other Activities", based on the behavior of sitting, arbitrary action is free to be added by the designers. Supported by a number of places such as Guangzhou, Shanghai, Hong Kong, Taiwan and Milan, the competition will select outstanding works to held touring exhibitions in the above cities and send them to participate in the largest international frontier of design—Milan Week of Furniture in Italy.
With "To Design for Sitting" as its purpose, this exhibition hopes it can fight side by side with Chinese designers as well as the design industry to promote the fast and healthy development of Chinese original design.
Date: December 11th—December 26th, 2011
Venue: the Museum of the Central Academy of Fine Arts
Related posts: