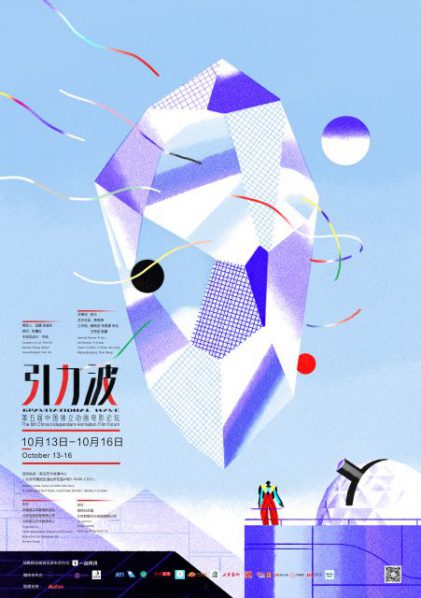 The topic of the 5th edition of the China Independent Animation Film Forum 2016 is "Gravitational Wave", including five parts,"Competition Unit", "Screening Unit", "Kon Satoshi Unit", "Special Unit", "Lectures"and "Theater". The 5th China Independent Animation Film Forum – "Gravitational Wave"(2016) will be held in Beijing 798 Art District from October 13th to October 16th.
The China Independent Animation Film Forum (hereinafter referred to as the CIAFF) is the first animation film art project in mainland China and its non-profit, co-sponsored by some private agencies. It was authored by the independent animation director Pi San in 2011. Since 2015, CIAFF implementation of the Curator System, the Artistic Director is Yi Yuxiao.
「Supportion」Collecting, studying and carding of independent animated films'documents and files independent animated films. Making important independent Chinese animation support.
「Creativity」CIAFF on encouraging Chinese independent, original and experimental animation creation. Extend the survival and development of independent animation and discussion space.
「Openness」Establish active contact with the public, professional and international platform.
"Gravitational Wave"
The topic of this animation forum is "Gravitational Wave", which is planned by Lei Lei and Chen Xi jointly. Independent Animation just as the gravitation wave, exudes charm uninterrupted as people long for. We know great pleasure can be achieved from the echoes with animation. Just like the power was suddenly turned on and our hearts were illuminated in a flash.
– Chen Xi
The core direction of independent animation is independent thinking, and the spirit of exploration, wild imagination and self-reflection. While independent thinking is just in the back of our mind. Close your eyes and you will see it. This is our tiny universe.
– Lei Lei
Mechanism innovation
• The Advisory Council of CIAFF:
For the purpose of building an increasingly diverse and open communication environment between CIAFF and the public, experts, artists, industries, colleges and universities, as well as creating a favorable platform for communication, mutual assistance and learning, CIAFF is preparing the establishment of its Advisory Council. The committee consists of academic consultants and expert advisers who represent the academic pioneers and models of Chinese animation respectively. By providing effective measures, such as relevant suggestions, documents and information, consultants can make contributions to the increase of academic standards and influence of CIAFF. At the same time, the forum will actively promote and give publicity to the artistic works and research results of these experts. In this case, the two parties can cooperate to boost the development of China independent animation and to encourage original creation, independent thinking and humorous expression.
• CIAFF Archive
Since 2016, CIAFF Archive has established a data base for the public to access and use. We will include more than 160 independent animated short films as the first batch of collection, and will save and input nearly 200 Chinese independent animation films of the 21th century.
The CIAFF Archive in the process of improving their own construction, and actively seek cooperation with other Chinese and foreign image research, preservation agencies, so that more domestics and foreign film institutions, scholars and enthusiasts can learn about Chinese independent animation film more directly and intuitively.
Competition Unit
They are very pleased to share that the 5th CIAFF received 592 entries in total. These animated works come from plenty of countries countries overseas, such as Japan, Korea, UK, USA, Singapore, Netherlands, Israel and so on. The competition among these high quality entries is expressly stiff. 42 entries are successfully shortlisted and they will be first shown with our audiences during the 5th CIAFF.
Premiere – the Opening Film and Closing Film
• Opening Film: Rocks in My Pockets
Latvia, the late 1920's. Anna, a young woman, pretty and educated, falls in love with an adventurous entrepreneur, 30 years her senior. But with marriage comes great jealousy, and the entrepreneur hides Anna away in the forest, far from other men, where she bears him eight children. The Great Depression hits them hard. Then Latvia is overrun with invasions by the Soviets, then the Nazis, then the Soviets once again. Anna is a pillar of strength, defying the hardships, raising her young, teaching them survival secrets of the forest. But something inside her is terribly wrong.
Author: Signe Baumane
Director, Writer, Voiceover
Signe was born in Latvia. She received a BA degree in Philosophy from Moscow State University in 1989. Eight months after giving birth to her son she was checked into a mental hospital and diagnosed as manic-depressive. Despite the diagnosis, Signe made 3 animated short films in Latvia before moving to New York in 1995. In New York she continued to work in the field of animation and made 12 more award winning animated shorts. Her films have been accepted at Sundance, Berlin, Annecy, Venice, Tribeca and hundreds of other film festivals around the world. "Rocks in My Pockets" is her first feature film project.
• Closing Film: Sixty Six
Sixty Six began as a three minute, 16mm film I created in 2002 – a pop poetic filled with the lush palette of Daylight Noir and primary color abstraction. For some undefined reason, I never took this little conjuring to the printing stage but would instead occasionally screen it publically as tape-spliced workprint. In June of 2012, I felt compelled to finally complete this short. I decided to re-create it, shot for shot, in digital video, which in the intervening decade had replaced 16mm as my format of choice. But a surprising thing happened as I transposed some of the original shots into video, the piece kept expanding as new images and materials spontaneously folded in.
Author: Lewis Klahr
Collage Artist and Film Director
Lewis Klahr lives in Los Angeles and teaches in the Theater School of the California Institute of theArts.
Lewis Klahr has been making films since 1977. He is known for hisuniquely idiosyncratic films, which use found images and sound to explore the intersection of memory and history. Klahr's films have screened extensively inthe United States, Europe and Asia – in venues such as New York's Museum of Modern Art, the Whitney Biennial, the New York Film Festival, the Toronto International Film Festival, the Hong Kong International Film Festival, TheTate, and the LA County Museum of Art.
International Unit – Many Foreign Animated Works Premiere in China
We have invited authors from South Korea, Holland, Canada, Japan and other countries bringing their excellent animated short films, screening during the 5th CIAFF. The opening film and closing film both are the China premiere.
• Koji Yamamura – Janpanese Independent Animation Unit
Koji Yamamura born on 1964 in Japan. He graduated from Tokyo Zokei University in 1987. In 1993, he founded Yamamura Animation, Inc. Mt. Head (02) was nominated for an OscarⓇin 2003, and awarded the 6 Grand Prix include Annecy 03, Zagreb 04 and Hiroshima 04. Franz Kafka's A Country Doctor (07) awarded the Grand Prix at Ottawa. He is also an illustrator and several picture books are published. He is member of the Academy of Motion Picture Arts and Sciences, a member of the board of directors of the Japanese branch of the International Animated Film Association (ASIFA) and a sub-chairman of the Japan Animation Association. A visiting professor of Tokyo Zokei University and a professor of department of Animation, Graduate School of Film and New Media, Tokyo University of the Arts.
This time, he brings his first big retrospective screening and outstanding students' independent animation of Tokyo University of the Arts.
• Choi Yujin – Korean Independent Animation Film Festival Unit
Choi Yujin, Korean Independent Animation Filmmakers Association (KIAFA), General Manager, Korean Independent Animation Film Festival (Indie-AniFest), General Manager. Lecturer of Moving Image in Konkuk University.
"Communication" remains a major theme in Korean independent animations. This includes communication through language, stories about the connections that we form with one another, and even ideas about the "self" as it exists in society. This program offers a chance to explore Korean animations which portray our thoughts and contemplations about forming connections with one another in the midst of the increasing personalization of modern society. After all, this screening itself provides an opportunity to connect with a new audience.
• Frédérick Tremblay – Puppet Animation Collection
From 2008 'till today, I've been working on a series of puppet animation short films. I wish watching the whole thing would somehow feel like a recurrent dream which is never quite the same each time, getting stranger and stranger…
All stories were improvised during the animation, using no scenarios nor story boards. As for the visual, I developed during the making of those animations a singular handcraft technic with papier-mâché-like textures.
Beijing's CIAFF will be the premier to screen the complete series in public.
Kon Satoshi Unit – Tribute to Kon Satoshi
He passed away in 2010 due to illness. It is already six years now.
His works had strong personal style, different from previous animated movies, he conducted pioneering discussions and practices on ways of narration and patterns of manifestation of animation. Focusing on discussing modernist's heart, Kon Stoshi's works were full of psychoanalysis and his own philosophy of life.
To pay our respects to Kon Satoshi, China Independent Animation Film Forum particularly holds activities related to special topics and set Kon Stoshi award to express our respects to Kon Stoshi, hoping to find excellent works with Kon Stoshi's spirit from the new generation by discussing and studying Kon Stoshi's works, and by setting awards accordingly.
Music, Cross – border
The Artist, Chai Mi, launched the experimental performance about "water" in 2015, and created a multimedia theater together with two sound artists. Using the self-created water devices, they perform sound production, framing and image making on the scene. The water, as the media and topic of the entire performance, is combined with the devices, behaviors, live music, impromptu singing and live images. The performance mines various images caused by the water, creates an abstract and poetic experience of images and sound, and explore the multi-relationship between man and environment. According to different forms and sizes of the water, the performance is divided into three movements: Drip, Flow and Surge, working together to present a special conversation created by the water.
Lecture, Workshop
Animation directors, designers, artists will bring cross-border academic lectures, they are Xue Yanping, Li Xingyu, Cen Jun, Zhu Yantong, Yu Shui.
• Lecture Series "Chinese Animation Industry"
Guest: Xue Yanping
Teacher, Film Director, Animation Historian
Associate Professor of School of Animation and Digital Arts, Communication University of China
Chief Editor of Animation Library Series
Invited Expert of Chinese Animation and Comic Museum
Introduction of lecture:
In 2007, I set out to make a documentary, Silent within Noise, about Chinese animation in the 21st century with a simple purpose to show the real situation of Chinese animator. This low-profile and little-known industry is becoming marginalized and demonized when it steps into the 21st century. The documentary consists of four episodes total of 3 hours 59 minutes and 46 seconds.
The first episode: Chinese Independent Animation ( A total of 50 minutes and 29 seconds)
An account of Chinese independent animators in the 21st century through the stories of Skin 3 and Ray.
The second episode: Chinese Animation Industry (A total of 49 minutes and 36 seconds)
An account of Chinese animation industry in the 21st century through the twisted story of Kui Ba (Ⅰ~Ⅲ) and the "industrial standards" Director Wang Chuan sticks to.
The third episode: Chinese Animation Academism (A total of 84 minutes and 24 seconds)
An account of the entrepreneurial stories of Chinese animation academism in the 21st century through the relationship and striving story of animation teacher Li Zhiyong (Director of Kung Fu Bunny) and his student Zhang Zhe (Director of Paper Man).
The fourth episode: Chinese Marginal Animators (A total of 55 minutes and 16 seconds)
The tidbits of the documentary through the stories of two cats (MR. Cat and Ms. Cat) growing up along with this documentary. An account of the living condition of the producer of this documentary, Catfood Animation Studio, and some marginal animators different from independent artists, professional industrial animators and the academic animators.
• Lecture Series: From Paper to Animation
Guests: Cen Jun, Zhu Yantong
Cen Jun was born and raised in Guangzhou, China. He is an award-winning illustrator and animator who is currently based in New York. His work has been recognized by the Society of Illustrators, American Illustration, Association of Illustrators and more. He was the Overall New Talent winner of the 2013 AOI Illustration Awards. He has collaborated with The New York Times, The Washington Post, TED, Chevron, Vogue, GQ, The Verge and so on. His latest animated short films were shown at Indie Memphis Film Festival, International Motion Art Awards and more.
Zhu Yantong was born in Nanjing China in 1988. She moved to Japan in 2010 and started making short animation films. Since 2014, her graduation film My Milk Cup Cow (11'03") has won 24 prizes around the world, such as "Grand Prix" of KROK (Russia & Ukraine), "Grand Prix" of PISAF (Korea), "Young Animation Award" of Stuttgart Festival of Animated Film (Germany), "Special Golden Jabberwocky Prize" of International Film Festival Etiuda & Anima (Poland), "New Face Award" of Japan Media Arts Festival. She also has been invited to Bucheon International Animation Festival 2015 (Korea) as one of the Jury members. Ms. Zhu got her Master's Degree in Film from Tokyo University of the Arts in 2014. She now works as a freelance animation director internationally.
Introduction of lecture:
From Paper to Animation is a conversation between Cen Jun, an illustration who also makes animations, and Zhu Yantong, an independent animation director who at the same time creates children's books. Not only do the two artists have similar identities in their careers, but also share the same practice of using paper as their important medium. At the From Paper to Animation panel, the two storytellers will share their thoughts on the relationship between drawing and animation in their creative process and how they shift between their multiple roles, and tell stories in both illustration and animation.
• Lecture Series "From Independent Animation to Commercial Animation – My Experiences of Creation"
Guest: Yu Shui
Yu Shui was born in China, 1978. In 2004, he graduated from Animation School of Beijing Film Academy and got a master degree, now he works as a teacher in Beihang University. His animation works has won many awards in China, and has been shown on quite a few festivals all over the world.
Representative works: "About Live", "Flaming Youth", "Mr. Yun", " FOF and His Story", "Beasts Man", "The Funeral", "Life Montage", etc.
Research direction: creation for animated short films, and network animation.
Introduction of lecture:
Students in major of animation should be encouraged to create art animation in school. So should I. My creations won many awards upon graduation. But I came across bottlenecks afterwards. I think that art animation and independent animation are not my final orientation. So began the rough journey of seeking for new styles of creation. It is a good thing to maintain long-term interests in independent animation creation. But not many people can keep doing it. For years, I have been searching for a way to support myself through creating works that I am good at.
• Lecture: The Game of sounds
Guest: Li Xingyu
Xingyu Li (born 1985 in Beijing) is a musician, producer and sound designer.
He creates scores for animation, advertising and short films, cultivating a unique style full of imagination and wonder. At college, he founded his first band SNP Little Creatures and won an award in Dadi Zhiyin Global Chinese Music Composition. After graduation, Li was involved in a three-member multimedia project "HEY", their album "Hey! Pop Music" won The Mars Music Award in 2011. They also received accolades in the UN Rio+20 Global Youth Music Contest, which took place in Rio de Janeiro, Brazil. Currently, he has issued two solo albums "Whale Circus VOL.1" and "Whale Circus VOL.2". "Whale Circus VOL.2" won the Abbey Road for Best World Music/ Soft Music Award.
Introduction of lecture:
In a world without images, sound can construct images in the brain. As sensory elements of equal importance to visual ones, sound involves significant roles and unique meanings in animation works. The lecture will break boundaries and rules of background music. It will also conduct a game of sound based on some experiments and examples. Meanwhile, recordings of the lecture will be given to film directors as creation materials.
Guests List: Cai Yuming, Cen Jun, Chai Mi, Chen Xi, Choi Yujin, Ding Shiwei, Frédérick Tremblay, Kon Kyoko, Lei Lei, Li Xingyu, Lewis Klahr, Crows and Sparrows, Raffia, Yamamura Koji, Maruyama Masao, Wei Shilei, Xue Yanping, Yu Shui, Hara Fuminori, Zhang Gong, Zhu Yantong, Julia Frąckowska
Related posts: