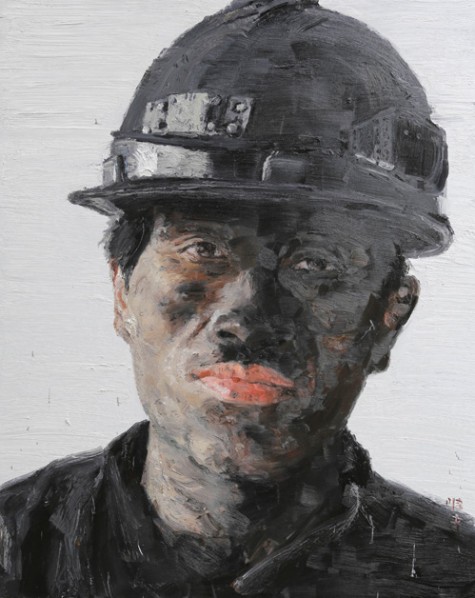 More than ten oil painters who have similar ideals and beliefs in Beijing, including Ai Xuan, Yang Feiyun, Wang Yidong and etc., established the loose and harmonious "Beijing Realism" in 2004, annually holding an exhibition, aiming at interchanging the realistic styles of Chinese oil painting with each other, as well as being a technique of expression, mutual encouragement. After the success of the initial exhibition, it was renamed "China Realism" in the following year. Over the nine years, the ages have experienced changeable circumstances, receiving both praise and disproval from society, the team has been constantly growing, the size of the exhibition is expanding and the quality is improving. Coexistences of simple works and beautiful ones, simplicity and elegance, the bold and graceful, complemented each other, harmonious without sameness. For the relief of Wenchuan earthquake happened in Sichuan in 2008, more than 30 artists of the group made a concerted effort to create a large scale oil painting "May With Righteous Ardour", whose influence reached an unprecedented height, and was praised by the Ministry of Culture.
Realistic oil paintings will be on display at the exhibition, featuring a total of 100 oil paintings, to fully showcase the basic features of the creations and lives of the artists as well as the works created in 2013. Participating artists include Ai Xuan, Yang Feiyun, Wang Yidong, Chen Yanning, Xu Mangyao, Liu Kongxi, Guo Runwen, Wang Hongjian, Yuan Zhengyang, Xia Xing, Zhang Li, Long Liyou, Li Shijin, Wang Yuqi, Xu Weixin, Zheng Yi, Weng Wei, Xin Dongwang, Pang Maokun, Leng Jun, Yin Xiong, Shi Liang, Li Guijun, Zhang Yibo, Zhu Chunlin, Wang Shaolun.
About the exhibition
Duration: November 20 to December 1, 2013 (closes at 12:00 noon)
Organizer: Beijing Fine Art Academy
Venue: Hall 5,7 at National Art Museum of China
Courtesy of the artists and the National Art Museum of China, translated by Chen Peihua and edited by Sue/CAFA ART INFO.
Related posts: