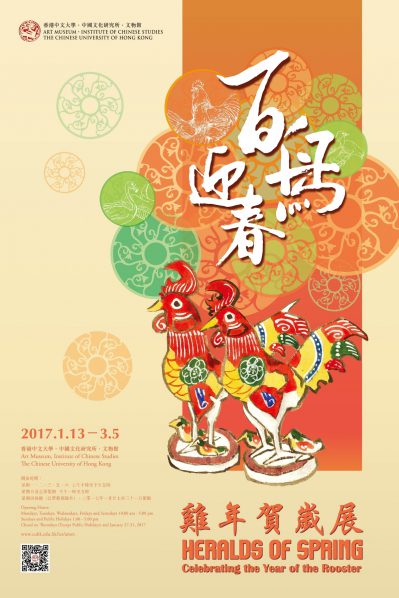 The day 28 January 2017 marks the beginning of the Ding-You year, or the Year of the Rooster, in the traditional Chinese lunar calendar. "Heralds of Spring: Celebrating the Year of the Rooster" is organized by the Art Museum to share with you the joy and blessings of the occasion. The rooster ranks tenth in the Chinese zodiac. It often plays a part in the everyday life of human beings and has been imparted with rich symbolic meanings since ancient times.
The rooster, which guards the day and crows unerringly at the break of dawn, has become a symbol of trust and punctuality. As the old saying goes, "At the rooster's call, the world brightens." The rooster is regarded as the messenger of light that dispels darkness. Calling upon the arrival of the new year, it welcomes a time of life and renewed vitality. The rooster is the only bird among the twelve Chinese zodiac signs. In the ancient mythology, the phoenix was the king of birds. As the Classic of Mountain and Seas (Shanhaijing) has it: "There was a kind of bird that looked like a cockerel, but boasted patterned feathers in five colours. It was called the phoenix." Because of their similar forms, the phoenix, as an auspicious bird, is considered closest to the rooster, and it is sometimes even described as a surrogate of the rooster. The phoenix is believed to appear only during times of peace and prosperity; its image comes to signify a blessed land. Birds of all kinds will come together to pay homage to the phoenix on its birthday. At the advent of the Year of the Rooster, it is only fitting to celebrate it with works of art that feature auspicious birds.
This exhibition showcases 53 sets, dating from the Han Dynasty to the present. The works come from the collection of the Art Museum as well as from local private collections. In presenting these auspicious images, we also highlight the craftsmanship, history, and cultural significance of the works on display—so beyond the festive spirit of this occasion, we are also marking it with artistic marvels from the long history of Chinese civilisation.
About the exhibition
Dates: 13 January 2017 – 5 March 2017
Venue: Gallery II, Art Museum, Institute of Chinese Studies, The Chinese University of Hong Kong
Courtesy of The Chinese University of Hong Kong, for further information please visit www.cpr.cunk.edu.hk.
Related posts: