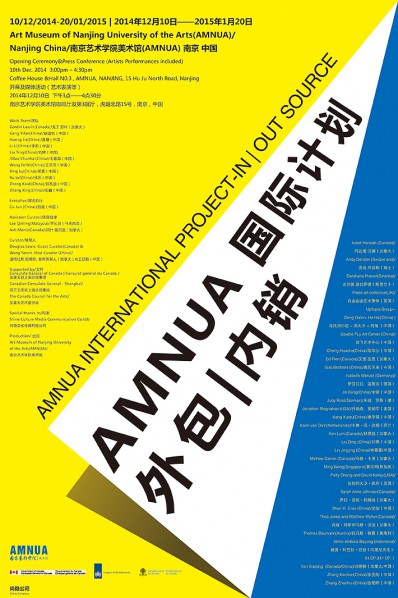 Introductions to the exhibition
The Art Museum of Nanjing University of the Arts (AMNUA) welcomes you to the International Project – "In|Outsource" presenting selected national and international artist's works use abstract ideas, schemes and methods of alluding to "blind" corporate outsourcing as well as expected outcomes that often follow. The exhibition premise sets out to actively locate artists/artworks that play between the lines of object(s) and desire(s) thus generating uncertain conclusions: visionless (all to human) consequences "wanting". The exhibition reinterprets the factories as places that manufacture human necessities and use-values.
In any country the characterization of outsourcing can be multi-faceted however it simply means to sub-contract ideas and/or objects for production. For example, I was outsourced as an external curator then together with Wang Yamin at AMNUA, we "subcontracted" artists to produce ideas and/or objects for production.
To in and outsource content is inherently a human instinct. We design systems that fulfill necessities and perhaps extravagant needs, no matter how high the cost and no matter what the damage – and certainly no matter where we live in global village. The curatorial goal became finding ways to stretch outsourcing back inward, toward the heart of human reflexivity.
"Art" has a plays a special role in defining our concept of outsourcing as it, itself is a process of outsourcing. From studios, to museums, to galleries, each sub-contracts the other in order to manufacture exhibitions. Marcel Duchamp once claimed that art cannot exist without its public to see it, and Alibaba cannot exist with out buyers.
Exhibition Co-Curator
Doug Lewis
When considering how outsourcing has become one of the questionable ontologies of art and how it leads to the presentation of an art exhibition we should understand that in many ways it is just part of the ordinary production process. New projects always need to be developed: national projects, economic projects, installation projects, individual projects, two year exhibitions (biennials), three year exhibitions (triennials), five year projects, ten year projects and so on have been developed — from which we organize our lives.
From Babel to the Monument to the Third International, we have been developing and implementing international projects, which have almost become a pervasive reality now. However, this reality is an illusion produced by Google, behind which is the ongoing process of re-proletarianization, with barriers to communication and trade persisting and intensifying. Is a local/international project (the In|outsourced international model) a viable alternative?
The past is only a legend, the future is unpredictable with no opportunity for accurate forecasting, leaving only the fleeting present, the current project. The aesthetic of the project is formed by strategy: after the cancellation of historical memories and imagined futures, the project does not even promise a stable pause, it exists in transition. Projects constitute the center of contemporary artists' activities: each contemporary artist needs to coordinate, plot, and grasp the transition, which constitutes their basic operating modes.
This forms contemporary life: reality imitating art. In the joy of the contemporary world, art achieve its imitation of reality, reality copies its artistic version to complete the system's cycle, including the entire production process. We are in its pipeline. Art imitates reality, it is not a reflection, but rather it draws on genetics or production theory, and here reality is imitating art.
AMNUA has outsourced a curatorial role. The exhibition has a very special role in defining the concept of outsourcing, as it is a process of outsourcing itself, for making and reproducing in one form or another. From galleries, to museums, to fairs, to Biennales or Documenta , each sub-contracts the other in order to manufacture art. Marcel Duchamp once claimed that art cannot exist without a public to see it and to think about it, well, at least we can continue to make projects.
Exhibition Co-Curator
Wang Yamin
About the exhibition
Duration: 10/12/2014 – 20/01/2015
Venue: Coffee House & Hall N0.3, AMNUA, 15 Hu Ju North Road, Nanjing
Artists&groups:
Adad Hannah (Canada)
Andy Denzler (Switzerland)
Darshana Prasad(Sirlanka)
Freee art collective(UK)
Uptopia Group-Deng Dafei+ He Hai(China)
Double FLyArtCenter(China)
Cheng Huasha(China)
Ed Pien (Canada)
Gao Brothers (China)
Isabelle Wenzel (Germany)
Jin Feng(China)
Judy Ross(German)
Jonathan Mognahan (USA)
Kang Xueru(China)
Karin van Dam(Netherlands)
Ken Lum (Canada)
Liu Ding (China)
Lin Jingjing (China)
Mathew Carver (Canada)
Ming Wong(Singapore)
Patty Chang and David Kelley(USA)
Sarah Anne Johnson(Canada)
Shen Yi Elsie (China)
Thea Jones and Matthew Walker(Canada)
Thomas Baumann(Austria)
Wimo Ambala Bayang (Indonesia)
X1 DP./(X1 DP.)
Yan Xiaojing (Canada/China)
Zhang Kechun(China)
Zhang Zhaohui (China)
Work Team
Gordin Laurin(Canada)
Geng Yifan(China)
Huang Jie(China)
Li Li(China)
Liu Ting(China)
/Mao Chunhai(China)
Wang Feifei(China)
Xing Lu(China)
Xu Le(China)
Zheng Kaidi(China)
Zhang Xing(China)
Executive
Cu Jun (China)
Assistant Curator
Lee Qinling(Malaysia)
Ash Moniz(Canada)
Courtesy of the artists and the Art Museum of Nanjing University of the Arts, for more information please visit www.nuamuseum.org or contact wangyamin.amnua@gmail.com +086 13916679917.
Related posts: