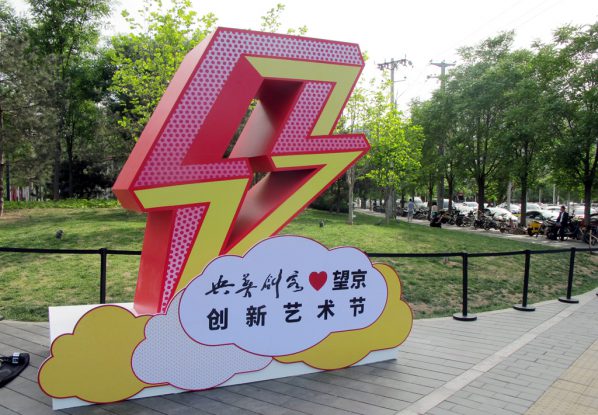 Jointly sponsored by the China Central Academy of Fine Arts (abbr.CAFA) and Wangjing sub-district, "CAFA Innovators in Wangjing" Innovative Art Festival opened in the Wangjing area on the afternoon of May 6. It is the first time for the domestic colleges and universities to present the innovative entrepreneurial education activities in cooperation with the government in the form of an innovative art festival.
The festival activities include Innovators Works Show, Innovators Fair, Thematic Forum, Innovators Experience Workshop, Student Associations Art Show and Performing, etc. Among them, "Innovators Works Show" it presents nearly 300 artistic innovative works covering easel painting, home furnishing, jewelry, clothing, product design and installation by 46 innovators; the "Innovators Fair" launches the products by 60 innovators, covering art education, art derivatives, fashion and jewelry design, customization of artworks and design of household products for the public; the forum unfolds around the topics including "Public Innovation and City Cultural Construction", "Art and Life"; "Experience Workshops" offer the "printmaking experience", "art decompression", "ascension of artistic accomplishment", "hand-painted t-shirts, sketch of a portrait" to shorten the distance between innovators and the public; At the same time, it will also hold several shows on site by the student clubs from CAFA.
The organizer said the art festival led the "CAFA Innovators" out of the school, to nestle up against the public, while it also hoped to bring the whole area a linked development effect, to explore the art's positive influence on urban economic and cultural development and the residents' cultural level, offering a broad cultural stage for innovative art talent and the public. The project surpasses the high-end, static, enclosed form of activity of the traditional culture and art festival, through a variety of channels to initiatively shorten the distance between the art festival and the public, in the form of "art + innovator" to help the public to appreciate the essence of "Art Comes from Life and Goes beyond It", promoting art that is included in people's life, and improve the quality of life.
The launch of "University Student Innovation and Entrepreneurship Education Center" is at CAFA and the festival will last for nearly two months. At the same time, 2016 CAFA Graduation Season exhibition will also be held from May 9 to June 26, covering more than 1500 pieces of graduation work by 1367 students from all specialties and schools of CAFA.
Text and photo by Zhang Wenzhi/CAFA ART INFO
Translated by Chen Peihua and edited by Sue/CAFA ART INFO
Related posts: