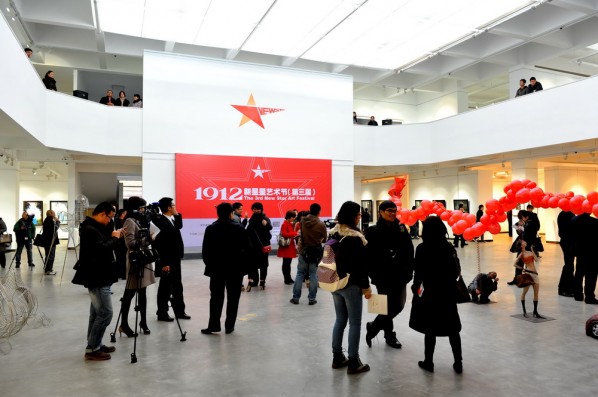 After 6 months of registration and selection, in 1912 the Third New Star Art Festival was held in Sanchuan Modern Museum in Nanjing, and on December 6, 2012, the awards ceremony was held in the Jinling International Conference Center in Nanjing. It is the third anniversary of the New Star Art Festival that has built an art platform for youth artists across China. More artists and works participate in the festival, now with a better quality, higher artistic level, and artists that are more mature. Nearly one thousand youth artists signed up and the themes and methods were rich and diverse.
This year it continued to worked on a way of sea-selecting and then ultimate PK as usual, and the winners of the five awards were announced after several rounds of discussion by the jury, including Xiang Jing, Philip Tinari, He Duoling, Mao Yan, Zhang Xiaogang, Gu Zheng and Wang Xiaohui. Wang Hailong from China Academy of Art and Wu Wei from Central Academy of Fine Arts, who together awarded the Grand Prize of the year, Ju Xiaolong, Wang Yi, Li Jun and Zheng Chi are the winners of the Newcomer Awards, in addition, Ge Na Bay Golden Palm Public Prize was awarded to Zhang Mengyang from Harbin.
There was a change to the awards-setting, in addition to the grand prize "Artistic Filed", there are "Newcomers of the Year", instead of a diversity of categories such as painting, sculpture, photography, and comprehensive art. The alternation reflected the change in contemporary art creation, the multiple creative approaches and the fuzzy borders. A lot of young faces were presented awards on the spot, and all the audiences were touched when Zheng Chi fetched her Newcomer Award while sitting in her wheelchair, as He Duoling introduced, she created the three works in the exhibition after becoming disabled. Wang Hailong was dubbed the "Wu Mochou in art circles" by the jury for his straightforward depictions. Wu Wei expressed his special thanks to Zhang Xiaogang, who picked him up from the brink of elimination with discerning judgment. Due to Gu Zheng and Wang Xiaohui, the new judges of the final appeal, the video creation was given attention, and Li Jun' s works finally came out to the fore.
It is regretful that the judges could not find any works of visual impact to shine, which they look forward to every year. Because the "Artistic Field" Award was without a winner last year, they really hoped to select the winner this year. But it did not seem to be suitable to select only one winner, so that they finally decided to announce joint winners with different styles and creative directions.
It was general work to judge, but not absolutely standard. The judges of the final appeal attempted to encourage young artists to carry on with perseverance and confidence, and to create truly innovative and tense artworks. A breakthrough in market law "art is too far from the public", initially taking "1912", a cultural leisure consumer neighborhoods brand, as it overall title, was a perfect sample to present the combination of culture and commerce. Ms Zeng Qiong, Director of Art Field, said in an interview, "The gene and connotation of the brand of 1912, is inconsistant with New Star Art Festival, which is ideological a revolution on an artistic level, originated from active discussion based on freedom, democracy and emotions, while 1912 stands for the essence of the former public culture that of freedom, democracy, openness, and innovation. It is the 100th anniversary of 1912, and the brand of 1912 promotes the idea of "diverse cultures of life" in contemporary cities, and matches our requirement of melting art into public lives."
Related posts: