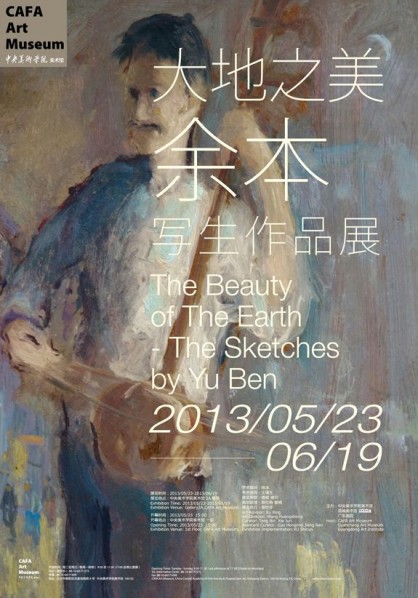 This exhibition is a large scale show to summarize and review the artistic career of Yu Ben, featuring the works from the collections of Yu Ben's family and Guancheng Art Museum, including the sketches of Yu Ben. There are clues to the artist's experiences over the years, the exhibition is divided into three parts, including "Memory of Hong Kong", "Portrayal of the South of Guangdong Province", and "Northern Sentiment", this system is a comprehensive display of the artistic achievement of Yu Ben.
Part one "Memory of Hong Kong": starts from 1935 when he returned to Hong Kong from Canada through to 1956, during which Yu portrayed the shape and appearance of the mountains and the sea, around Hong Kong, as well as the changing colors, at the same time, depicting the vivid and light feelings of the water towns and villages around the Xiangjiang River in watercolours.
Part two "Portrayal of the South of Guangdong Province": from 1959 to 1979, Yu Ben visited the local areas of Guangdong, Guangxi and Hainan Provinces, and he had an intense and intimate relationship with the ecological characteristic and feeling of the rivers and lakes in the fishing villages in the Guangdong waters with the use of a bright colours and light stroke.
Part three "Northern Sentiment": From the 1960s to the 1970s, Yu was invited to visit northern China, including Shaoshan, Yangtze River, Beijing, Yan'an, and Heilongjiang, etc., it's obvious that the artist was trying to express his inner feelings in a new way through these works: the free and easy strokes, simple blocks of color, are in sharp contrast to the fresh composition, to illustrate the open fields and mountains, depicting the unique style of the North.
About the artist
Yu Ben (1905-1995), formerly named Yu Jianben, a noted oil painter, was born in Taishan County, Guangdong Province, he went to Canada for overseas study when he was 13 years old, and graduated from the Andriole College of Art, a prestigious art school in Canada in 1931. Returned to Hong Kong to create and teach in 1935, Yu was a pioneer in the development of Western painting art in Hong Kong. Invited by the Chinese government, his family settled in the mainland in 1956. Yu created more than one thousand oil paintings from the 1930s to the 1980s, many of which have featured in national and international exhibitions.
Yu Ben served in the National People's Congress, the National Committee of the Chinese People's Political Consultative Conference, the Committee of China Federation of Literary and Art Circles, Director of Chinese Artists Association, the Guangdong Provincial Committee for Oversea Chinese Affair, Vice Chairman of Guangdong Provincial Federation of Literary and Art Circles, Vice Chairman of Guangdong Provincial Artists Association, Vice President of Guangdong Painting Institute.
About the exhibition
Exhibition Title: The Beauty of the Earth – Sketches by Yu ben
Organizers: CAFA Art Museum, Guangdong Painting Institute, Guancheng Art Museum
Duration: May 23 – June 19, 2013 Venue: Gallery 2A of CAFA Art Museum
Opening Time: 15:00 pm, on May 23, 2013
Opening Location: Ground floor of CAFA Art Museum
Academic Advisor: Wang Huangsheng Curators: Tang Bin, Xie JunExhibition Coordinators: Guo Hongmei, Jiang Nan
Visual Design: Yi Yi
Exhibition Operation: Su Shicun
Translated by Chen Peihua and edited by Sue/CAFA ART INFO
Related posts: