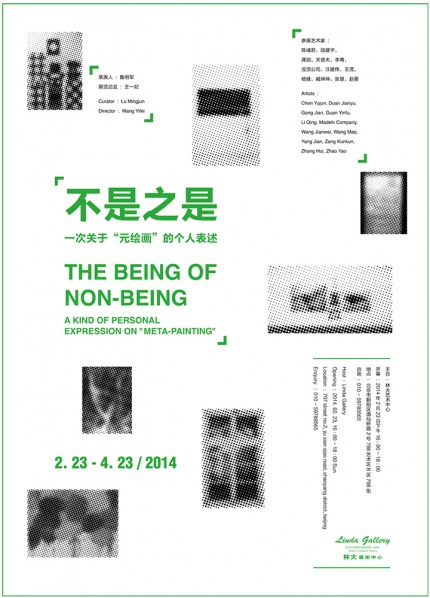 In the afternoon of February 23, 2014, curated by Lu Mingjun, "The Being of Non-Being: A Kind of Personal Expression on 'Meta-Painting'" is presented at the Linda Gallery. Chen Yujun, Duan Jianyu, Gong Jian, Guan Yinfu, Li Qing, Madein Company, Wang Jianwei, Wang Mao, Yang Jian, Zang Kunkun, Zhang Hui, Zhao Yao, a total of 12 artists participated in the exhibition. The theme of the exhibition is "Meta-painting", which is a tentative discussion. Different from the previous exhibitions, this exhibition no longer confines the discussion of "meta-painting" to the categories of form, image, media, aesthetics, but to extend it to the dimensions of material, installation, political, cultural, cognitive, etc.
The exhibition makes use of "the Being of Non-Being", a seemingly contradictory word game to explore the complex and ambiguity aspect of "meta-painting". For example, it is perhaps not an abstract, but an installation, while it is actually an installation; it is perhaps not a realism painting, but a conceptual painting, while it is actually realism; it is perhaps not any pigment or thing, but form, while it is actually a pigment or thing; it is perhaps not political, but aesthetic, while it is actually political…This exhibition makes use of personal expression from various similar perspectives, through the form of painting or non-painting (installations, readymade, performance, images, etc. which are related to painting), to explore the tense space of painting as well as the dispersion and heterogeneity of the subject between categorical definition and interpretation of the "Theory of Being", which blurs the boundaries between painting and other discourse media, to enrich our experiences and knowledge of painting itself and the individual world.
No labels are used in the exhibition space, because the curator Lu Mingjun hopes through this method, any information except for space and work give way to the painting itself, to guide the audience to pay attention to the fundamental thinking about "meta-painting". So that it is not an exhibition. It is also an exhibition. It is a painting exhibition about painting. And perhaps, it is an exhibition about exhibition.
The exhibition will continue to April 23, 2014.
Photo courtesy of Linda Gallery, translated by Chen Peihua and edited by Sue/CAFA ART INFO.
Related posts: