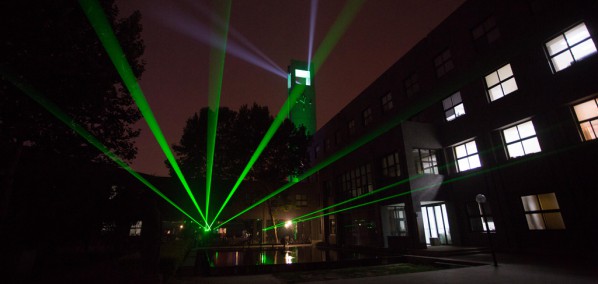 The graduation season in Chinese universities tend to be complicated as usually graduates are in a state of anxiety, on the one hand, they are confronted with the assessment from their teachers and parents on their academic record and on the other hand, they bear the brunt of stepping into society.
"Anxiety is inevitable, we should look on both sides of the shield. Though anxiety does harm to the physical and mental state, do not be afraid of anxiety as it is of benefit as well. When faced with new possibilities or a new environment, anxiety could stimulate more energy from oneself" as stated by Xu Bing, internationally acclaimed artist and professor of the Central Academy of Fine Arts.
"You may feel anxiety everywhere, if one has become accustomed to the life on campus, everything is unpredictable after he graduates…The intricate social relations in Chinese society exacerbate the problems the graduates may come across. As a matter of fact, tutors predict that things happen after the carnival and keep track of the development of graduates," said Tang Hui, the Dean of Mural Department of the Central Academy of Fine Arts.
This year's graduation season of the Central Academy of Fine Arts(abbr. CAFA) has changed from the dull and serious atmosphere to the perspective of the graduates as the organizers of CAFA prefer to present a series of graduation activities in a relaxed, dynamic, open and pluralistic style. Hopefully all the 846 graduates experience growth during this month of the graduation season and get prepared for a promising journey after they leave the campus.
As Fan Di'an, the president of CAFA states, "Midsummer is the harvest season for the campus, showcasing the graduate works collectively has changed the traditional way of the graduation show, turning from the static and enclosed exhibition into academically interactive activities that are tridimensional, dynamic and open to the public. The graduation season in CAFA will benefit the staff and students of CAFA as a whole in order to carry out teaching research, to promote educational reform. Also it will favor all the graduates to increase their confidence, inspire them to create innovative ventures meanwhile its advantage lies in that the art world and society will have a better understanding of the CAFA, a broader creative platform therefore is established for all. "
"The grand ceremony launched last night has announced the opening of a month-long event for the graduation season of the CAFA. As far as I remember, this is supposed to be the most solemn and hopeful graduation season I have participated in and it became a festival for everyone that belongs to CAFA! It has endowed everyone who has studied at the Central Academy of Fine Arts with a sense of pride and honor, also it fascinates those who have a deep longing for CAFA," said Chen Xi, Professor of CAFA.
Wang Donglin, one of postgraduates leaving CAFA this summer shared her feelings after the ritual, "This is an exciting ritual that happened in CAFA, which makes me feel so proud and thrilled! I will not be able to help missing the campus from now on as I have been here for eight years. As the graduation season's curtains rose, my eyes brimmed with tears when I watched the familiar faces and heard instructions from our tutors again on the screen, I was so proud of CAFA. With grateful sentiment and a strong sense of mission, I have taken part in the design work of the graduate show for the School of Design, though exhausted, I'm excited and proud to be a part of the emerging energy from CAFA!"
For the first time, the leadership team of CAFA walked down from the altar, transforming their way of inspecting the works and exhibitions of the graduates and they were devoted to organize a series of activities and a ceremony to be proud of all the graduates. Their joyful graduation from CAFA ended in June will be a new start for their journey in art hereafter.
The annual activities of the CAFA graduation season in 2015 reflected that art education in CAFA embraced with all art forms both China and the West, both in a traditional and contemporary way. With a broad vision, graduates from CAFA were provided with extraordinary creativity, further they were encouraged to experiment, explore and challenge. What surprises will they bring to us in the future? Let's close our eyes and wait.
CAFA 2015 Graduation Exhibition: June 1 to June 30
Address: No.8 Hua Jia Di Nan Jie, Chaoyang District, Beijing, P.R. China 100102
T: +86-10-6477-1093
F:+86-10-6477-1250
www.cafa.edu.cn
School of Chinese Painting 46 graduates
Oil Painting Department 43 graduates
Printmaking Department 33 graduates
Sculpture Department 35 graduates
Mural Painting Department 37 graduates
School of Experimental Art 20 graduates
School of Literature Arts 84 graduates
School of Design 155 graduates
School of Architecture 83 graduates
School of Urban Design 316 graduates
CAFA Graduation Season Distribution
Building 5
CAFA History Hall: Printmaking Department
Teaching Exhibition Hall: Mural Painting Department
Rotating Stair Exhibition Hall/ Main Complex: School of Urban Design
Photography Studio: School of Design
Building 3 Art Museum
3A Exhibition Hall: School of Chinese Painting
3B Exhibition Hall: Oil Painting Department
3A + 3B Exhibition Hall: Sculpture Department
Floor 2 and 1/2 and Floor 4: School of Experimental Art
Floor 1 Public Education Area: School of Literature Arts
Building 2 Library
Library/ Campus Exhibition Hall: School of Urban Design
N Campus Exhibition Hall: School of Urban Design
Building 7
F-1 + F1 + F2+ F4 + F5: School of Design
F7 + F8: School of Architecture
F1 Red Chair Lecture Hall: School of Urban Design
Event List for 2015 CAFA Graduation Season
June 1 / Special media preview and the press conference for the Graduation Season, address: all campus exhibition spaces, Audio-Visual Lecture Hall
At Night on June 1 / The opening ceremony of the Graduation Season, address: Multi-Function Hall Square, contents: image show, release of academic costume, fashion show, performance, etc.
June 1 – June 30 / Graduation Exhibition for Undergraduates, all campus exhibition spaces
June 1 – June 30 / Graduate Recommendation Project, a platform for employers and graduates to exchange/ release of job offers/ recommending graduates' works online
May 27 – June 22 / B3 + Beijing Moving Image Exhibition, address: Gallery F2, CAFA Art Museum
At Night on June 2 – June 7 / Talk and address: Campus lawn, Amphitheater, for a dialogue with the representatives of the graduates
June 2 / Finals of the 6th College Students Entrepreneurship Competition, address: Audio-Visual Lecture Hall
June 3 / Criticizing and Listening Conference for the graduates of the School of Experimental Art, address: VIP room, CAFA Art Museum
June 3 / Dialogue with Experts, address: CAFA Art Museum Café, to invite the experts in the art world to participate in the dialogue
June 4 – June 21 / Enter the Heatherwick Studio, address: CAFA Art Museum
June 5 / "Shooting the Youth and the Blessing of the Graduates" collection event, address: CAFA Campus
June 5 / Studio Open Day, content: all professional studios are open to the public
June 5 – June 30 / Sculpture Department Annual Studies Exhibition, address: Channel Gallery of Sculpture Department
June 5 – June 8 / Retrospective of the classic of Agnès Varda's Award, address: Red Chair Lecture Hall
June 5 / Beijing Art Colleges Union Day, Multimedia Conference Room of the Sculpture Department
June 7 / The First "Scholarship of the Youth" Art History and Theory Symposium, address: Auditorium of CAFA Art Museum/ content: representatives of the 2015 graduates of the School of Literature Arts discussing the theses
On the nights of June 8 and June 9 / Graduation drama "CAFA·Peach Blossom Land", address: Auditorium of the North District
June 8 / Putian City, Fujian Province professional and technical personnel on-site teaching, address: CAFA Campus
June 8 / Intelligent Vehicle Interactive Design Forum 2015, address: Transportation Design Studio at the School of Design
June 10 / Joint Conference for Party Secretaries from the Art Colleges across the Country, address: Lecture Hall of Library
June 11 – June 12 / Graduation Season Open Day, invites all teachers, students and parents from primary and secondary schools in Chaoyang District to watch the graduation exhibition
June 12 – June 13 / International Art Education Academic Seminar "Art Education for the Social Innovation", address: Auditorium of the CAFA Art Museum
June 12 / Change of the Academy: New Perspective of Art Education – Forum of the Presidents from International Art Colleges and Universities, address: Auditorium of CAFA Art Museum
June 12 / Opening ceremony of "Beijing Visual Art Innovation Center", address: Auditorium of CAFA Art Museum
June 12 / Establishment Ceremony of the School of Arts Administration and Education, address: Auditorium of CAFA Art Museum
June 12 / The Signing Ceremony for School-Enterprise Strategic Cooperation of CAFA and CITIC Guoan, address: Auditorium of CAFA Art Museum
June 12 / The 7th Image Fiesta Carnival, address: Auditorium of CAFA Art Museum
June 13 and June 18 / A High-end Dialogue, address: Amphitheater
June 13 / Position and Planning: Construction of the "13th Five Years Plan" New Art Educational Pattern: China Artists Association Art Educational Committee Conference, address: VIP room of the CAFA Art Museum
June 14 / Alumni Exchange Day, the alumni will meet leaders of the school, visit to the shows of teaching achievements and there will be a symposium of the representatives of alumni
June 14 / "Four Colleges and Four Tutors" Experimental Teaching Award Ceremony, address: Auditorium of CAFA Art Museum
June 15 / Unveiling ceremony of CAFA Creator Enterpriser Incubator, address: Xuyuan Culture and Art Center
June 15 / "Face to Face" Teacher-Student Interaction and Exchange Activity, content: selection of star teachers and an interaction
June 15 / Campus recruitment for the graduates of the School of Urban Design, address: CAFA Campus
June 15 – June 19 / Carving the Dream, address: Multimedia Meeting Room of the Sculpture Department
June 15 – June 19 / Flea Market, address: Multi-Function Hall Square
June 16 / Graduate Symposium, address: Lecture Hall of Library
June 16 / "Life – Creative Design" seminar, address: Audio-Visual Lecture Hall
June 18 / The 2nd National Art College Philosophy and Social Science Development Forum, address: Auditorium of CAFA Art Museum
June 20 – June 28 / Achievement Exhibition of CAFA to Support the Featured Education of the Primary School, content: the 2015 annual achievement exhibition for CAFA who is in cooperation with the 4 primary schools in the Wangjing area to build a featured aesthetic education
June 25 / Establishment ceremony of Silk Road Arts, Art Research and Innovation Center & Academic Forum, address: Auditorium of the CAFA Art Museum, Lecture Hall of Library
In Mid-June / Performance of the graduate drama by the School of Urban Design, address: the School of Urban Design
June 22 – June 30 / Parting Words by the graduates, address: CAFA Campus
June 30 / Graduation ceremony, address: Multi-Function Hall Square
June 30 / Degree-granting ceremony, address: Auditorium of North District
June 30 / Shooting graduation photos, address: Campus
Text by Sue Wang, event list translated by Chen Peihua and edited by Sue/CAFA ART INFO
Courtesy of CAFA and all the artists, Photo by Xu Fan/CAFA ART INFO
Related posts: