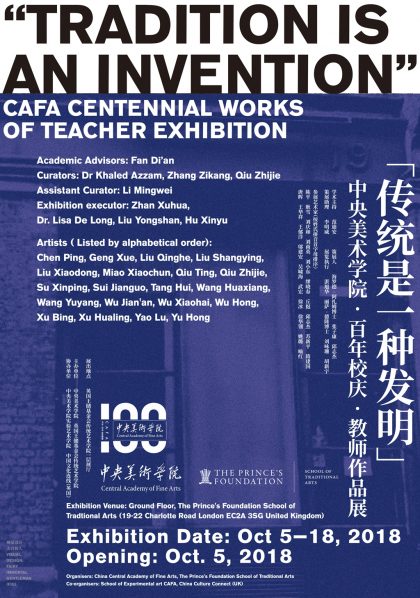 Through war and revolution, China's Central Academy of Fine Arts (CAFA) has promoted China's artists and safeguarded its cultural heritage. Protecting while at the same time recreating tradition has made CAFA vibrant and in the vanguard for a hundred years – this is the tradition of CAFA and it is reflected in its centenary exhibition 'Tradition is the power for invention'.
In the thousands of years of China's history, tradition has been constantly recreated but it has never become a formulaic or restricted way of working; CAFA's artists therefore cannot be defined as exclusively creative, over-mannered or results-driven – instead they are deeply engaged in a tradition of change and re-invention.
This reflection on tradition has been embodied by the work of its contemporary artists. Over 30 works by internationally renowned Chinese artists including Xu Bing, Sui Jianguo, Su Xinping, Liu Xiaodong, Yu Hong, Qiu Zhijie and Wang Yuyang are showcased at The Prince's Foundation School of Traditional Arts gallery in Shoreditch during the week of the Frieze Art Fair.
The works in this exhibition are by artists teaching at CAFA. They represent the frontiers of contemporary art in China. In their work we see both realism and Western classicality as well as the rich traditional heritage of Chinese landscape painting and ceramic art, the tradition of Zen, and that of Chinese writing. 'Such a positive attitude towards the tradition is the most remarkable commonality of the artists in this exhibition. It is also a rich and diverse attitude that is common to the Chinese cultural traditions of internal complexity and the exhibition asks – 'Is this the most important tradition in China'? said Curator QIU Zhijie.
The CAFA Centenary Exhibition – Tradition is the power for invention is co-curated by Central Academy of Fine Arts (CAFA), The Prince's Foundation School of Traditional Arts (PFSTA) and
China Culture Connect (CCC).
Contemporary artists in China often mention two stories when it comes to tradition. The first one concerns the 'runaway' , an artist who has been brought up in traditional culture but is fed up with academy training so much so he finds himself literally locked up in a box. One day after his experience he recognises the diversified world out of the box and rids himself of the tradition and embraces contemporary art. The other is about 'return' and relates to a contemporary artist who has denied traditional art for many years, yet during an overseas trip suddenly recalls good memories and so makes the decision to return to traditional art.
These two stories are often shared in talks or self-descriptive dialogues with artists using them to explain their work. Similarly, curators, collectors and the art media always find them impressive so these two stories are repeated and have themselves become a narrative of a mode of awareness.
QIU Zhijie
14th Aug 2018
About the organizers
Established in 1918, CAFA is one of the most prestigious art education institutions in China. Amongst its tutors are internationally well-known artists. CAFA's foundation courses partnered with University of the Arts London attracts hundreds and thousands of art students to London via CAFA every year.
The Prince's Foundation School of Traditional Arts (PFSTA) aims to be an acknowledged international institute of excellence, which through education inspires the practice and preservation of the cultural heritage and artistic traditions of the great civilizations. Through research and practical application, the PFSTA promotes a contemporary appreciation of these cultural and artistic traditions and an awareness of the universal values that are fundamental to them. The work of the Prince's Foundation School of Traditional Arts clearly manifests a very important aspect of the vision of HRH which is the concept of Harmony and the profound impact it has on every aspect of our lives. The School's Education and Outreach programmes clearly illustrate the fundamental connection between this concept of harmony and the order of nature, and how this relationship was the principal inspiration for the visual arts of all the great civilizations of the world.https://www.psta.org.uk/
Established in 2009, China Culture Connect (Artabillity Art & Collection Ltd) is a UK based organization specializing in UK-EU-China culture communication. China Culture Connect is appointed by CAFA to facilitate and implement this art exhibition in London.
About the exhibition
Dates: Saturday 6th – Thursday 18th October 2018
Venue: The Prince's Foundation School of Traditional Arts 19-22 Charlotte Rd London EC2A 3
Courtesy of the Central Academy of Fine Arts.
Related posts: