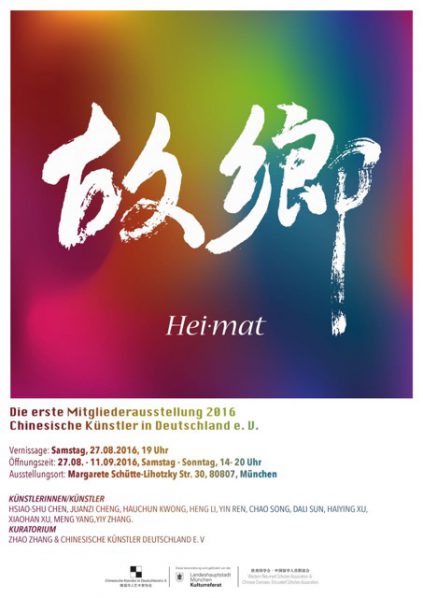 In Search of a Homeland
A Foreword by Zhao Zhang (Jo)
The first group exhibition of the Chinese Artists in Germany Association (Chinesische Künstler Deutschland e.V.) chose "Hei'mat", the German word for homeland to be its theme. In the modern world today we are all experiencing the accelerating taking-over of our life by science, technology and social changes. The tempo of our life is also picking up paces. In such a situation we tend to lose contact to the bondages which used to be close to ourselves. Homeland is one of such bondages.
Nietzsche wrote that the world is "gate to a thousand wastelands silent and cold". Modernism and existentialism are closely connected. As analyzed by Professor Dr. Hartmut Rosa of Friedrich-Schiller-University Jena in an article on the era of globalization, human beings are relatively independent individuals being "installed" in this world. It becomes hence a basic mission for the subjects of modern life to search for its location of installation. Homeland is not just in the narrow sense a place coexistent to our life's experiences, but is any time or space that bears a sense of value or structure familiar to the self. At the same time, a homeland can be anything that is shared by a group of people among us. We are looking for a "new" homeland much broader in connotation than the face value of the word.
The word Heimat went through its own transformation of modernity in the German linguistic world. The traumatized German literature after the Second World War used to follow the models of Jack Kerouac. Out of "numbness to the land", German writers escaped their geographical homeland, wandered and sought alone in the vast world. "Hei'mat", as a theme for an exhibition featuring Chinese artists away from home, wandering in Germany and pursuing their goals in arts, becomes especially to the point and offers endless possibilities of interpretation.
Mr. Dali Sun, founder of this group exhibition, defined Heimat as a shared recognition of a culture by a group of people. As one of the exhibiting artists, Sun created some new works for this project. He applied mixed mediums and created an impelling red color that occupies the entire picture and expands to the rims of it. The passionate brushstrokes are a declaration as made by Metallica in their song: "Anywhere I roam, where I lay my head is home." The choice and application of color, as well as the handling of textures in other parts of the work demonstrates the savvy and rationality of the artist on the other hand.
The exhibition also features the following artists (alphabetically ordered):
Hsiao-Shu Chen: the subtle lines in a ceramic plate are unique to a female artist. She reminds us of the memories and warmth belonging to a dwelling.
Juanzi Cheng: is sharing with the video as medium her unique perspectives.
Hauchun Kwong writes melodic prose of meditation in wooden plates with her carving knives.
Heng Li is an explorer who keeps searching for his spiritual home in a vast primitive land. The work included in the exhibition is, as usual, very overwhelming.
Yin Ren: the female artist leaves her characteristic brushstrokes with inner calmness on the fine and soft silken cloth.
Chao Song shares her explorations ranging from design, ceramics to sculpture.
Haiying Xu's dreamlike sweet and tranquil pictures seem to suggest uncertainty and confusion to the viewers. They are a mixture of easiness and perplexity, superficial peacefulness and hidden stories.
Xiaohan Xu: in his works you always find the restlessness in a still picture, hinting on the force of being lost and pursuing.
Meng Yang presents with much skillfulness the never ending topics of moments and eternity with her easel painting as well as video art.
Yiy Zhang: her installation is a perfect sample of the unison of female tenderness and resolute wisdom.
These artists engaged different mediums to explore a shared theme. They revealed individual experiences and sentiments about the homeland. The homeland as a notion bound to so many familiar things in life is often very distant to subjects in the modern world. Chinese poet Su Shi declared in his "Ding Feng Bo" that "My homeland is where the heart finds peace." I believe that the spiritual communication gives all of us a feeling of belonging like a home.
The location of the Exhibition is also an interesting inevitable encounter for these Chinese artists. Haus 50 is an exhibition facility of the Domagk Art Zone, a former barracks area. The house number is also a heritage of the past. The area had grown to become one of the biggest artists' dwellings in Europe in 1990s. The military background of these houses has long faded away. These buildings used to be homes to solders. Now they are home to many artists from all over the world.
The Exhibition Hei'mat poses a series of questions to all of us: is homeland a void concept, or is it a true existence under concrete geographical and human connotations? Is it an embodiment of abstract ethics, or a reality restored through repetitive pondering?
The city Munich, sitting at the north side foot of the Alps, becomes cold rather early in the fall. In late August, summer is already saying Auf Wiedersehen. This exhibition takes place between August and September. It might be a little early to worry about the winter, but another line in Nietzsche's poem would still be suitable to cheer us up in the long journey in art:
The crows caw
And move in whirring flight to the city:
Soon it will snow —
Happy is he who still has a home!
Munich, 30 July 2016
About Chinesische Künstler in Deutschland e.V
The Chinese Artists in Germany Association (Chinesische Künstler in Deutschland e.V.) was founded in 2007 with the headquarters in Munich, Germany. The mission of the Association is to provide platforms for artists and art-lovers to carry out academic studies and display of art works. It is also a stage available for artists to experiment and practice with art concepts. The Association does not restrain its members with doctrines. Instead it encourages communication among artists and art followers and welcomes new sparks of inspiration. The Association saw a steady growth of the number of member artists coming from various genres in the last ten years. The first group exhibition is a ripe fruit of it. The Association is chaired by Mr. Dali Sun, Chinese artist living in Germany. The board of management consists of Ms. Hauchun Kwong, Mr. Heng Li, Ms. Chao Song and Ms. Yanjie.
About the exhibition
Duration: August 27 – September 11, 2016, Saturdays and Sundays
Opening: August 27, 2016 19:00
Venue: Margarete Schütte-Lihotzky Str. 30, München, 80807 – Deutschland
Artists: Hsiao-Shu Chen, Juanzi Cheng, Hauchun Kwong, Heng Li, Yin Ren, Chao Song, Dali Sun, Haiying Xu, Xiaohan Xu, Meng Yang, Yiy Zhang
Curator: Zhao Zhang (Jo)
Contact: ckdvinfo@163.com
Courtesy of the artists and Chinesische Künstler in Deutschland e.V.
Related posts: