From September 1 through to October 31 2012, Yun Gallery organized the first quarter of a series exhibition "We graduated ", three young artists, recent graduates from the Central Academy of Fine Arts. Among so many graduates, they are undoubtedly the best.
Guo Tianyi studied in the high school affiliated to the Central Academy of Fine Arts until he graduated, so his modeling skills are very solid. His "SEEN" series exhibited at this time is divided into two parts: animation and graphic painting. The creation of the animation is on a piece of paper, after two thousand and seven hundred times of smearing there is left a "semi-accidental" visual work – Traces. The thickness left by attempts to retain "experience" on the paper, the thickness of the picture is a kind of original expression after all modeling disciplines faded. Graphic works abandoned pure objective depiction but interpreted things in an experiential and reminiscent way. He tries to bring viewers into the space and the respective situations through this work.
Zhang Zhizhou's series of works "1/2″are very unique, which stems from himself. Using the same composition he completed two paintings with a broken left arm and a healthy right hand. For him, creating each group of paintings are just like doing experiments, no one can predict what can be painted but he wants to tell people that these works are created by the "complete I", during the process, he kept deliberating questions such as the complete and the incomplete, what exactly beauty is……He has been treating his own artistic creation seriously and persistently.
Wang Xiao's "a true story" uses the traditional and simple way of traditional woodcut watermarking, through the repeated process of engraving and printing , the rational production of print and emotional thinking simultaneously advanced. Instead of a description of the heavy real sense of life, he prefers to explore the inner world. The traditional symbols in the picture have retired to intangible space, the metaphor on stone and water seems light, ambiguous. The world maybe chaotic but a free mind still exists. Every fragmented image of each scene has independent but simple appellation, in this story, illusion seems more real than reality, only in here, space, emotion and memory can flow freely and poetically, an illusory world mixed with reality and the surreal exists which transcends the truth of a so-called "true story".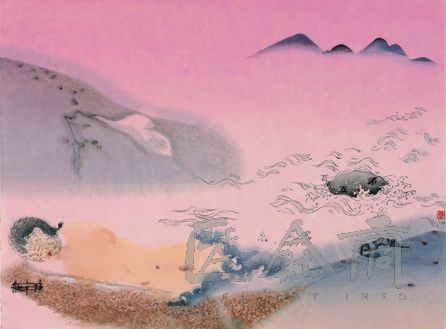 What is unusual is their simple beautiful inner world presented by their works and their attitudes towards art. Just as their mentor Kang Jianfei said: "In fact, their ways, ideals and working methods are not quite similar. The only thing they have in common is that they all work for dignity, honor and ideals. "In modern society where art is highly commercialized, they can still hold their own ideals and spirit, we hope that the spirit of college can inherit and be carried forward by them, "the chord of ideals can't be broken".
Related posts: