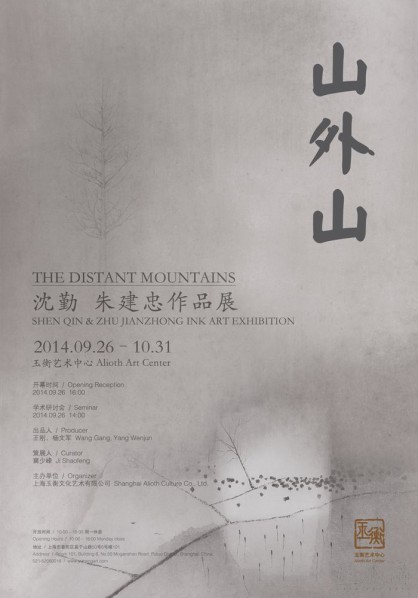 "The Distant Mountains – Shen Qin & Zhu Jianzhong Ink Art Exhibition" opened at Shanghai Alioth Culture Co., Ltd., on September 26. Artists Shen Qin and Zhu Jianzhong are both filled with a strong explorative and innovative ambition with a restrained appearance, always sticking to their own distinct and differentiated self visual narrative characters. The exhibition presents more than 40 works recently created by the two artists, to showcase their unique appearances in ink painting as well as the significance of their contemporary cultural feelings during the creation. The exhibition invites Ji Shaofeng to serve as the curator.
As one the representatives of the innovative school of ink painting in the period "85 New Wave", the early work of Shen Qin is obviously with a surrealism style. Since then, Shen Qin's landscape painting does not have a relationship with the composition or traditional brushstroke. Different with other artists of the 85 New Wave, he focuses more on the affinity between spirit and art, namely the cultural feelings. Shen Qin has been trying to restore the sensual simplicity into his own practice. Pursuit of pure ink creates his unique style – monochromatic space and landscape, which is an innovation of the exploration of ink painting. While the separation of line and shape, pursuit of the ultimate beauty of line is another big characteristic of his work. Alioth Art Center presents the recent creation of Shen Qin, including the series of Farmlands, Garden, and Road.
As one of the special artists of contemporary ink painting, Zhu Jianzhong's creation is themed on Chinese fir, pine tree. He would choose pine trees, of a selected shape. The pine tree is thin and clean. He chooses Chinese fir because he loves the healthy atmosphere. He is interested in and researches light and air which is also a big characteristic of Zhu Jianzhong's painting. Between clouds and mountains, Zhu Jianzhong gives the solitary tree a solid presence: instead of monumental big volume, it presents a light and graceful posture, which is more like an ideal portraiture of traditional literati figures.
The exhibition will continue to October 31, and an academic seminar will be held in the same period with the publication of the artists' catalogues, inviting 10 academic critics to in depth discussions on the present situation of contemporary ink painting and the momentum of art development, fully embodying the strong cultural and academic explorative consciousness. During the exhibition it will also invite well-known art critic, philosopher Dr. Xia Kejun to have an in-depth interview with the artists, to explore their creative contexts and artistic value.
About the exhibition
Duration: September 26 – October 31, 2014
Venue: Alioth Art Center, Room 101, Building 6, No.50 Moganshan Road, Shanghai
Opening Reception: 16:00 on September 26, 2014
Academic Seminar: 14:00 on September 26, 2014
Curator: Ji Shaofeng
Organizer: Shanghai Alioth Culture Co., Ltd.
Courtesy of the artists and Alioth Art Center, translated by Chen Peihua and edited by Sue/CAFA ART INFO.
Related posts: