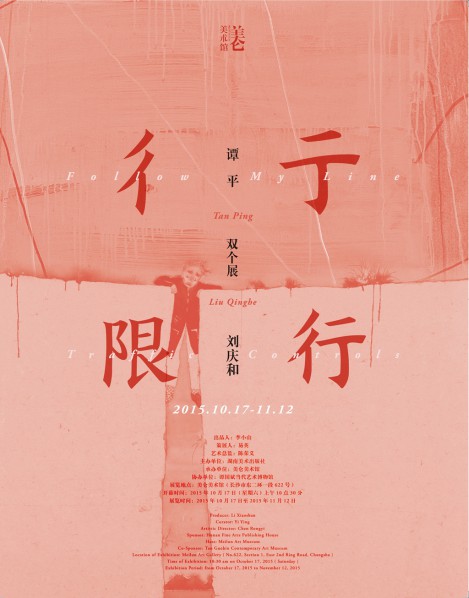 Curated by Yi Ying, "Follow My Line: Tan Ping Solo Exhibition" and "Traffic Controls: Liu Qinghe Solo Exhibition" will open at ML Art Gallery at 10:30am on Saturday 17 October, The exhibition will continue to 12 November. It is organized by the Hunan Art Publishing House, co-organized by ML Art Gallery and sponsored by Tan Guobin Contemporary Art Museum.
ML Art Gallery takes the annual dual exhibition of contemporary art as its brand, trying to present the voices of contemporary artists combined with the important academic value in Changsha. It intends to contribute to the development of contemporary art in Changsha and it selects some artists who have been endowed with a value of art history or artists with the potential. For this dual exhibition, ML Art Gallery specially invited Tan Ping and Liu Qinghe.
Chì Chù (Follow My Line) – Tan Ping's Solo Exhibition mainly included recent series of works created by Tan Ping. In these works composed of abstract paintings and drawings, Tan Ping represents his transcendence from reality and his expression which is based on his inner demands, and his supernormal charisma of forms. Without going over old ground, his recent work is mainly an accomplished abstract presentation with a strong contrast of colors, interlaced with a complex skill and minimalism, lines rich in feeling, permeated with vitality. In some sense, it's a result of coverage. This kind of mark plays an important role in Tan Ping's abstract painting, as both the components or as spiritual symbols.
"Traffic Controls: Liu Qinghe Solo Exhibition" presents a series of works including "Vernacular", "On the top of the wall", "Deeply", "Water from the Heaven", "Traffic Limitations" and his series of works. These works are quite weird if compared with orthodox Chinese paintings, Liu Qinghe did not intentionally create forms, like new literati paintings or experimental ink and wash, form is his byproduct, in the process of a description of theme, character modeling seems to be naturally revealed, unlike the histrionic performances that belong to academic painting, but like the behavior of ordinary people. This has endowed his painting with a special sense of form, which integrates with the themes from his own experience, resulting in his unique style.
Along with the exhibition, a documentary catalogue will be published and it will present the most complete and classic literature from Tan Ping and Liu Qinghe. The detailed texts on their art will be combined with the gallery designs, bringing a more comprehensive visual feast of art to the audience.
Courtesy of the artists and ML Art Gallery, translated and edited by Sue/CAFA ART INFO
Related posts: