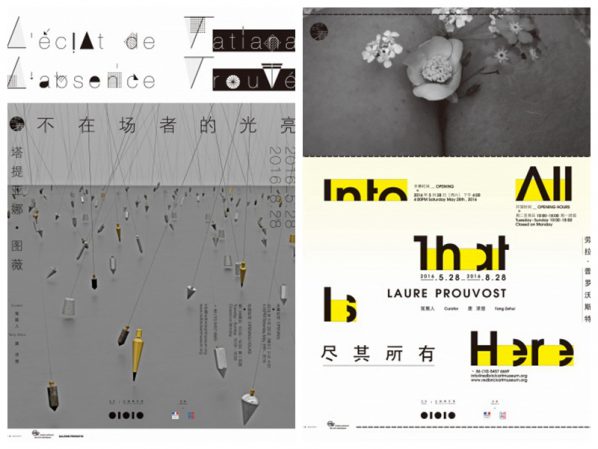 The dual solo exhibitions of two internationally renowned French contemporary artists Tatiana Trouvé (the winner of Prix Marcel Duchamp) and Laure Prouvost (the winner of Turner Prize) will open at Beijing Red Brick Art Museum on May 28th. It will be their first solo exhibitions in China. Tatiana Trouvé is well known for the large-scale spatial installations integrated with architecture and her paintings, while Laure Prouvost mainly works on video and immersive installations combined with video. The exhibitions are named for the titles of their works: "The Sparkle of Absence" is from Trouvé's conceptual series, consisting of works that have never been materialized and that are only in the existence of titles; "Into All That Is Here" comes from the latest work of Prouvost's most representative series "Granddad".
The dual solo exhibitions are organized by the Red Brick Art Museum, supported by French Embassy in China, and curated by Tang Zehui with the help of the curatorial assistant Liang Xiao.
About Artists
Tatiana Trouvé
Born in 1968 in Cosenza, Italy, Tatiana Trouvé now lives and works in Paris. She has held solo exhibitions at the Mamco, Geneva (Switzerland, 2014), the Kunstmuseum Bonn (Bonn, 2014), the Kunsthaus Graz (Graz, 2010), the Migros Museum (Zurich, 2009), Centre Georges Pompidou (Paris, 2008),Palais de Tokyo (Paris, 2007). She also participated in the Biennale de Lyon (2015), the Sao Paulo Biennale (2010) and the Venice Biennale (2007).
In 2007, Tatiana Trouvé received the Marcel Duchamp Prize. In 2015, she was commissioned by New York's Public Art Fund to create Desire Lines in the Central Park.
Laure Prouvost
Laure Prouvost was born in 1979 in Calais, France. She lives and works in London, UK and Antwerp, Belgium.
She has held solo exhibitions at Haus Der Kunst (Munich, 2015), the Rochechouart Departmental Museum of Contemporary Art (Rochechouart, 2015), the New Museum (New York, 2014), the Whitechapel Gallery (London, 2013) and Tate Britain (London, 2013). She has also screened works at film festivals internationally and won the Principal Prize at both the 56th and 57th International Short Film Festival Oberhausen.
In 2011, Prouvost received the Max Mara Prize for Women. In 2013, Prouvost was awarded the Turner Prize for her piece Wantee.
About the exhibitions
TATIANA TROUVÉ: L'ÉCLAT DE L'ABSENCE
LAURE PROUVOST: INTO ALL THAT IS HERE
Curator: Tang Zehui
Hosted by: Red Brick Art Museum
Supported by: French Embassy (Ambassade de France en Chine)
Opening: 4:00 PM, Saturday May 28th, 2016
Dates: 2016.5.28 – 2016.8.28
Opening Hours: Tuesday – Sunday 10:00 – 18:00(Last entry at 17:30), Closed on Monday
Venue: Red Brick Art Museum, Hegezhuang, Cuigezhuang Village, Chaoyang District, Beijing
Tel:+ 86 (10) 8457 6669
Courtesy of the artists and Red Brick Museum, for further information please contact info@redbrickartmuseum.org or visit www.redbrickartmuseum.org.
Related posts: