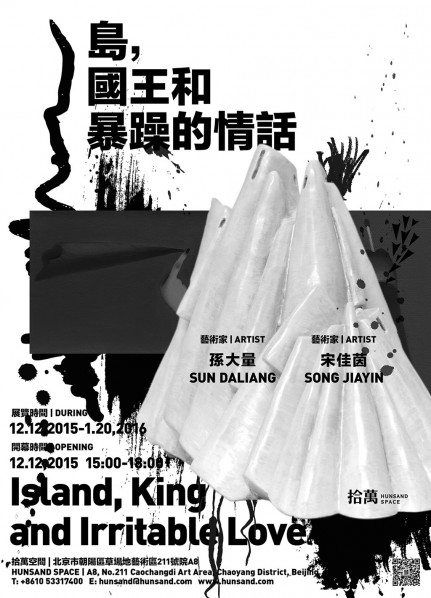 Hunsand Space will present the exhibition "Island, King and Irritable Love" by Sun Daliang, Song Jiayin on eroticism on December 12, 2015.
Since 2000, Sun Daliang has been practicing art in Jiangxinzhou, an island in Nanjing. Those 15 years of secluded life has given him an absolute freedom of "I am the king on this island." These private experiences unknown to the others on this island allowed him to fully release human "nature", giving him extraordinary excitement and stimulation, at the same time, the "erotic icons" found in his painting grew naturally from the body of the artist through such excitement and stimulations. Although, as for sex or eroticism, Sun Daliang is not the passive observer and producer, through painting he is both the source of "erotic icons" and their receivers. The double edge of excitement and struggle allow Sun Daliang to become a typical narrator of eroticism in the experiences of Chinese intellectuals.
Unlike Sun Daliang's supremacy on the island, Song Jiayin is a simple and straightforward artist. Inspired by people and objects related to her, her works are at times as calm as somniloquy and murmur, or as intense as "irritable love". Thus the small dimension, fragments and overlap constitute the main characteristics of her sculptures from recent years. Her practice is not carried forth by systematic reasons and logic, but the extension of her senses of objects around her, delicate without losing her sensitivity, like mood tentacles branching out of hormones.
In both Sun Daliang's creation and reception of "erotic icons" and Song Jiayin's outpour of irritable emotions, their depictions of eroticism produces meaning through their engagement of narration, sex or related icons thus become "a series of strategies necessary for maintaining order."
About Hunsand Space
Hunsand Space, founded in 2014, is located in No. 211 Cao Chang Di Art District. Hunsand Space, remaining vigilant towards regular cube-shaped exhibitions, is hoping to extend the current syntax and semantics of contemporary art expressions to a wider aspect. Through our ongoing exhibitions and projects, we aim at stimulating an exploration of the neglected present culture and to bring the merit of contemporary art ideology to you and me.
About the exhibition
Opening: 2015.12.12 15:00-18:00
Date: 2015.12.12-2016.1.20
Address: Hunsand Space , A8, No.211 Cao Chang Di ,Chao Yang District, Beijing
Tel: 010-53317400
Email: hunsand@hunsand.com
Courtesy of the artists and Hunsand Space, for further information please visit www.hunsand.com.
Related posts: