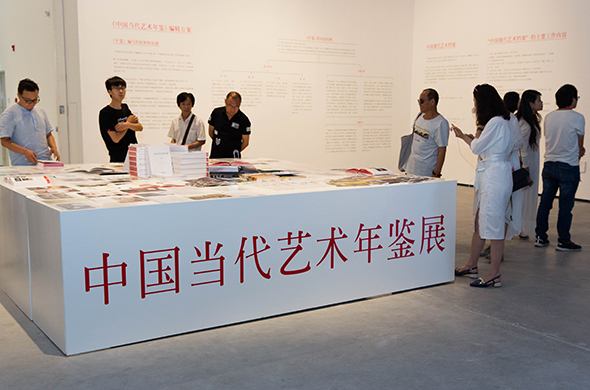 On June 25, 2016, jointly hosted by Beijing Minsheng Art Museum, Center for Visual Studies, Peking University, and Wu Zuoren International Foundation of Fine Arts, the Exhibition of Annual of Contemporary Art of China 2015 opened at Beijing Minsheng Art Museum, the exhibition is curated by Prof. Lao Zhu, through the observation, investigation and analysis of the annual exhibition to systematically present the overall situation of Chinese contemporary art in 2015.
The first round of "The Exhibition of Annual of Contemporary Art of China", held at Beijing Minsheng Art Museum, was also jointly sponsored by the three organizations, and the exhibition has become an academic brand for Beijing Minsheng Art Museum, Director of the museum Zhou Xujun addressed the opening ceremony and hoped it would be annually held on the anniversary of the museum henceforth.
"The Exhibition of Annual of Contemporary Art of China" is an exhibition based on the detailed investigation and research of the "China Modern Art Archives". "Annual Contemporary Art of China" records the innovative creative achievements of current art as the information items, which are considered as the new symbols of the contemporary artistic development used for a summary and presentation, trying their best to uniformly present them through an exhibition. Exhibition curator and the organizer of the "Annual Contemporary Art of China" Prof. Lao Zhu said that contemporary art was not the description of a state, but a breakthrough of the present state, therefore, the "Annual Contemporary Art of China" mainly chooses the artists who have a creative breakthrough during the year, even though he or she is not well known, and even only one work is on show, as long as the work is of a fine quality and inspires Chinese contemporary art, she or he will be taken in "The Annual Contemporary Art of China". "The Exhibition of the Annual of Contemporary Art of China" is not merely an exhibition, but also a mirror reflecting the development of the times.
Depending on the description of "The Annual Contemporary Art of China 2015", the year 2015 witnessed 3590 contemporary art exhibitions, with only 18 days out of 365 not open to any new exhibitions. Perceived from the work volume of contemporary art, China indeed is a nation endowed with supreme creativity, where a mentality as well as a new trend is flowing and flushing like a potential, massive flood that currently contains a breakthrough power. When some people talk about thoughts and art, what they do not know is that Chinese contemporary art has slightly transcended the category of thoughts and knowledge, and has made experiments and breakthroughs in the fields that could not yet be recognized nor thought about, and it is of significance for the liberation and openness of contemporary artistic activities.
"The Exhibition of Annual of Contemporary Art of China 2015" on-site displays the representative works of 106 artists recorded by the Annual in 2015, including the original pieces by 36 artists. These works and documents are selected out of more than 3000 art exhibitions and events, reviewing is based on more than 10000 articles of published literature, relying on the archives of thousands of artists' events, and revised by the editorial committee and academic committee to finally announce the result. Due to the spatial limitation, many works are presented by through literature in addition to the on-site ones. At the same time, it also announces on-site a variety of records and survey data, which are references for study, collections, creations and visuals. Organizers hope that the Annual Exhibition is not only the presentation of works, but also tries to systematically reflect the annual overall outcome of Chinese Contemporary Art, to present new ideas, new methods and new trends in Chinese contemporary art.
The opening ceremony was held on the first anniversary of Beijing Minsheng Art Museum, which was an event to celebrate the first anniversary, at the same time, it also started the event "MS Art Museum Night: One Gives Birth to Ten Thousand Things", which included a visual exhibition at night, performance art, modern dance, DJ and live music, audio-visual arts and other exciting activities.
Text and photo by Zhang Wenzhi
Translated by Chen Peihua and edited by Sue/CAFA ART INFO
Artists recorded by the book of "The Exhibition of Annual of Contemporary Art of China 2015"
Ai Weiwei, Cai Dongdong, Cai Guangbin, Cai Guoqiang, Cai Jin, Cai Lei, Cai Yuanhe, Cang Xin, Cao Fei, Chen Tianzhuo, Chen Wenbo, Chen Yufan, Cheng Ran, Chi Qun, Cui Xiuwen, Dang Zhen, Ding Yi, Fan Shuru, Fang Lijun, Fu Xiaotong, Fu Zhongwang, Geng Xue, He An, He Wenjue, He Yunchang, Hu Qingyan, Hu Weiyi, Hu Xiangqian, Huang Ying, Huang Yongping, Huang Yong, Huang Yuanqing, Jiang Tong, Ju Ting, Kang Jianfei, Lei Benben, Li Jin, Li Lei, Li Ming, Li Qing, Li Yiwen, Liang Yuanwei, Lin Ke, Liu Chengrui (Gua Zi), Liu Qinghe, Liu Shiyuan, Liu Wei, Liu Xiaodong, Lu Zhengyuan, Lu Pingyuan, Lu Yang, Luo Wei, Lv Shengzhong, Mao Yan, Miao Xiaochun, Ni Youyu, BIRDHEAD, Pang Maokun, Peng Wei, Qiu Xiaofei, Qiu Zhijie, Shang Yang, Shen Fan, Shen Shaomin, Shi Yong, Double Fly Art Center, Song Dong, Song Xi, Su Xinping, Sui Jianguo, Tan Ping, Tan Tian, Tao Hui, Wang Jianwei, Wang Gongxin, Wang Guangle, Wang Huaxiang, Wang Huangsheng, Wang Lei, Wang Qingsong, Wang Tiande, Wang Yuyang, Wei Guangqing, Wu Jian'an, Wu Junyong, Wu Wenguang/Wen Hui, Xia Xiaowan, Xu Bacheng, Xu Bing, Aaajiao, Xu Zhen, Xue Song, Yan Xing, Yan Lei, Yang Fudong, Yang Xinguang, Yao Ruizhong, Ye Fu'na, Yuan Gong, Yue Minjun, Zeng Fanzhi, Zhang Dali, Zhang Enli, Zhang Peili, Zhang Xiaotao, Zhang Zhaoying, Zhao Yao, Zhou Chunya, Zhu Yu.
Original works taking part in "The Exhibition of Annual of Contemporary Art of China 2015"
Cai Guoqiang, Chen Tianzhuo, Chen Yufan, Fan Shuru, Fang Lijun, Fu Xiaotong, He Wenjue, Hu Qingyan, Hu Xiangqian, Lei Benben, Lin Ke, Liu Chengrui (Gua Zi), Liu Shiyuan, Liu Wei, Lu Yang, Lv Shengzhong, Miao Xiaochun, BIRDHEAD, Pang Maokun, Double Fly Art Center, Song Dong, Sui Jianguo, Tan Tian, Tao Hui, Wang Gongxin, Wang Guangle, Wang Huangsheng, Wang Yuyang, Wu Jian'an, Xia Xiaowan, Aaajiao, Yan Xing, Zeng Fanzhi, Zhou Chunya, Zhu Yu, Kunting Art Experimental Program (invited: Liuzhang Bolong, Wang Peng)
Related posts: