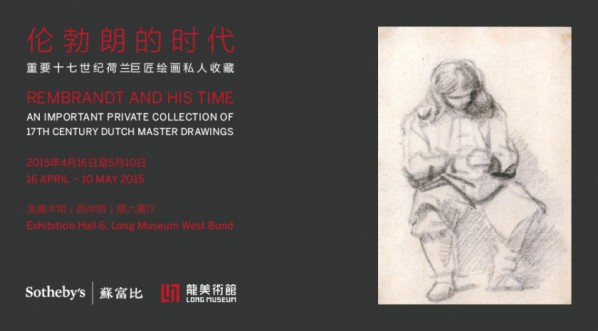 Together, Sotheby's and Long Museum will present the unprecedented exhibition titled REMBRANDT AND HIS TIME: An Important Private Collection of 17th-century Dutch Master Drawings, at Exhibition Hall 6, Long MuseumWest Bund from 16 April to 10 May 2015. Linked with the exhibition, a thought-provoking panel discussion on the theme "Do drawings transcend culture and time?" will be hosted on 16 April 2015.
It was through drawing more than any other form of art that 17th-century Dutch artists captured every aspect of the appearance, life and culture of their native Holland. The collection of 81 drawings to be exhibited in Shanghai was formed with enormous care, scholarship and taste over nearly four decades and is one of the finest of its type in private hands anywhere in the world. The exhibition, which includes seminal works by many of the most important artists of the day, including Rembrandt, Jacob van Ruisdael, Hendrick Avercamp and Jan van Goyen, will present a complete and insightful look at 17th-century Dutch life and culture.
Kevin Ching, CEO of Sotheby's Asia, said, "With this very important, landmark exhibition, Sotheby's and Long Museum are together bringing to China for the first time a comprehensive showcase of 17th-century Dutch Old Master Drawings. The Dutch 'Golden Age' was one of the great high points in the whole history of European art, and drawings play a vital part in this artistic flowering.
Works on paper have also been central to Chinese art and aesthetics, and we are increasingly aware of a growing Chinese interest in works of paper from other cultures. Bringing one of the greatest private collections of Dutch Old Master Drawings to China is one of many initiatives in Sotheby's ongoing efforts to nurture Chinese interest in Western art. Sotheby's is very honoured and pleased to have Long Museum as partner, and we look forward to introducing these 17th-century masterpieces to art lovers in China at this unprecedented exhibition."
About Dutch Drawings
Due to a perfect alignment of historical, political, religious and economic factors, 17th-century Holland saw one of the greatest artistic flowerings in the whole history of Western art. The country was both wealthy and influential thanks to its control over access to the Rhine, one of Europe's vital trade routes, and enjoyed a sense of growing national pride following its independence from Catholic Spain. The art produced in the new, Protestant, mercantile Dutch Republic was very different from what was being created in traditional, Catholic countries such as Spain and Italy, and a whole range of non-religious subjects such as landscape, still-life and portraiture reached new heights of importance. And thanks to Holland's great wealth, thedemand for paintings, drawings and prints of every type was huge.
Drawings, too, took on a new significance. The leading artists of the day made themona wide range of media, representing every subject imaginable: the Dutch landscape, the country's bustling cities and its people, the views, flora and fauna of the foreign destinations to which they travelled, to name just a few. Through these drawings, the artists honed their skills and developed ideas for works in other media – paintings, prints and decorative arts.
Exhibition Overview
REMBRANDT AND HIS TIME contains prime examples of every type of drawing produced in Holland in the 17th century, including outstanding works of all the most significant phases, styles and techniques practised by Dutch artists of the period. Divided into seven sections, it chronicles The Early Years, The Dutch Landscape: Places and Seasons, The Dutch Abroad, Rembrandt and His Circle, Images of Daily Life, The Natural World and The Essence of Holland. Leading the exhibition are a moving figure study by Rembrandt, an exceedingly rare winter scene by Hendrick Avercamp, and a delightful landscape by Jacob van Ruisdael, all drawings of a quality and type typically found only in the collections of major Western museums.
About the exhibition
Dates: Apr 16, 2015 — May 10, 2015
Opening: Apr 15, 2015 17:00
Organizer: Sotheby's Hong Kong
Hosted: Long Museum
Courtesy of the artists and Long Museum, for further information please visit http://thelongmuseum.org/en.
Related posts: