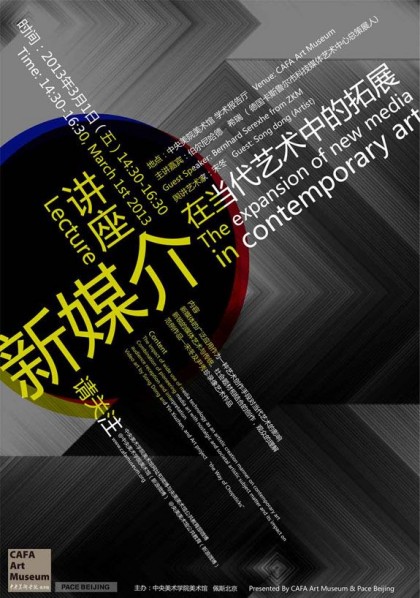 Pace Beijing and the Central Academy of Fine Arts (CAFA) will present a forum on the Expansion of Media Technology in Contemporary Art at CAFA Art Museum, Beijing on March 1, with a talk between Song Dong and Bernhard Serexhe, the chief curator of the ZKM Center for Art and Media. The talk will explore the impact of increasing use of technology in contemporary art and the impact of combining pioneering mediums with nostalgic and societal artistic subject matter.
Song Dong (b. 1966, Beijing, China) has emerged from a strong Chinese avant-garde performing arts community and developed into a significant contemporary art figure in the progression of Chinese conceptual art. Song graduated from the fine arts department of Capital Normal University in Beijing in 1989. His work, which is often in collaboration with his wife and fellow Chinese artist, Yin Xiuzhen, ranges from performance and video to photography and sculpture. Song explore notions of impermanence and the transience of human endeavor. He has been the subject of solo exhibitions at international museums including the Barbican Art Gallery, London (2012); Ullens Center for Contemporary Art, Beijing (2011); Vancouver Art Gallery (2010); The Museum of Modern Art, Shanghai (2008). He has been included in many prestigious group exhibition including Documenta 13, Kassel, Germany (2012); the Venice Biennale (2011); the Yokohama Triennale, Japan (2011); the Liverpool Biennial, U.K. (2010); the Gwangju Biennial, South Korea (2002); and Inside Out: New Chinese Art (1998) at the Asia Society and P. S. 1 Contemporary Art Center, New York. Currently, Song Dong lives and works in Beijing.
Bernhard Serexhe, born in 1950, studies in sociology, psychology, art history, philosophy, educational science, doctorate in art history on the cathedral of Autun (France), archaeological research and restauration studies on romanesque architecture in Burgundy, scientific publications on architecture and heritage history, art and media theory. Since 1995 consultant for the Council of Europe, NGOs and other cultural institutions. 1994-1997 curator of the Media Museum of the ZKM | Centre for Art and Media Karlsruhe, 1998-2005 head of the ZKM | Museum Communication, since 2006 Chief Curator ZKM | Media Museum. Lectureships: 1999 Russian Akademie of Fine Arts St Petersburg, 2000-2001 and 2008 University of Berne, 2001 University of Basel, 2001 University of the Arts Karlsruhe, 2002-2006 lectureship for media art at the University of Karlsruhe. Since 2008 Professor for Aesthetics and Media Theory at the Istanbul BILGIUniversity. Since 2010 initiator and leader of the EU-funded research project digital art conservation.
The Expansion of Media Technology in Contemporary Art: Song Dong and Bernhard Serexhe
Time: March 1, 14:30 – 16:30 p.m.
Venue: CAFA Art Museum, Beijing
Courtesy of Pace Beijing and CAFA Art Museum, for further information please visit www.pace-beijing.com or www.cafamuseum.org.
Related posts: