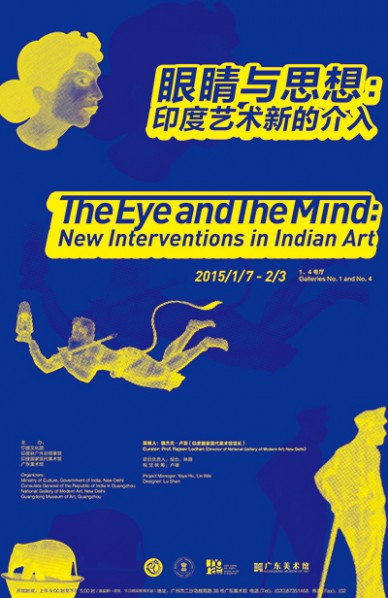 "The Eye and The Mind: New Interventions in Indian Art" is about to debut at Guangdong Art Museum on January 7, 2015, and Rajeev Lochan, Director of the National Gallery of Modern Art New Delhi, India serves as the curator, to present the works by well-known Indian contemporary artists, covering a variety of forms such as painting, sculpture, installation, new media, most of which are from the collections of the National Gallery of Modern Art New Delhi.
Participating artists in the exhibition are from the "new generation" of Indian art circles, and began to pay close attention to reality and personal experience in the early 1980s, blending their feelings into art practice. Based on the fusion of all faiths, languages and popular cultures it brings with it the Indian cultural diversity, the artists open a new path, growing out of the original art practice and the universal faith, to create rich and unique art forms. Throughout the exhibited works we can see that, in addition to the traditional forms such as easel painting, sculpture and print, a variety of art forms such as installation, video, performance have developed to some extent during this period. As the novelist Marcel Proust said: "The real voyage of discovery consists not in seeking new landscape but in having new eyes." Indian contemporary artists have a new vision and new ideas, using a more diverse media to explain their art.
About the exhibition
Duration: January 7 – February 3, 2015
Exhibition Hall: Galleries No.1 and No. 4
Project Managers: Hu Ye, Lin Wei
Courtesy of the artists and Guangdong Museum of Art, translated by Chen Peihua and edited by Sue/CAFA ART INFO.
For further information please visit www.gdmoa.org.
Related posts: