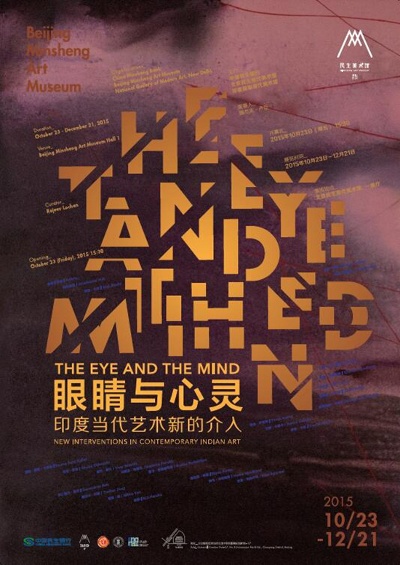 This exhibition is organized by the National Gallery of Modern Art, New Delhi, under the auspices of Festival of India in China. After it was showcased at Guangdong Museum of Art from 7 January through 3 February and at China Art Museum from 10 April through 7 July, this exhibition will tour to Minsheng Art Museum in Beijing from 23 October through 21 December, 2015.
Director's Note:
The National Gallery of Modern Art, New Delhi, is privileged to curate and organize the travelling exhibition entitled The Eye and The Mind: New Interventions in Indian Art as part of the Festival of India in China. The exhibition showcases works from the permanent collection of the Museum as well as from individual artists that form part of this exhibition. This exhibition presents thought-provoking and cutting-edge creations of art by well-known artists such as Anju Dodiya, Arunkumar HG, Atul Bhalla, Baiju Parthan, Bharti Kher, Chintan Upadhyay, G.R. Iranna, Hema Upadhyay, Jittish Kallat, Ranbir Kaleka, Ravi Agarwal, Reena Kallat, Manisha Parekh, M Kamath, Mithu Sen, N. S. Harsha, Pooja Iranna, Rekha Rodwittiya, Riyas Komu, Sachin Kame, Sheeba Chhachi, Surendran Nair, Tushar Joag and Veer Munshi…Art has diversiified into multitude of media such as installation art, video art, performance art, conceptual art and the new buzz of media art. These have however evolved and developed over a period of time. Art across the world has undergone myriad changes that have eventually culminated into a form that we see and experience today.
The form of art on the Indian subcontinent is a unique and interesting amalgam of innovative and thought-provoking ideas. The cultural diversity of this country adds to the multi dimensional approach which is a direct contribution of various beliefs, languages and a prevalent cultural mix. The artists in India have chosen to break away from the mould of the existing art practices and have given birth to new approaches and genres in art previously not experiences.
This exhibition presents the art of the "New Generation." These are essentially artists who have emerged in the 1980s and 1990s in India presenting their own practice by portraying the reality that they have experienced and depicting strongly their concerns as individuals. Aptly put by novelist Marcel Proust, "The real voyage of discovery consists not in seeking new landscapes but in having new eyes," with this in mind these artists have used a diverse and unconventional range of media as part of their creative expression with a sense of originally and inventiveness.
I am confident that this exhibition will be well received in the various museums that it is intended to be exhibited, showcasing India and its rich creative expressions.
Prof. (Dr.) Rajeev Lochan
Director, NGMA, New Delhi
About the exhibition
Duration: 23 October—21 December, 2015
Venue: Beijing Minsheng Art Museum
Courtesy of the artists and Beijing Minsheng Art Museum.
Related posts: