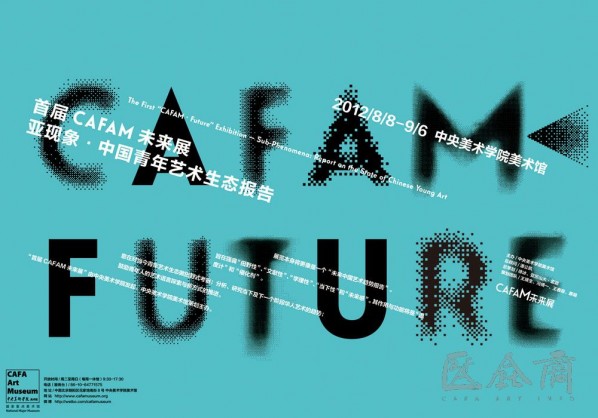 PURPOSE
The "CAFAM • Future" Exhibition, initiated by the China Central Academy of Fine Arts and organized by CAFA Art Museum, was officially launched in February 2012. The Exhibition aims to encourage young people's exploration into artistic language and new ideas, finding and supporting talented young artists in China, establishing a database of young Chinese artists, as well as improving the social impact and awareness of contemporary art both in Chinese and international art fields, so as to create a core platform for promoting the art of young Chinese people.
As an artistic project launched by the leading art academy for young people in China, "CAFAM • Future" aims at highlighting "theoretical quality", "contemporary context" and "the sense of future", and playing a role as a "thermometer" and a "catalyst".
MECHANISM
As an academic exhibition, CAFAM•Future Exhibition is hereafter going to be held every two years.
To ensure that it's authoritative and academic, a Nomination Committee has been organized which consists of over 80 directors from major art museums throughout the world, critics, curators, artists, art media and directors from art institutions. Each member of the Nomination Committee nominates six young artists (the Nomination Committee is responsible only for the recommendation of artists and they will not undertake curatorial work). Nearly 300 young artists have been collected for this exhibition. Eventually, the curatorial committee will select around 90 from the nominated artists according to topic and structure to invite them to participate into the first CAFAM Future Exhibition.
FEATURES
The Curatorial Committee will analyze, classify and study the nominated young artists and their works in collaboration with the phenomenon, status and problems to reflect the distinctiveness of the CAFAM Future•Exhibition and form an issue study. Meanwhile, they will summarize and draw a conclusion on the thinking, actions, materials, differences of sensory forms and living conditions of the nominated artists even to investigate the phenomenon that may affect future trends. Therefore, it will present our attitude and position on contemporary Chinese youth art in a curatorial way that centers around problem awareness and focuses on the management of the future.
In this sense, the exhibition itself has gone beyond the former exhibition mode since it is more like "a trend report on future Chinese art".
FRAMEWORK
The theme of this exhibition is: The First "CAFAM • Future" Exhibition: Sub-phenonmena: Report on the State of Chinese Young Art
Its structure has been tentatively scheduled for the following phenomena (units):
Phenomenon I: Rampant Growth (Vine Growth)
Phenomenon II: We-media
Phenomenon III: Forge Art
Phenomenon IV: Static Homer Space (Otaku Space)
Phenomenon V: Shallow Life
Phenomenon VI: The Unknown
About the exhibition
Academic Advisor: Pan Gongkai
Curator-in-chief: Xu Bing, Alexandra Munroe(U.S.A.)
Curators Team: Wang Huangsheng, Feng Boyi, Wang Chunchen, Cai Meng
Curatorial Assistant: Gao Gao, Yue Junyao and Liu Xiyan
Dates: August 8th (Wed.)—September 6th (Thu.)
Venue: The Art Museum of the Central Academy of Fine Arts (CAFAM)
Opening: August 8th, 15:00
Courtesy of CAFA Art Museum, for further information, please visit www.cafamuseum.org.
Related posts: