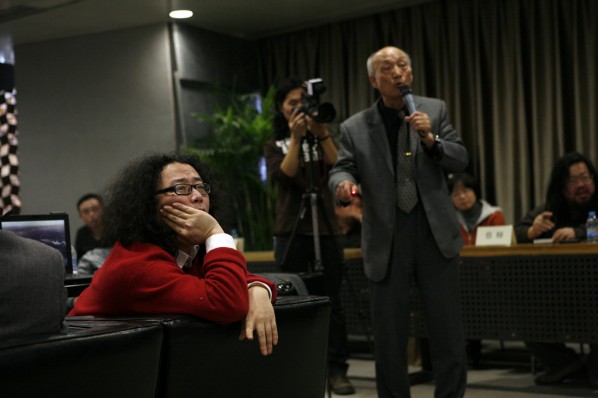 In the afternoon of December 10th, 2011, the first forum of "To Make Inquires About the City" was successfully held at the Museum of the Central Academy of Fine Arts. Jointly organized by the School of Urban Design, CAFA, the Museum of the Central Academy of Fine Arts, "Reading" Magazine and the Vision and Image Research Center of Peking University, it intends to initiate multi-cultural perspectives of discourses on some cultural issues and promote in-depth dialogues at this cross-border forum.
Horizontally Crossing boundaries and vertical inclusion constitute the features of this forum, which separately reflect its scope and profundity. On the one hand, it integrates various angles of view in its discussions; while on the other hand it welcomes different aged participants and provides a debating arena for representatives from all circles instead of being the podium of any academic factions. This is a purely cultural forum sponsored by academic institutions in China which originates from concerns and thinking on the status quo of culture. Undoubtedly, it will play a positive role in developing the road of "renaissance" within a Chinese cultural circle.
Photograph: Hu Zhiheng/ CAFA ART INFO
A cross-boundary attempt as it is, this forum not only leaps over the scope of the fine arts, but also beyond the constriction of art. The invited participants include philosophers, sociologists, artists, musicians, writers and scholars of various disciplines. Chaired by Zhu Qingsheng and Yun Hao, Wang Zhong, Wang Mingxian, Wang Huangsheng, Yun Hao, Ning Ying, Liu Suola, Liu Xiaodong, Zhu Qingsheng, Chen Jiaying, Zhang Yonghe, Jia Baolan, Xu Bing, Xu Zhong'ou, Weng Lin and Song Junling have made their statements in this forum along with forum guests such as Huang Xiaoyan, Chen Ming, Jia Xiaojun, Shen Zhengrong, Mu Ru, Li Yunxiang, Zhang Yunchao, Tian Haipeng, Huang Jiancheng, Ma Juncheng, Wu Qiuyan and Cai Meng.
Entitled "To Make Inquires About the City", this forum is themed as Inquiries—Sympathy and Doubt on topics of Screening Building•Images Under Construction—Film and Television Today & Contemporary Architecture, Urban Civilization• Civilized Cities—Public Art Issues and Urbanization, and Trendy or Old-fashioned—The Contemporary Experience of Chinese Culture. Facing the rapid urbanization nowadays, cultural and urban issues are tough problems which need to be solved. As a series of cultural movements launched by the School of Urban Design, the Central Academy of Fine Arts focuses its studies on urban-related visual culture, it highlights efforts to ease the contradictions in cities through art and how it makes its extraordinary significance in academic research as well as artistic practices.
Related posts: