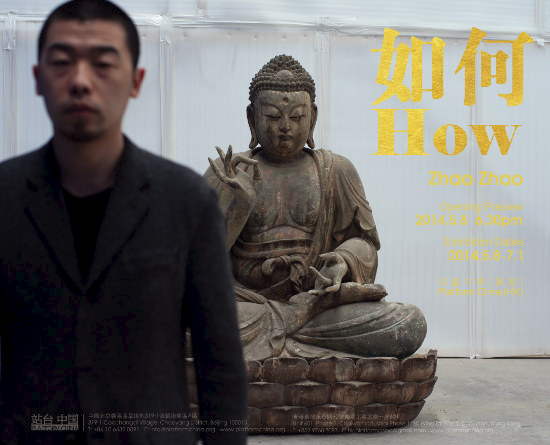 Zhao Zhao has captured significant attention from the art world in recent years. His works vary from installation, to performance, painting and photography. He keeps certain distance from prevalent art concepts and the current art market by presenting a younger generation's thoughts on the reality of contemporary China through his emotional and personal experience of life. Zhao Zhao is eager to challenge reality and traditional ideology through a range of media. The radical and anarchist attitudes revealed from his works are a result of his focus on individual consciousness of freedom.
On occasion of his first solo show in Hong Kong, Zhao Zhao is presenting a new site specific project, The new works will be disclosed to the public for the very first time.
Last year, on September 29th , while traveling for about 400 km from Beijing to Jincheng, in Shanxi province, I encountered a 200 years oldwooden Shakyamuni Buddha. The Buddha is sitting cross-legged on a lotus, his gaze slightly looking down, right hand up beside body andleft hand on the knee; the body is suffused with the light of time and the gentle caressing of allpassers by. The sculpture is 2.15 m high and1.81 m. wide. The fortune of losing or gaining in life is perhaps all around here.On November 1st I moved the Buddha to Beijing. With the help of seven carpenters and five gold artisans within 99 days the sculpture ofthe Buddha has been disassembled and hand cut into several geometric shapes, like toy bricks, which have all been covered with gold foils.All existing creatures in the universe brought to life by God have different shapes and characteristics. Some may die quickly, or live for verylong, but only God knows the truth. On April 20, 2014, the work has been completed.Above is only an outline. It's not worth to mention minor things.
– Zhao Zhao, written in Beijing 2014
About the exhibition
Duration: 9 May – 1 Jul 2014
Venue: Platform China, Hong Kong
Opening Reception: 8 May 2014 Thu 18:30
Tel: 852-97688093
Email: hk.platformchina@gmail.com
Add: Unit 601, Chai Wan Industrial Phase 1, 60 Wing Tai Road, Chai Wan, Hong Kong
Courtesy of the artist and Platform China, for further information please visit www.platformchina.org.
Related posts: