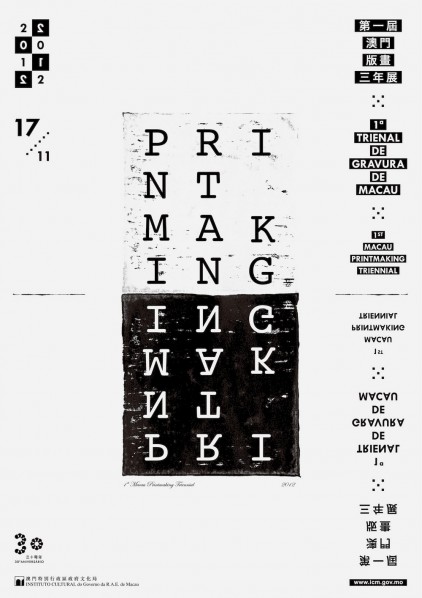 Organised by the Cultural Affairs Bureau of the Macao S.A.R. Government and co-organised by the Printmaking Research Centre of Macao, the first Macao Printmaking Triennial is a grand international exchange event in the area of printmaking, featuring nearly 100 works by renowned printmakers from 11 counties and regions. These important hubs of printmaking creativity in Asia include Mainland China, Hong Kong, Macao, Taiwan, Japan, South Korea, Singapore, Malaysia, Thailand, Vietnam and India. The exhibition opened on 17th November 2012 at 5pm, Saturday, in the Old Court Building, located at Av. da Praia Grande, and runs until 17th February 2013.
Macao was the first transit stop of Western missionaries coming from afar to China in the 15th Century. They not only introduced the first batch of exquisite Western copper-plate prints for missionary purposes but also the typographic press and lithography in succession. Macao was once a strategic port of the Maritime Silk Road, which can be attributable to the vigorous trade prompted by the flourishing printing business.
A professional printmaking course has been offered in the School of the Arts of Macao Polytechnic Institute (formerly the Visual Arts Academy) since its establishment in the 1980s, which held two international printmaking exhibitions in Macao in 1992 and 2000. This year, the 1st Macau Printmaking Triennial, launched by the Cultural Affairs Bureau and curated by veteran local printmaker Wong Cheng Pou, seeks to give an overview of the newest aspects of contemporary printmaking in Asia. Printmaking organisations and educators from different countries have been invited to select and screen artists to represent their respective regions in the event.
The wide variety of printmaking works chosen for this exhibition range from simplistic, explicit traditional woodblock prints to mainstream silk screen prints, copper-plate etchings, and innovative prints produced by sophisticated computers. Works on display also include special prints employing unique production methods. The Triennial is definitely a feast for the eyes – and not to be missed by printmaking and art aficionados!
In recognition of the hard work of the participating artists, the organiser has specially invited an international panel to select the best works, offering prizes of over MOP100,000. At the Grand Opening, more than 60 printmakers from various places were present, symbolising an important milestone in the development of Macao's arts and their emergence in the global art arena.
Following is the list of winners:
Kwak Nam Sin( Korea), "The day When I was Blue", 2012; Stencil & Silkscreen, 72 × 100 cm;
Wang Lixing( China), "Fresh Water Lake IV", 2010; Collagraphy, 70 × 100 cm;
Tinnakorn Kasornsuwan( Thailand), "Home II", 2012; Intaglio, 70 × 100 cm;
Vimonmarn Khanthachavana( Thailand), "Pincushion in Hand 2005", 2012; Woodblock, Offset, 59.5×80 cm
Chief Curator and Regional Curators
Born in Macao, Chief Curator and Regional Curator of Macau Wong Cheng Pou is now the president of Printmaking Research Center of Macau. He has been the Division Chief of Arts Research and Museology of Leal Senado; Honorary Research Assistant of the Slade School of Fine Art in University College London; Head of the Printmaking Department of the Academy of Visual Arts; Organiser of the Macao Printmaking Exhibition and Coordinator of the Ethnography Exhibition in Luís de Camões Museum, Macao.
Hao Qiang, Regional Curator of the People's Republic of China
Born in 1968, Hao Qiang received his M.F.A. from the China Central Academy of Fine Arts. Currently he is the director, the career and industry development department of the China Guanlan Original Printmaking Base. National Second-class Artist; Member of the Chinese Artists Association; Executive member of China Ex-libris Arts Council of Chinese Artists Association; Vice president of the Research Institute of Chinese Industrial Printmaking.
Yung Sau Mui, Regional Curator of Hong Kong
Yung is the recipient of the following awards: Secretary for Home Affairs Commendation Scheme for the Promotion of Art and Culture (2010); Artist-In-Residence, Municipal Museum of Gyor, Hungary (2006); the Fellowship for Artistic Development awarded by Hong Kong Arts Development Council (1999); and the Second Prize of the Macao International Print Exhibition, organized by Macau Cultural Institute in 1992. Yung has participated in numerous national and international exhibitions and her works are represented in the collections of a number of institutions home and abroad, in Sichuan province, Qingdao, China, Hong Kong, USA, Australia and Hungary. Since 2011, Yung has contributed regularly with a column "Appreciation of Printmaking" to the Hong Kong Economic Journal (a Chinese language daily) to introduce local and international printmaking works.
Rakesh Bani, Regional Curator of India
Born in 1975
Master of Fine Arts, (Specialized in Printmaking) from I.K.S.V.V., Khairagarh, (C.G.), India
Presently Assistant Professor in Dept. of Fine Arts, Kurukshetra University, Kurukshetra, Haryana. Teaching Printmaking here.
Shirasu Jun, Regional Curator of Japan
1965 Born in Tokyo
1990 B.A. Musashino Art University, Tokyo
1993   Higher Diploma of Fine Art, the Slade School of Fine Art, University College of London, U.K.
Kim Yong Sik, Regional Curator of Korea
Born in 1954
BFA, MFA, College of Fine Arts, Seoul National University
MFA, School of Visual Arts, New York, U. S. A.
Exchange Professor of RMIT University, Melbourne, Australia
Formal president of Korea Contemporary Printmaker's Association
Commissioner of Gyeong Nam International Multiple Art Exhibition
Commissioner of World Plate and Print Art Exhibition-Millennial Wind
Professor of Sung-Shin Women's University, Seoul, Korea
Frank Woo King Kwan, Regionl Curator of Malaysia
Born in 1962
1983 The Chinese University of Hong Kong Department of Extramural Studies Certificate course of Printmaking.
Choo Mon Lun Mona, Regional Curator of Singapore
In 2010, Mona Choo was commissioned by the FT and RBS Coutts for their annual 'Women In Asia Awards' to produce three pieces of original art to be given as the awards. Choo's art has consistently had a focus on humanity, our relationship with each other, our planet and the cosmos.
Choo was awarded the first International Print Artist-In-Residence at the Victoria & Albert Museum in London in 2009. The six-month residency enabled Choo to pursue her interest in the metaphysical and paranormal through her fine-art practice. She has maintained a strong working relationship with the V&A and in 2012, was invited to speak to a packed auditorium in the Museum, together with four other previous residents, on her experience as a resident artist. She has also been invited to run a number of printmaking workshops for the public at the Museum's learning facility, the Sackler Centre, earlier this year.
Choo has exhibited in New York, London, Melbourne, Hong Kong and Singapore.
Her work is in the permanent collection of the Singapore Art Museum, as well as in a number of private collections, including the United Overseas Bank of Singapore, Leo Burnett, and personal collections in the UK, Switzerland, Australia, the US and Asia. She graduated from Kingston University, UK, with a BA Honours in Graphic Design and Illustration in 1993. Although she worked for a number of years in advertising and design, her passion remained in the fine arts, which she has consistently pursued and now practices full-time.
Mona Choo is currently completing a Masters in Art & Science at Central St. Martins, the University of Arts London, for which she has been kindly supported by the Lee Foundation, Singapore. She graduates in June 2013.
Liao Shiou Ping, Regional Curator of Taiwan
Born in 1936
1962-68 Continued studies at Tokyo University of Education, Japan and L'ecole des Beaux-Arts, Paris
1959 Graduated from Taiwan Normal University, Fine Arts B.A.
Currently the Chair Professor of the Department of Fine Arts of National Taiwan Normal University, President of Paris Foundation of Art and Chairman of Taiwan Academy of Fine Arts.
Thavorn Ko-udomvit, Regional Curator of Thailand
Born in 1956
M.F.A. Silpakorn University, Bangkok, Thailand.
Fellowship – Asian Cultural Council (J.D. Rockefeller 3rd) U.S.A.
PHAN HAI BANG, Regional Curator of Vietnam
Born in 1971
1995 B.F.A. Hue College of Arts
2012 M.F.A. Visual Art, Maha Sarakham University, Thailand
2011- Created and managed The 1st Hue Printmaking Workshop-Hue 2011
2007- Created and Curate the "G.A.S." project (graffiti in arts school).
2006- Adviser "the Poetry Gate", Installation project, P.M. studio. Festival Hue 2006. Hue-vietnam
2005- Curated "Printmaking exhibition". Hue-vietnam
Courtesy of the First Macau Printmaking Triennial.
Related posts: