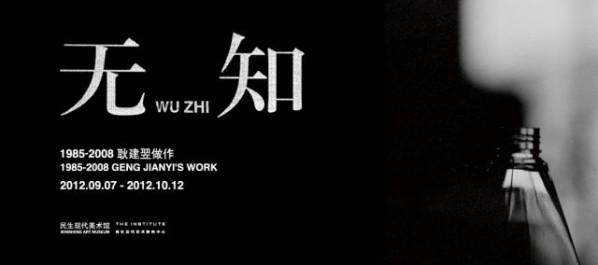 From September 7 to October 12, Minsheng Art Museum will be hosting GENG Jianyi's solo exhibition "Wu Zhi". Featuring more than 100 pieces from 1985 to 2008, the exhibition will be the artist's first solo review exhibition in China. GENG is one of the contemporary art pioneers in China in the 80s, and he never ceased to explore ways of self-expressing. While his work is presented in a diverse format, there is one consistent theme. GENG's work quests after answers to largely rhetorical questions on the human condition, and aims to evoke the self-awareness of audiences through details. And thus the value and the impact of his work far go beyond the surface.
The exhibition is consisted of GENG Jianyi's various works from the past 23 years. The show includes the artist's paintings of early period, i.e. Two Heads(The Second Situation), Eternal Rays of the Sun, Lace, and etc.; Works on photo paper from the late 1990s to 2000s, i.e. Face, Light Part, Book Leaves, Water Shadow, Watermarks, Certification, and etc.; Archive files, i.e. Who Is He, Existence, Forms and Certificates, and etc.; Books, i.e. From First to last Page, Soak Series, and etc., video works, i.e. Four Interludes, Dimension of Vision, and etc. and installations i.e. Cupboard, Useless, and etc. Catalogue will be published after the opening of the exhibition.
About the exhibition
WUZHI: 1985-2008 GENG Jianyi Solo Exhibition
Date: Sep 07,2012 – Oct 12,2012
Opening: Sep 07,2012 17:00
Venue: Minsheng Art Museum
Organizor: Minsheng Art Museum THE INSTITUTE
Courtesy of the artist and Minsheng Art Museum, for further information please visit www.minshengart.org.
Related posts: