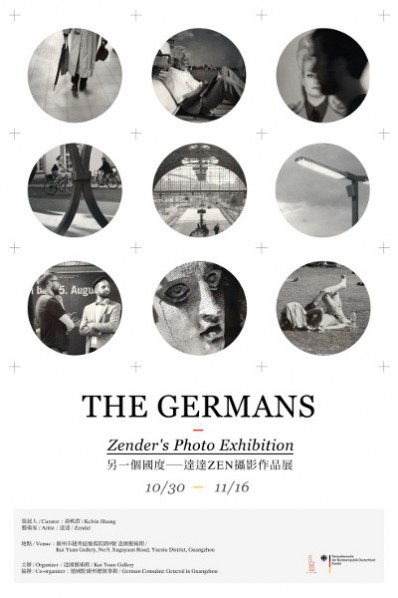 The year 2014 is of special importance for Germany – we look back on events that shaped the course of both German and world history.
25 years ago the Berlin Wall came down. Less than a year later, German unity became a reality on October 3, 1990. It gives me great pleasure to support Zender's photo exhibition "The Germans". Zender won a scholarship of the Robert Bosch foundation and attended the University of Hamburg. The Germans that he portrays in his works are not the "typical Germans" and that accounts for their particular charm.
I would like to thank the artist and Kui Yuan Gallery for their contribution to this exhibition. Projects like this arouse more curiosity for each other and foster cultural exchange. German-Chinese collaboration in the arts helps to further strengthen the partnership and friendship between our two countries.
Katrin Buchta Consul
Consulate General of the Federal Republic of Germany Guangzhou
About the artist
Zender's real name is Liu Xiang, born on February, 1983 in Hunan. He currently lives in Guangzhou, China as a writer & photographer of Lonely Planet and National Geography.
Seven years after his graduation from university, he changed his major from economic to art history on the basis of his own interests. During that time, he was floating loosely with his camera, his footprints pervade more than 20 countries over the world. In order to let the hobby become the way of life, he changed his life style, and then became one of the first Chinese edition authors and photographers of Lonely Planet. He also won the scholarship of Robert Bosch Stiftung, and then attended University of Hamburg, and incorporated into the German National Geographic (GEO). After returning to Guangzhou in 2013, he run his own studio in Dongshan, and cross-border served as marketing director in a well-known buyers department store.
About the exhibition
Artist: Zender
Curator: Kelvin Huang
Duration: 30 Oct – 16 Nov 2014 10:00 – 22:00
Venue: Kui Yuan Gallery
Opening Reception: 30 Oct 2014 Thu 19:30
Tel: 020-87659746
Add: No.9, Xuguyuan Road, Yuexiu District, Guangzhou
Courtesy of the artist and Kui Yuan Gallery.
Related posts: