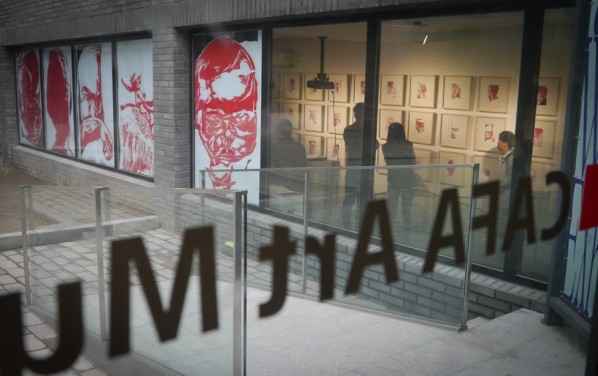 The Graduation Exhibitions of the Departments of Printmaking and Mural were respectively on view at the underground exhibition hall and multifunctional hall, CAFA, on June 7, 2013.
The teaching of the Printmaking Department is currently composed of three major components: basic course teaching of the second grade, integrated art teaching of tutor studios, as well as the assisted teaching of the technical studio of printmaking. It features the works by 43 graduates from the Printmaking Department.
Li Fan, Deputy Dean of the Printmaking Department, said: "The Graduation works of the Department of Printmaking are in line with the basic laws of cleanliness, tidiness, production, etc., that the overall look is very neat, the best ever show effect. "Turning to the standards of the selection of outstanding works, Li Fan said: "In fact, the standard is very simple, the work stands for the traditional spirit of the printmaking department, winning the golden prize, when the focus is on experimental and groundbreaking works winning the silver or bronze prize."
The Graduation of the Department of Mural features more than 100 works by 49 graduates from the department, comprehensively displaying the overall level of the teaching of the Department of Mural, which was the first mural major in contemporary Chinese art academies in the tide of reform and opening up in China, composed of three studios, a teaching and research studio for basic education, as well as a mural material workshop. It requires that the works with content about public welfare and of an artistic taste, reflecting healthy and lofty ideological connotations, distinctive style and boost the strenuous national spirit of the times. In addition, the Department also pays special attention to the field trip course of mural art, absorbing nutrition from the profound Chinese cultural heritage and contemporary mural and public art.
The exhibitions ended on June 12, 2013, which announced the successful conclusion of the Graduation Exhibitions of CAFA 2013.
Journalist: Yu Ya/CAFA ART INFO
Translated by Sophia and edited by Sue/CAFA ARt INFO
Related posts: